Whistler, the site of many of the 2010 Winter Olympic Games is just 75 miles from Vancouver and offers an outdoor enthusiast's paradise with plenty to do in every season. While you'll definitely want to take advantage of its many recreational possibilities, you'll find spots to relax, museums to explore, and scenery that can be enjoyed while taking part in more gentle pursuits, too.
While you're here, you might want to check out the real estate for sale in Whistler for a potential vacation home or even a year-round abode. Even if that's not an option, the following attractions are a must for any itinerary during a visit to this mountain town.
Peak 2 Peak Gondola
While the chillier months of the year bring lots of opportunities for gondola rides over a winter wonderland, the Peak 2 Peak Gondola is an essential experience in any season. It connects Whistler and Blackcomb mountains that make up this skiing paradise. But it's open year-round providing visitors with a bird's-eye view from the world's highest and longest unsupported lift span. You'll get a 360-degree view of soaring jagged peaks and fantastic photo-ops.
The Sasquatch Zipline
Whistler is home to the longest zipline in North America. The Sasquatch Zipline is a "hairy beast" that travels over 1.2 miles in length and bridges two mountains. It launches from Blackcomb and sails across the valley to Whistler Mountain flying as high as 600 feet above ground. Not only will you be able to take in the stunning scenery, but there's a chance that you'll spot bears down below. 
Brandywine Falls
A short but sweet 30-minute round trip hike will bring you to Brandywine Falls. A platform provides the perfect perch overlooking the cascades that plunge nearly 230 feet into a pool below.
Follow the Whistler Cultural Connector
Whistler has a surprisingly buzzing art, music, and cultural scene. One of the best ways to experience it is to walk the Cultural Connector. The path meanders through Whistler Village, linking some of the most popular attractions here. These include Whistler Museum, the Lil'wat Cultural Centre, the Lost Lake Passive House, Audain Art Museum, and more. There are a wide range of private art galleries to explore too. Plus venues for live performances featuring everything from musicians to speakers. Delving into any of it provides the perfect opportunity to discover more about Whistler and the people who live here. 
The Scandinave Spa in Whistler
Want to totally disconnect from the hustle and bustle, escaping the "real" world? The Scandinave Spa is a talk-free zone that requires unplugging. There are no phones allowed so there will be no incessant ringtones to disturb your bliss. Wrap up in a cozy robe and alternate between soaking in the warm outdoor baths. Or diving in for a quick dip in the cool pools, and relaxing beneath the Nordic waterfall. All while surrounded by gorgeous forest scenery.
Just forget about your phone for a while, maybe digging into a good book instead or a nap. There's a eucalyptus steam bath and a wood-burning sauna too. After a day on the trails or skiing down the slopes, a Swedish massage is the perfect way to ease those sore muscles.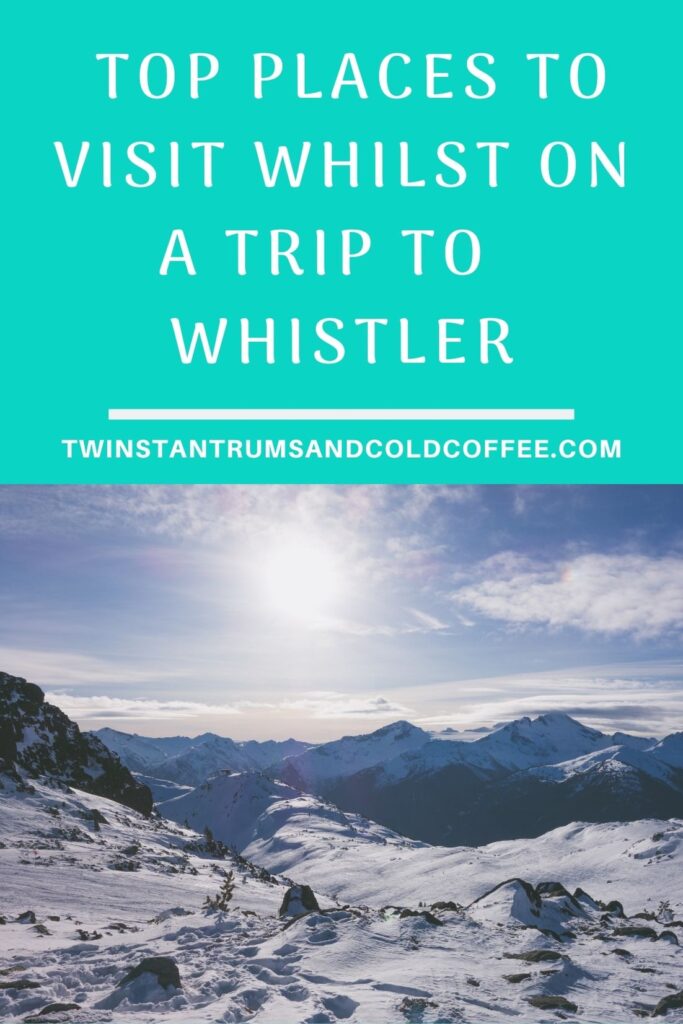 Featured image by Lance Anderson on Unsplash
This is a collaborative post
How did I do?
Did you enjoy this post? Why not have a look at others in my Travel Section. You'll find lots of UK holiday inspiration and family days out. And if you want to read some more of my usual kind of stuff, head over to my Mum Life section. You'll find all things parenting with a tongue-in-cheek twist.
If you like a bit of social media madness, pop over to my Facebook page where you'll be able to have a laugh at what ridiculousness goes on in my house with three very small boys on a daily basis. Warning – there is often sarcasm, and usually swearing. There are also great travel reviews and some AWESOME giveaways. Feel free to join my Twins, Tantrums and Cold Coffee – Shits and Giggles Parenting Group too, where everyone shares their hilarious stories.
If you like what you see, how about you check me out on Pinterest, Instagram and Twitter too.
And if you want to work with me, feel free to give me a shout here or at helen@twinstantrumsandcoldcoffee.com and I'll get back to you.