Finding out you are expecting a new baby is an exciting time and signals a new chapter in your life. Making preparations for your new baby's arrival is essential and can also be a lot of fun. But, one thing many first-time parents are unsure about is what to buy for their impending arrival, what are the absolute nursery essentials.
This is a collaborative post, so I may have received payment for including one or more of the links it contains.
There is a massive array of items for babies online and in the shops, and some of these carry a pretty hefty price tag. So, should you blow your budget and stock up on all the latest gadgets and equipment for your new baby? Will you even need these items, or are they a waste of your hard-earned cash?
Figuring out what you need and don't need to buy for a baby can be challenging, and you may be wondering how someone so small can require so much expensive stuff. There is no doubt preparing for the arrival of your new baby can be costly, but it is possible to keep your spending under control and still get everything you need.
Which items are nursery essentials for your first baby?
Moses Basket or Crib
For the first months of your life, your baby will likely be in the room with you at night. Buying a moses basket and stand or a crib is a great way to keep your baby close and watch them throughout the night. Having a moses basket or crib in your room will also make night feeds easier as they will be next to you.
Cot or Cot Bed – which one to go for
As your baby grows, they will need a cot, but the big question is, do you buy a cot or a cot bed? Well, cots are generally smaller, so if space is an issue for you right now, a cot may be better. But, buying a cot bed means you won't need to buy a toddler bed for your little one once they outgrow the cot, so it is a useful long term choice. Don't forget to buy a mattress that fits your cot or cot bed correctly. Purchasing a mattress that is the wrong size could be a health and safety risk.
Bedding is a definite on the nursery essentials list
Sheets and blankets are essential for a newborn, and you may also want to try a Baby Swaddle Wrap if you plan to give swaddling a go. While shopping for your baby, you will see lots of adorable cot quilts, but generally, these are not suitable for newborns, so there is no need to buy these right now.
Getting the nursery essentials you will need should be your starting point, and there are not too many important items your new baby needs to start with. From here, you can always buy extra baby gadgets or equipment that appeal to you if you think they will be helpful. Asking other parents for recommendations is a useful way to find out which items are worth buying, and they may even lend them to you to try before you buy!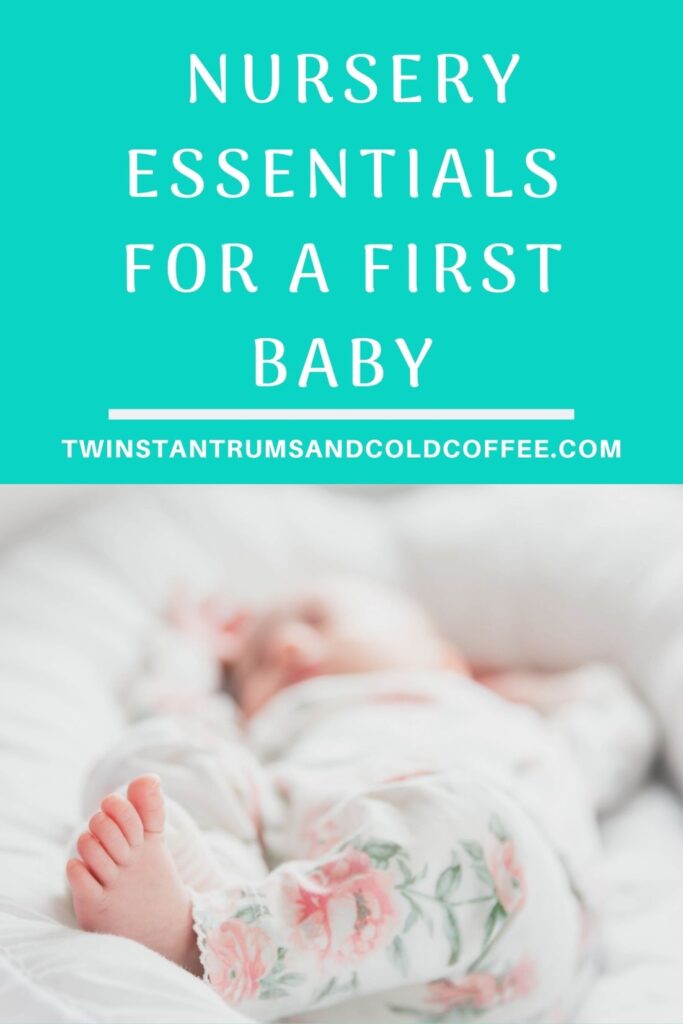 How did I do?
Did you enjoy this post? Why not have a look at some others whilst you're here. If you want to read some more of my usual kind of stuff, head over to my Mum Life section. You'll find all things parenting with a tongue-in-cheek twist. Or you'll discover lots of UK holiday inspiration and family days out in my Travel Section.
If you like a bit of social media madness, pop over to my Facebook page where you'll be able to have a laugh at what ridiculousness goes on in my house with three very small boys on a daily basis. Warning – there is often sarcasm, and usually swearing. There are also great travel reviews and some AWESOME giveaways. Feel free to join my Twins, Tantrums and Cold Coffee – Shits and Giggles Parenting Group too, where everyone shares their hilarious stories.
If you like what you see, how about you check me out on Pinterest, Instagram and Twitter too.
And if you want to work with me, feel free to give me a shout here or at helen@twinstantrumsandcoldcoffee.com and I'll get back to you.