So this isn't my usual type of post. This post is about a special 11 year old boy called Oliver Brown. It's not funny, it's not sarcastic and there's no swearing.
You see Oliver Brown is the son of two of my very dearest friends, Nicky and Mike. And he has an extremely rare form of cancer for which there is nothing more that can be done. After three years of horrific treatment, operations, time in isolation, and two 5.5 month stints in hospital 120 miles away from his Plymouth home, Nicky and Mike have been told their eldest son will not live through this.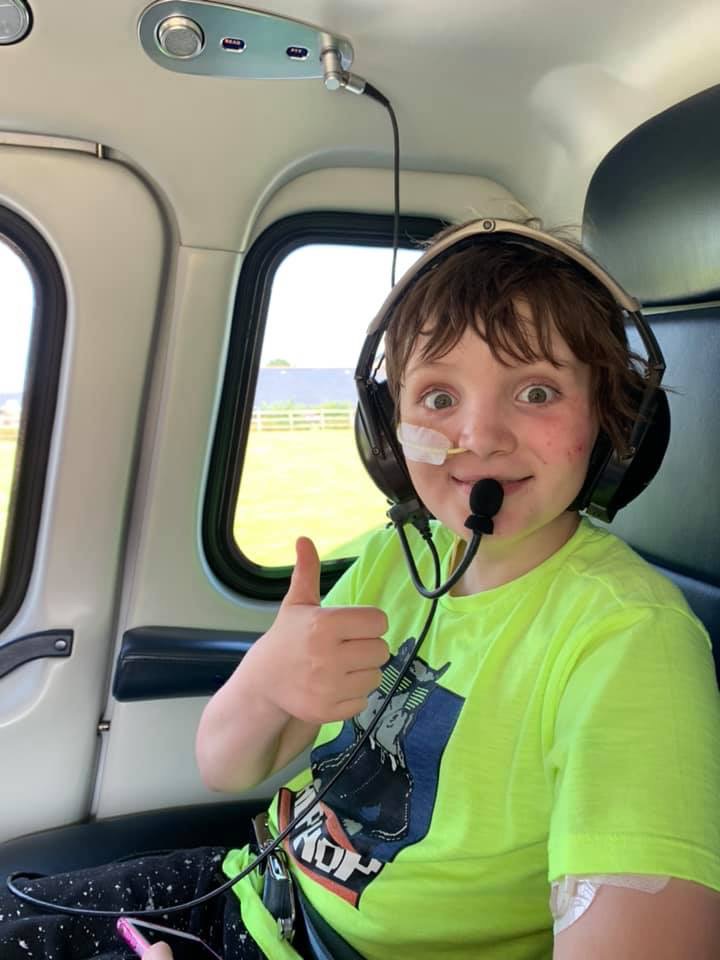 In May of this year, doctors said there was no more treatment. There was nothing more they could do. Oliver had months, but more like weeks, to live.
It is devastating. Heartbreaking. Utterly incomprehensible.
How can it even be happening?
Oliver is defying the odds
True to form if you know him, Oliver is defying the odds and four months on is still living life to the absolute fullest he can.
He is one very poorly boy. But he was still in my garden this afternoon pushing Twin Two on the swing, playing with his younger brother Benjamin on our trampoline, and trying to figure out how to work the lawnmower. Luckily for all of us, it wasn't plugged in.
Nicky and Mike (who I've known since we were at school together and I used to copy his GCSE chemistry notes) first noticed something was wrong back in August 2016.
Eight year old Oliver had been getting more tired than usual, had a big bruise on his leg and a chest infection, but I remember Nicky telling me at the time she was convinced there was more to it. They had to push for the doctors to eventually do blood tests.
The couple put Oliver and Benjamin to bed as usual one Tuesday night, and an hour later got a phone call from Derriford Hospital in Plymouth, telling them the results were back and that they needed to bring Oliver in – immediately. It was suspected leukaemia.
Benjamin woke up the next morning not knowing what was going on, and didn't see his mummy, daddy or brother again for days. He was just five years old at the time.
One in four million worldwide
Oliver had been sent to Bristol Children's Hospital and after a bone marrow biopsy his parents were eventually told he had Myelodsplastic Syndrome – a blood cancer affecting just four children per million worldwide. He had developed it as a result of a complicated genetic disorder relating to his GATA2 gene which also led to him being born deaf. Throughout his life Oliver had suffered from infections, dermatitis, and cysts on his eyelids which all related to his immunity and this genetic disorder. It can affect children differently – some can be deaf, others can suffer from skin infections, lymphedema or bad dermatitis.
The family were told Oliver needed a stem cell transplant. Benjamin was not a match, so a donor was found which was a 9/10 match, and the treatment was scheduled for January 2017 following some intense chemotherapy.
I remember Nicky sitting in my lounge telling me all this. We hugged each other and sobbed. It just didn't seem real. I was three months pregnant with the twins and she told me she probably wouldn't be home until after they were born. That seemed ridiculous at the time.
Oliver was in isolation for seven weeks
Oliver was in isolation at Bristol Children's Hospital for seven weeks. Only four other named people were allowed into his room – and that didn't include Benjamin who was too young. Nicky stayed with him all week, then Mike and Benjamin did the 2.5 hour journey every Friday to go up from Plymouth to Bristol each weekend.
Oliver and Benjamin would talk through the window via walkie talkies, catching up on school, lego, minecraft and tag rugby. As brothers they are good friends and that's easy to see. Mike would then stay with Oliver whilst Nicky would spend the weekend in Bristol with Benjamin – staying in CLIC Sargent accommodation called Sam's House. I went up to visit them once and remember thinking what an amazing facility it was.
Nicky and Oliver were in Bristol for 5.5 months, returning home to Plymouth in May 2017. Readjusting to life as a family of four after such a difficult first half of the year. Oliver was still having a lot of treatment and wasn't allowed back to school but had stayed in touch with his classmates through Skype during his hospital stay. He was taught at home until the October half term after which he went back.
Oliver's shingles was like "something out of a horror movie"
In January 2018 he came off his antiviral medication but developed shingles and was rehospitalised. At the time Nicky described it as something out of a horror movie and Oliver was left badly scarred. This on top of everything he had already been through.
Just before Easter Nicky and Mike noticed Oliver was getting tired more easily, he was emotional, would have big bruises on his arms and legs again, and bleeding gums.
A blood test showed his platelets and neutrophil counts were down. A further biopsy and the family were given the news they'd been dreading. The Myelodysplasia was back. Nobody could believe it.
Another transplant or palliative care
There were two options on the table. A second transplant, or palliative care. The family – and all their friends – were devastated. Absolutely gutted Oliver had to go through it all again.
This time the transplant would use stem cells taken from a donated umbilical cord as this offered the best chance of success for second transplants. The disease was advancing faster than last time so everything would happen quickly. But another bone marrow biopsy brought the horrendous news that Oliver had borderline acute myeloid leukaemia. This left them not knowing what the treatment options were and doctors unsure whether a second transplant was even advisable.
Following worldwide discussions between medics, it was decided Oliver would have even more chemotherapy to reduce the cancer cells before the second transplant went ahead in August 2018.
Again the treatment appeared to be successful and Oliver eventually, after months of hospitalisation in Bristol, returned to Plymouth to continue his recovery with his family in November. It wasn't until the following April that he had his feeding tube and Hickman line removed that had been used to give him medication, meaning he could go swimming and bike riding.
But less than a month later Oliver was back in hospital with shingles and a temperature again.
Heartbreaking news
Just 10 days later, on May 23, 2019, the news was absolutely heartbreaking. The second transplant hadn't worked and the Myelodysplasia was back. I will always remember reading that text at my boys' bedtime. Doctors said Oliver could have chemotherapy to make him more comfortable, but that this wouldn't be a cure. There was nothing more they could do for him.
My dear, dear friends were being told their 11 year old son's rare cancer was back and that there was no treatment to help him. This surely couldn't be happening.
Since then Oliver has had some chemo to slow the development of the blast cells within his blood, and lots of blood and platelet transfusions. But the cancer is spreading. They have already spent weekends at Little Harbour – a children's hospice in Cornwall where Oliver will receive end of life care. I literally don't know how they stay so strong.
So the family are dealing with it in the best way they know how. With fun.
Oliver is living life to the full
Rather than cancel all plans and effectively wait for Oliver to die, they have done the opposite. They are living life to the fullest they are able. To give Oliver the best and most fun experiences, and to ensure Benjamin has some bloody awesome memories.
And it seems fun is the way to go. Despite being told he only had a matter of weeks to live, Oliver is still here, still enjoying himself four months later.
With help from charities and the fabulous generosity of people who have heard Oliver's story, they have been having the best few months.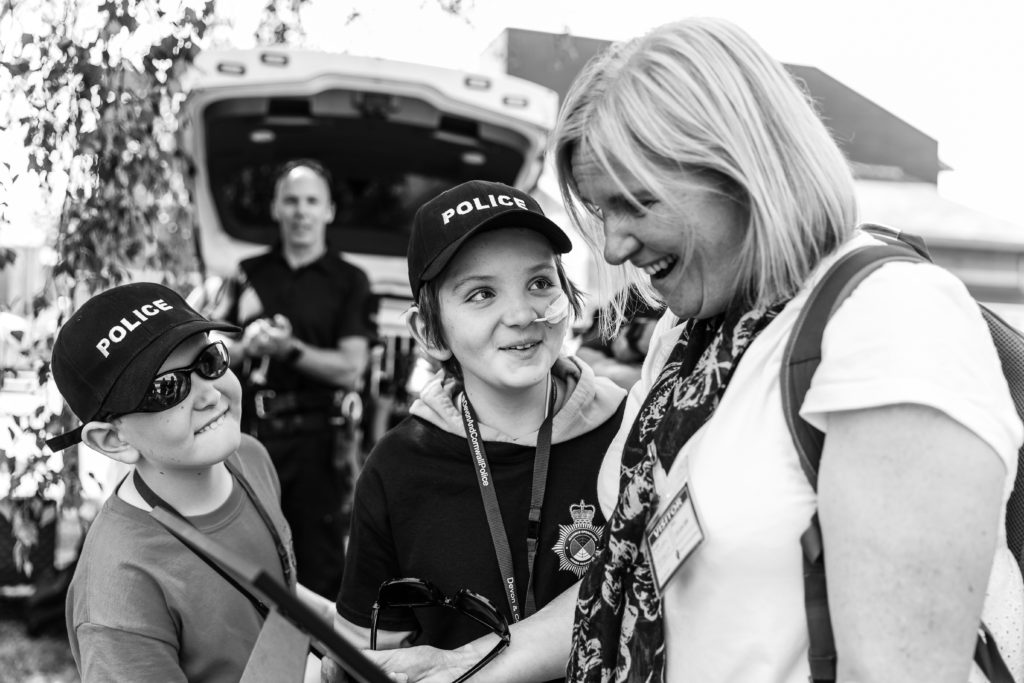 They have stayed in an executive treehouse at Center Parcs thanks to the Starlight Foundation, been to Longleat and Legoland, spent the day with Devon and Cornwall Police because Oliver has always wanted to be a policeman, flown in a helicopter, been taken on a mass motorcycle ride, hosted his own radio show, been a fireman for the day, met the Devon Air Ambulance team, been on the RNLI lifeboat, a tour of the Harry Potter studios in London, and completed a young driver's experience.
He took the helm of a luxury Princess Yachts vessel, had an afternoon tea at posh country hotel Bovey Castle after deer spotting and feeding, did the zip line over the Eden Project, had a tour of the local BBC studios where he presented the news and was able to spend time on his Year 6 school residential. Nothing like making the most of it!
Oliver has also managed to enjoy a holiday at their family's chalet in Cornwall's Whitsand Bay, where NHS staff amazingly visited to do his platelet transfusion to save him going to hospital! If you know the chalets at Whitsand Bay (they pretty much involve climbing up and down cliffs to get to), you'll agree our NHS is pretty flippin' awesome.
Best and worst time of their lives
Nicky has told me it's been the best time of their lives because of all the fun they are having, but at the same time the worst. And I totally get that.
She said: "Oliver is a funny, cheeky, sometimes irritating, fun loving prankster who has the biggest heart. He truly cares about how others are feeling and gets a sense of pride from helping out. This is evident in his passion for the emergency services and as a St John Ambulance cadet.
"Throughout his short 11 years he has faced and experienced more than most adults do in a lifetime. His ready smile, sheer determination and love of bright colours (especially pink) have allowed him to live every day to the fullest. Oliver and Benjamin are often described by others as inspirational, brave or courageous, but to us they are just our boys who we are incredibly proud of and love with all our hearts."
Bike ride to raise money for Bristol Children's Hospital
This week Mike and five of his friends – including my Other Half – are cycling from Land's End to Bristol Children's Hospital to raise money for the Wallace and Gromit Grand Appeal. The charity supports the hospital, funding ward equipment, music and play therapy, art work and medical facilities. It also funds pioneering, life-saving equipment and research, including ventilators, a cardiac hybrid theatre and an inter-operative MRI scanner.
The team leave Land's End on Thursday morning and will cycle between 45 and 75 miles a day stopping at Wadebridge, Barnstaple and Bridgwater overnight before arriving at the hospital on Sunday afternoon.
They've been training for months with stupidly early starts on Sunday mornings so they're all back at a reasonable time to spend the day with their families – or in my Other Half's case, to not get hassle from me.
The team has already completed a Coast to Coast ride from Ilfracombe in North Devon down to Plymouth, and a 100km Night Ride around Bristol as part of their training and are now gearing up for next week's event.
Please sponsor them
They have raised nearly £11,000 for the appeal so far and if you want to sponsor them, you can do so here.
They are also raffling off an amazing custom Luke Young surfboard worth £700 in aid of the Grand Appeal. To buy tickets, click here.
Oliver is hoping to be there in Bristol to meet the team as they finish on Sunday.
Good luck guys. To see his Dad and mates cycle over that finish line will be another great experience for Oliver and another memory for Benjamin to cherish.
How did I do?
If you'd like to read more of my typical mum blog posts, have a look at the Mum Life section. You'll find all sorts of me waffling (and possibly swearing) about life with young twins and their brother.
If you like a bit of social media madness, pop over to my Facebook page where you'll be able to have a laugh at what ridiculousness goes on in my house with three very small boys on a daily basis. Warning – there is often sarcasm, and usually swearing. There are also great travel reviews and some AWESOME giveaways. Feel free to join my Twins, Tantrums and Cold Coffee – Shits and Giggles Parenting Group too, where everyone shares their hilarious stories.
And if you want to work with me, feel free to give me a shout here or at helen@twinstantrumsandcoldcoffee.com and I'll get back to you.