You're pregnant and as new parents know you need to baby-proof your home. But where do you even start? There's so much to think about when it comes to making your home a safer place for children. So here are some top tips to consider.
This is a collaborative post.
When it comes to baby-proofing your home, don't become overwhelmed. On the one hand, there is A LOT you should be doing to make it safe for little ones. But don't panic.
As much as you might want to get everything ready before your baby arrives, especially whilst you're in full-on nesting mode, you don't need to do it all at once.
There's absolutely no need to worry about whether your baby can climb out of a window when they can't even roll over! So it's a good idea to make a list of what needs to be done to baby proof everything, take onboard all the safety tips to give you peace of mind and prioritise what you'll do sooner rather than later.
How to baby-proof your home
Certain safety precautions need to be taken in specific rooms, but there is also general baby-proofing that can be done all over the house, such as to check and change batteries in smoke alarms and carbon monoxide detectors, and removing poisonous plants. You could get door stoppers and finger guards, and ensure radiators aren't on so hot they will burn little hands. But here are some more tips to baby-proof your home and keep it a safe place for both a new baby and older children.
Stair Gates
It's an obvious one for when your baby starts moving. And again, not necessary when they are a newborn. But safety gates can be a godsend until your child is a bit older and can navigate the stairs safely. Some people have baby gates at both the top and bottom of their stairs, depending on how you feel. They are also a great way to prevent your child from going into rooms you'd rather keep them out of. Or if you've got children like mine, you can even use a stair gate to keep them IN a room when they like to be naughty and run around when they should be going to sleep! It's also worth checking the gaps between your bannister to see if they could squeeze through them.
Electrical sockets and cables
One of the most obvious things you can do to make your home safe for children is to address the electrics in your house. Cover plug sockets to ensure little hands don't go exploring, but use a lockable cover that fits right over the housing of the electrical outlets. Experts say these are much safer than the blank plug ones that you push into the holes of the socket itself. Also think about tying up or covering electrical cords. You don't want your curious baby or toddler getting an electric shock by chewing on the cables, or tripping over any that run along the floor. They can also be a strangulation risk. 
Windows
Like I've mentioned above, I wouldn't worry about sorting your windows out the day after you've given birth, there is plenty of time, but if you want to get organised they are worth thinking about. Plus time seems to disappear once you've had a baby. Make sure you can lock your windows, and you know where the keys are in case of an emergency. If you've not got windows that have safety latches, then you can buy restrictors that allow you to open them enough for ventilation but not so much that a child can fall out.
It's also wise to think about what kind of window covering you have in your home. We all know that blind cords can be dangerous and a potential hazard if children were to play with them. Loose cords can be a strangulation hazard. Cut them shorter, tie them up, wrap them around a cord cleat or use other safety devices like cord wind-ups to keep them out of reach. Or if you want to get rid of blinds altogether and go for cordless window coverings, why not install DIY shutters instead. Not only do they look great, but your child will be safer than with window blinds with cords.
Floors
Once your baby starts moving, the best way to see what a crawling baby will see is to get down to their level and think about the risks on the floor. Clear away any small objects they might put in their mouths, or dangerous items within a child's reach. Roll up and pack away rugs they might slip on, or use a rug-grip to prevent it slipping. Move any unsafe objects that could be a potential hazard out of low cupboards or shelves.
How to baby-proof your kitchen
Cupboards
When you think about baby-proofing your kitchen, one of the first safety measures people take is to address the cupboards. There are loads of different child-proof cabinet locks you can attach to kitchen cupboards and drawers. Some slightly less annoying than others! Obviously you want to keep your kids out of the knife drawer, and the cupboard where all the dangerous chemicals and household cleaners are kept. But if you're anything like me you'll soon find you want to keep them out of ALL the cupboards and go a bit crazy with the cabinet latches or magnetic locks. Either move breakables out of lower cabinets, lock them up or put them on higher shelves. And remember that the 'dumping' drawer we all have is full of potential risks and hazardous items you don't want your kids to get their hands on. Such as phone chargers, staplers, correction fluid and button batteries that can be lethal if swallowed.
Hide away chemicals
You'll have probably done this with the cupboard door locks, but make sure all the chemicals are either locked up or hidden away up high. This includes cleaning products and laundry detergent that can be particularly dangerous to children. If your washing machine and drier is in the kitchen you can get specific locks for them to reduce the risk of small children climbing into them. If you have a laundry room or a utility, why not get a lock for the door?
Be careful when cooking
Okay, you might not be rustling up an a la carte meal with a child around your feet, but it's still important to ensure you turn the handles of saucepans inwards so little ones can't reach up and grab them. You can get special locks to put on your ovens to stop kids opening them when hot, and also oven knob covers for the hob.
Be aware of small fridge magnets at a low level that can be put in little mouths, and avoid tablecloths with an overhang that can be pulled bringing hot food and drink crashing onto your child and cause serious injuries.
How to baby-proof your living room
Fireguards
If you have some sort of fire in your lounge, buy a fireguard to put around it. This will prevent your child getting anywhere near the dangerous heat, or flames, but also can stop them falling onto the hard surround or hearth. You can also get guards for radiators, the hot water heater, other floor heaters.
Furniture
Cover sharp corners on furniture such as coffee tables, TV cabinets or nests of tables in the lounge with corner guards. These are often used by toddlers to pull themselves up on but they can get a nasty bump if they bang their heads on the sharp edges when falling over. 
Move furniture away from windows or get window guards. This applies in any room, but make sure you don't have furniture directly underneath windows that young children could climb up on to get access to the windows or blinds.
How to child-proof a bedroom
One of the most dangerous things to happen in a bedroom is for heavy furniture to fall onto your child. So make sure you secure big chests of drawers, or wardrobes to the wall. The last thing you want is your child pulling out a drawer and the whole thing toppling over on them.
Check your baby's cot or cot bed. Make sure whatever you use meets safety standards, and if it's a second hand one, that the gap between the bars is a minimum of 2.5 centimetres and a maximum of 6 centimetres. Use a mattress that fits snugly and keep the cot empty from any cuddly toys, pillows, blankets etc for the first 12 months. Do not use cot or crib bumpers, and make sure there are no cords that can be reached by your baby such as the baby monitor or a cot mobile.
Be careful when it comes to using a changing table too. Never leave your baby or toddler on the changing table, make sure you have all your supplies close to hand. The safest place to change your baby is on a mat on the floor.
How to baby-proof a bathroom
A bathroom can be a dangerous place for little ones so keep a close eye on them. Never leave your child on their own in the bathroom, especially when there is water in the bath. Make sure bathroom cabinets are out of reach or locked, and when it comes to bath time use a thermometer to ensure the water temperature is right for a baby or toddler. Remember their skin is thinner than ours so can scald more easily. Put all medicines in a locked cabinet, use a non-slip bath mat and you can also get catches for toilet lids. It might even be an idea to keep bathroom doors locked.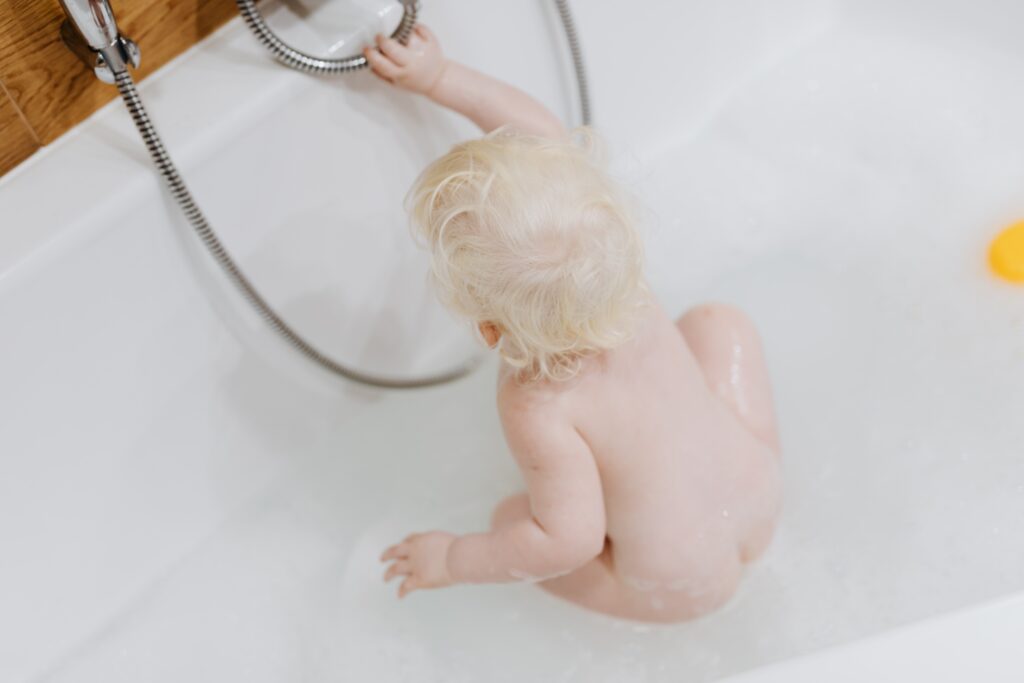 Conclusion
Right now it might seem there is a lot to do to baby proof your home, but a lot of this will become second-nature when you have children in the house. Good luck!
How did I do?
Did you enjoy this post? Why not hang around and read a few more whilst you're here. If you want to read some more of my usual kind of stuff, head over to my Mum Life section. You'll find all things parenting with a tongue-in-cheek twist. Or if you want some days out and UK family holiday inspiration, click on the Travel section.
If you like a bit of social media madness, pop over to my Facebook page where you'll be able to have a laugh at what ridiculousness goes on in my house with three very small boys on a daily basis. Warning – there is often sarcasm, and usually swearing. There are also great travel reviews and some AWESOME giveaways. Feel free to join my Twins, Tantrums and Cold Coffee – Shits and Giggles Parenting Group too, where everyone shares their hilarious stories.
If you like what you see, how about you check me out on Pinterest, Instagram and Twitter too.
And if you want to work with me, feel free to give me a shout here or at helen@twinstantrumsandcoldcoffee.com and I'll get back to you.