Gardening with kids is a great way to get them outside and teach them about nature, science, and healthy eating habits. But it can be tough to get kids excited about gardening, especially if they're used to playing video games or watching TV.
This is a collaborative post
Also, keeping up with the weeding, watering, and fertilizing can be a lot of work. Here are 10 tips to help make gardening with kids easy and fun:
1. Start Small When Gardening With Kids
Don't try to tackle a huge gardening project all at once. Start small and let the kids help with simple tasks like planting seeds or pulling weeds. As they get more interested, you can involve them in larger projects.
Also, consider planting a few "pizza gardens" around the edge of your yard. Plant tomatoes, peppers, and herbs that can be used to make pizza sauce and toppings. This will give the kids a sense of ownership and make them more likely to eat their veggies!
2. Use Kid-Friendly Tools
Get your kids their own set of gardening tools that are sized just for them. This will make gardening more fun and prevent arguments over who gets to use the good shovel. Look for tools with bright colors and fun designs – they're sure to be a hit with the kids.
For example, the G&F Kids Garden Tool Set comes with a trowel, rake, hoe, and watering can – everything your kids need to get started in the garden.
3. Make a Mud Pie Kitchen
Let your kids get dirty in the garden with their very own mud pie kitchen. All you need is a spot in your yard where they can dig and play in the dirt. Add some old pots and pans, wooden spoons, and whatever else you have lying around the house. Then let them go to town making mud pies!
4. Plant Fast-Growing Seeds When Gardening With Kids
Kids are often impatient, so it's best to plant fast-growing seeds that will sprout quickly. This way they won't get bored waiting for the plants to grow. Some fast-growing seeds include radishes, lettuce, and sunflowers. Or if your grass needs some attention, why not give them some lawn seed to put down.
5. Go on a Nature Scavenger Hunt
Turn your garden into a nature scavenger hunt by hiding objects around the yard for the kids to find. This is a great way to get them outside and exploring. You can hide anything from bugs to leaves to rocks.
6. Have a Watering Can Race
Make watering the garden more fun with a racing game! Set up two empty buckets or watering cans at the end of the garden. Then have the kids race to see who can fill up their container first using a hose or water can. The winner gets to be chief gardener for the day!
7. Make a Garden Fort
Help your kids build a fort out of sticks, stones, and leaves in the garden. Then they can pretend they're explorers in the jungle or knights in a castle. This is a great way to encourage imaginative play.
8. Go on a Bug Hunt When Gardening With Kids
Kids are fascinated by bugs, so go on a bug hunt in the garden! See how many different types of insects you can find. You can even make it into a game by seeing who can find the most bugs or the biggest bug. Just be sure to release the bugs back into the wild when you're done.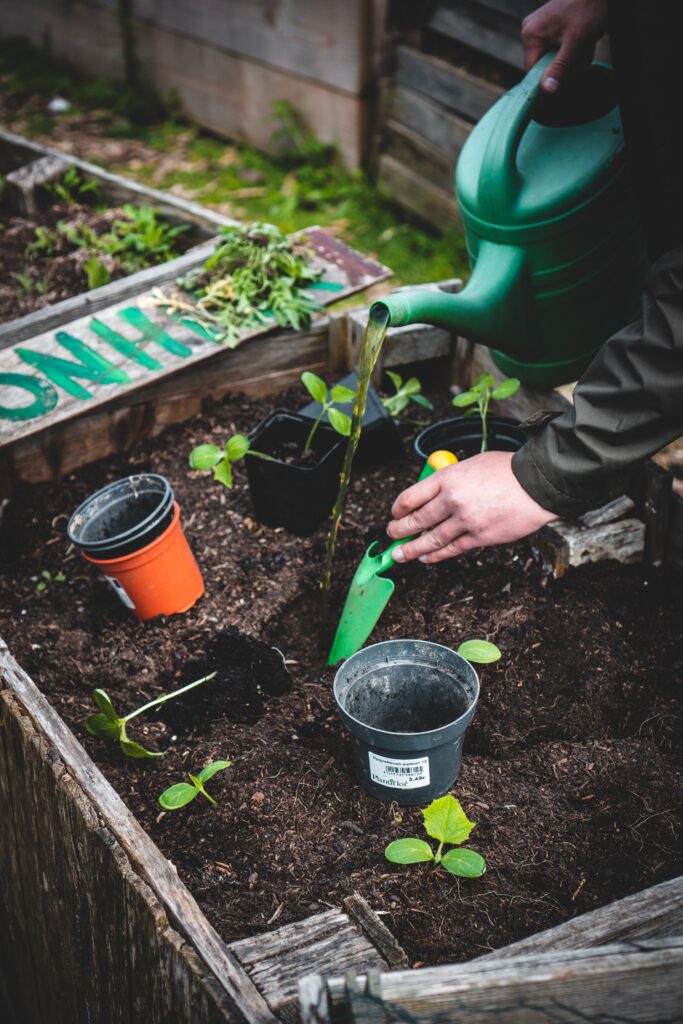 9. Paint Rocks for the Garden
Turn rocks into works of art with some paint and creativity. The kids can use their rocks to decorate the garden or make a path leading to the front door. This is a great activity for rainy days when you can't go outside.
10. Try Your Hand at Raising Chickens in the Garden
Kids will love adding friendly farm animals to your little garden, especially when it means having chickens around. Chickens in the garden make so much sense as raising them not only provides you with a rewarding experience where you can teach kids the responsibility of feeding and raising chickens but also usher in a wealth of benefits. For one, you can have a steady supply of eggs.
Your garden can have organic fertiliser and pest control. The chickens can take care of common garden pests like beetles, cabbage worms, and slugs. Just make sure you can contain them in a secure area when needed by setting up reliable poultry netting to keep them off your thriving plants when required.
11. Have a picnic in the garden
After all your hard work, sit back and relax with a picnic lunch in the garden. How about buying a hammock and hammock stand for even more relaxation and fun? Let the kids help make sandwiches and pack a few snacks. Then enjoy your feast surrounded by nature!
Gardening with kids can be a lot of fun – and it's a great way to get them interested in nature. By starting small and using these tips, you'll make the experience enjoyable for everyone.
How did I do?
Did you enjoy this post? Why not hang around and read a few more whilst you're here. If you want to read some more of my usual kind of stuff, head over to my Mum Life section. You'll find all things parenting with a tongue-in-cheek twist. Or if you want some days out and UK family holiday inspiration, click on the Travel section.
If you like a bit of social media madness, pop over to my Facebook page where you'll be able to have a laugh at what ridiculousness goes on in my house with three very small boys on a daily basis. Warning – there is often sarcasm, and usually swearing. There are also great travel reviews and some AWESOME giveaways. Feel free to join my Twins, Tantrums and Cold Coffee – Shits and Giggles Parenting Group too, where everyone shares their hilarious stories.
If you like what you see, how about you check me out on Pinterest, Instagram and Twitter too.
And if you want to work with me, feel free to give me a shout here or at helen@twinstantrumsandcoldcoffee.com and I'll get back to you.