It is not true that all home improvements are pricey. There are tons of budget-friendly improvement projects that create a positive difference in the home. Whatever the reason behind why you want a home renovation, either to sell your house in the future or to make it more comfortable to live in, improving your home or properties will benefit you in so many ways.
This is a collaborative post
One of the good things about home improvements is that you can repair and damage and replace old items in your home with new ones that are up to date and functional. Additionally, home improvements do not just give you a comfortable space to live in, but it also allows you to feel good about your surroundings and improve your mood.
Not all items and things inside a house are meant to last for years. Wear and tear is inevitable, especially in places that experience the most foot traffic, like the kitchen, entryways, hallways, and so many more. So, here are five easy tips for home improvements you could do for your next project to help you get started.
Home improvements: Replace Your Old Kitchen Cabinets
The kitchen area is where people cook, prepare foods, and sometimes gather around while talking with their loved ones. In this sense, the kitchen must stay clean. Cleaning your kitchen could help make it look presentable, but if you want it to have a fresher and newer look, updating your kitchen cabinets could be the best way to do this.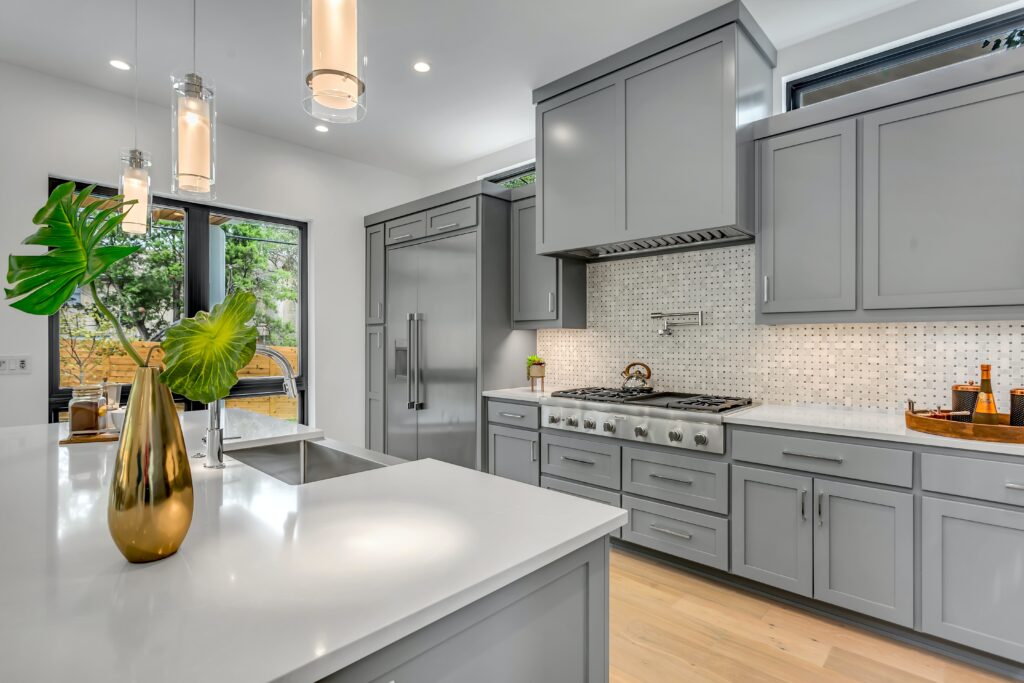 Cabinets are essential parts of a kitchen because it is where some food is stored, cooking equipment is organized, silverware, dishes, and more. Additionally, old kitchen cabinets may not be as functional and beautiful after the many years that it's been installed. If your kitchen cabinets are either not giving you enough storage that you need or are not functional anymore, try checking out some kitchen cabinets online to find some great deals available.
Improve Your Outdoor Landscape
One of the first things people see when they walk past your home or go inside is the outer landscape. Thus, the inside of your home is not the only thing that you should improve but also give attention to the outside appearance.
Some of the outdoor improvements you could do are to trim your grass or create a garden so that you could see flowers bloom. Planting some beautiful colourful flowers will help make a more aesthetic appeal and welcoming vibe to any person entering your home. Don't forget to know the tips and tricks on how to maintain plants so that they can live longer.
Another great outdoor improvement is to add a gate. A gate is essential, especially if you want to mark the boundaries of your property. It also gives you a sense of freedom and prevents pets from entering your home. There are many types of gates you could consider, like wooden gates, turnstile gates, slide gates, swing gates, and more.
Rendering a garden wall is another great idea because it can add a unique flair to the exterior of your home. It also provides protection from weather conditions, as well as improves insulation, which can help keep energy costs down. Additionally, rendering gives you the opportunity to choose different colours and textures that will complement the existing landscape design. With rendering, you can create a truly unique and attractive outdoor space.
Add Repainting Your Front Door To Your Home Improvements List
Even your front door could affect how your home will look both inside and outside. If you want your front door to look at its best, a few tricks like repainting it could create a huge difference.
As time passes, doors could look old and prone to damage. Painting it a new fresher color could help you hide those dirty stains on them and the minimal imperfections. Some of the few things you need to remember before getting your front door repainted are to opt to buy glossy paints because these types of paints are the ones that help the item look more beautiful and stand out. Not to mention, glossy paints are easier to clean and wipe.
Seal the Gaps or Cracks Inside Your Home
Gaps or cracks inside a home could be one of the places where bugs or other insects may live and invade. If left unattended, they could multiply and cause even more problems in the future. So, before those cracks lead to something more complicated, make sure you seal them properly. Remember that before you apply paint on any damages, make sure the gaps are sealed too.
Plant Flowers
Adding a touch of green to your home will be one of the best decisions you could ever make. You could either start a small garden outside if you have a large area or add some low-maintenance flowers if you wish to grow them indoors. Plants are not just beautiful, but they also help improve a person's mood. But, always remember that before you put plants inside your home, you know the proper ways to maintain and grow them.
Home Improvements Tips: A Conclusion
You owe it to yourself to have an excellent place to live in. Having a comfortable shelter is an excellent investment because it's like you are also investing in yourself. There are a lot of various projects you could try in improving your home like simply keeping it clean, repairing some damaged stuff, freshening your space, or you could refer to the information stated above for some easy tricks you could do.
How did I do?
Did you enjoy this post? Why not hang around and read a few more whilst you're here. If you want to read some more of my usual kind of stuff, head over to my Mum Life section. You'll find all things parenting with a tongue-in-cheek twist. Or if you want some days out and UK family holiday inspiration, click on the Travel section.
If you like a bit of social media madness, pop over to my Facebook page where you'll be able to have a laugh at what ridiculousness goes on in my house with three very small boys on a daily basis. Warning – there is often sarcasm, and usually swearing. There are also great travel reviews and some AWESOME giveaways. Feel free to join my Twins, Tantrums and Cold Coffee – Shits and Giggles Parenting Group too, where everyone shares their hilarious stories.
If you like what you see, how about you check me out on Pinterest, Instagram and Twitter too.
And if you want to work with me, feel free to give me a shout here or at helen@twinstantrumsandcoldcoffee.com and I'll get back to you.