With the current situation making travelling abroad more tricky, this year is the perfect time to consider a motorhome or caravan holiday for your family.
This is a collaborative post with Bailey of Bristol and I have been compensated for my time.
So many of us will be staying in the UK this year for our breaks. And with an absolutely stunning coastline, beautiful national parks, and amazing places of interest all around the country, you're sure to find the perfect family holiday without having to jet off abroad.
More and more people are wanting flexibility when it comes to holidays, and one of the best ways to get this is with a touring caravan or motorhome. Think of the endless holiday possibilities if you owned one. You could go wherever you like!
A caravan holiday was a huge part of my childhood
I grew up with caravan holidays. My parents owned a touring caravan when my brother and I were kids. In fact they still do own one, albeit a smaller one, and still take it away as often as they can.
As a child, I remember the van being packed up on our driveway, and us setting off the second the school holidays started. Even that very day after school if we weren't travelling too far.
We'd take the caravan away at Easter, May half term and for three of the six weeks in the summer holidays. And the joy of having a tourer which you tow yourself is that our caravan holiday allowed us to explore different places each time, rather than being tied to one area with a static caravan on a site.
Three decades on and with children of our own, it's most definitely been known for me to try and persuade the Other Half to buy a tourer. Knowing how perfect a caravan holiday is for young children. Or if you don't fancy towing a van, what about a motorhome?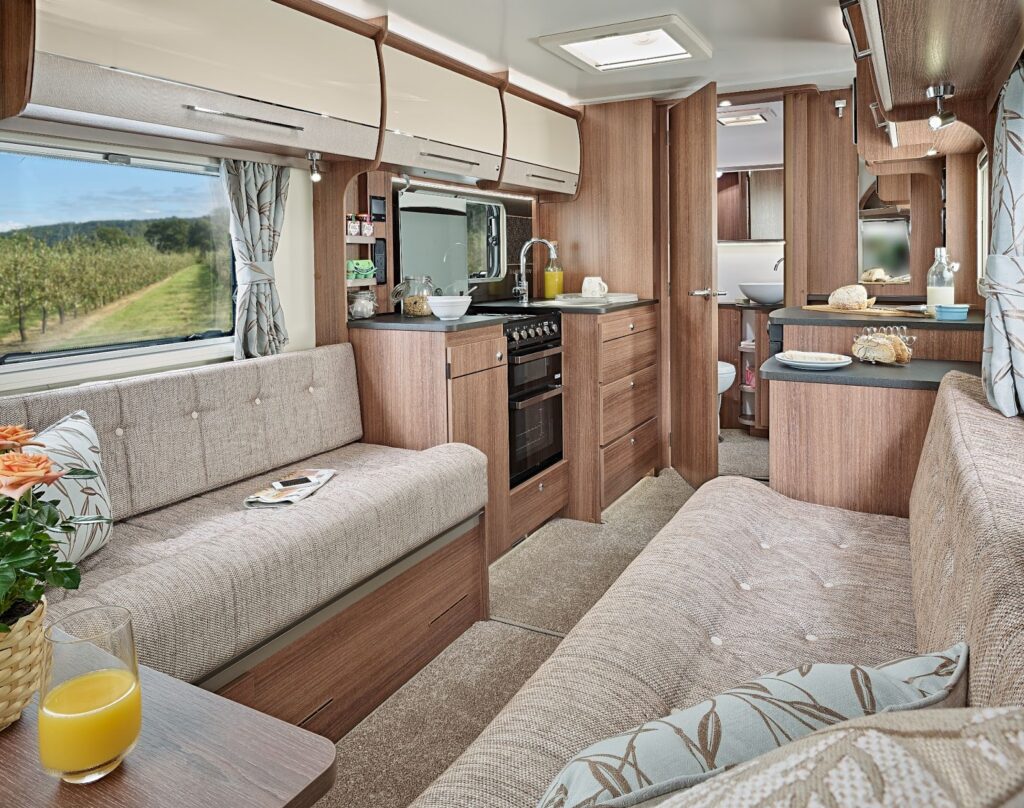 A caravan or motorhome holiday offers so much flexibility
Imagine the independence and flexibility you'd get with a caravan or motorhome. No stressful airport transfers, no rushing to catch a plane, and no having to limit what you take to what you can fit into a suitcase. This is near impossible when you have really young children when you look at how much 'stuff' they need.
You wouldn't have any of that with a motorhome or caravan holiday. You pack what you want, get your ten fun and creative games you can play on the road at the ready, and you set off when you like. Totally stress-free. 
As soon as I can persuade the Other Half I'll be straight onto Bailey of Bristol caravans to start choosing.
Then I'd be off! Where would you head first? I think for the sake of a bit of nostalgia, I'd have to take my own boys back to some of the places we did as caravan holidays as kids. Pretty much all over Cornwall, or north Devon was always a favourite around Croyde Bay. Or to Dorset where we'd play on the beach at Studland or maybe to the Isle of Wight where I remember having some fab holidays in our caravan.
I also remember one caravan holiday where we stayed on a site in Berkshire, then took the train into London to do all the sights. It meant we didn't have the expense of staying in London and could also explore other areas. It was a great way to do it. So maybe I'd do that too!
Choosing your caravan or motorhome
Bailey of Bristol Caravans and Motorhomes come in a huge range of layouts to cater for everyone from couples to large families. Yes it really is possible to sleep six people comfortably in a touring van!
I got really interested in the motorhomes on offer and browsing their website, my particular favourite motorhome would be the Autograph 81-6. It can sleep six, so would be plenty big enough for my family of five, and with a bit more space left over!
I love the layout, especially the huge U shaped sofa at the back, which would be perfect for my boys to chill out in. We could leave them in that area, whilst we sit at the table and chairs nearer the front and hopefully, get a bit of peace and quiet!
I also love that there is a ceiling-mounted mechanically operated drop down double bed! This is fancy stuff. Up to four others can then sleep in two more double beds that are made up from the seating in the rear lounge and front passenger seats (once Covid restrictions ease). My boys wouldn't believe their eyes if they saw that!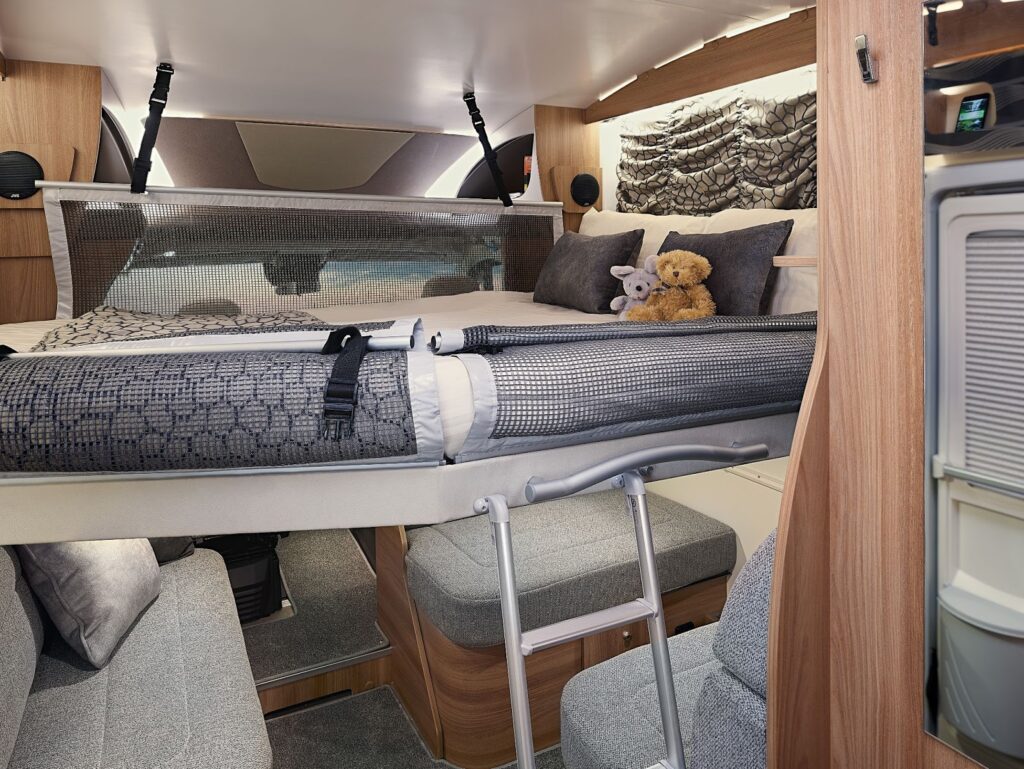 Another great bonus of a Bailey caravan or motorhome is that they're constructed with Alu-Tech technology. This means the motorhome is built using a unique interlocking aluminium framework to clamp the body panels together. And the result is a shell that is more robust and durable than anything else. Meaning during your motorhome or caravan holiday, you'd be kept warm in the winter and cool in the summer. AND it's more economical to own. Sounds like a winner to me!
If like me, you're tempted, then Bailey couldn't have made it easier for us to to find out more about their products. Especially if Covid restrictions are making it tricky. Their website offers fantastic Virtual Showrooms where you can have 360 tours of 26 different caravans and 17 motorhomes. Talk about being spoilt for choice!
And when you are ready to buy, you can search for a Bailey Retailer near you using the Find A Retailer section on the Bailey website (all Bailey caravans and motorhomes are sold through their Approved Retailer Network).
There is also a great news and events section where you can keep up to date with all the Bailey news. This includes information on using their vehicles for self-contained holidays, travel inspiration and product news. Then get choosing from the 30 best family caravan parks in the UK.
Before opting for a motorhome or caravan holiday know your facts
If all this is whetting your appetite, then there are a few basic things you need to know before getting excited looking at the vehicles.
When it comes to motorhomes, you need to know what travel seats and berths means. A berth is a bed space and a travel seat is a seat with a seatbelt. Motorhomes can sometimes, for example, have two travel seats but four berths. So that would mean only two people can travel in the motorhome, but four can sleep it. If you're thinking of buying, you'd need to make sure there are enough berths and travel seats for all the people who will use it regularly.
You also need to know about any driving licence restrictions there might be on certain vehicles. Some motorhomes have licence restrictions dependent on their weight. If you passed your driving test after 1 January 1997, you are restricted to driving a motorhome that is 3500kg or less. Unless you have taken an additional test to add the C1 category to your licence.
Those who passed before this date automatically have the C1 entitlement and can drive a motorhome up to 7500kg. For once there is an advantage of being old! But this is definitely worth bearing in mind when browsing. Especially if you have a bigger family like me and would therefore be going for a bigger vehicle. You can find out more about the restrictions here.
Buckle up and enjoy your holiday
The joy of a motorhome or caravan holiday is not only the flexibility but the choice of both area and type of site you stay on. You can book into a big all-singing, all-dancing sort of campsite. Which would have a pool, play parks and kids entertainment. Or you could rock up at a farmer's field which only allows five vehicles in. And your kids' entertainment would be feeding the horse in the neighbouring field. Or playing with other people's dogs, riding your bikes, and making friends with the children in the van next door. (Can you tell which type my parents opted for when I was a child?)
Whichever you go for, a motorhome or caravan holiday will be something your children will cherish forever.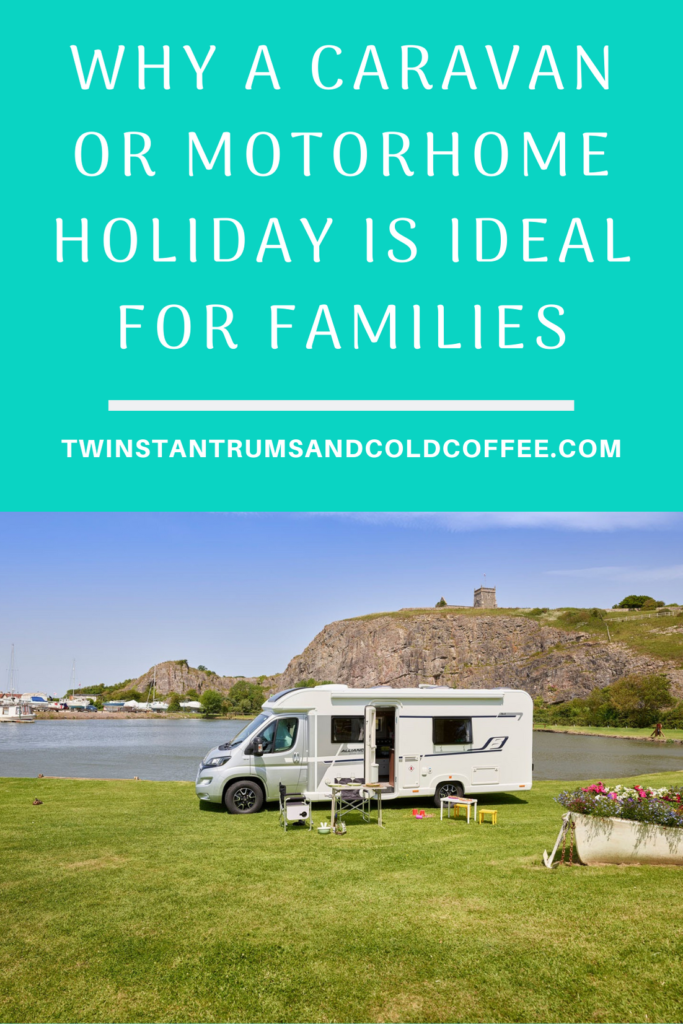 How did I do?
Did you enjoy this post? Why not have a look at my Travel Section whilst you're here. You'll find some great UK holidays and days out inspiration. Or if you want to read some of my normal tongue-in-cheek parenting blogs head to the Mum Life section.
If you like a bit of social media madness, pop over to my Facebook page where you'll be able to have a laugh at what ridiculousness goes on in my house with three very small boys on a daily basis. Warning – there is often sarcasm, and usually swearing. There are also great travel reviews and some AWESOME giveaways. Feel free to join my Twins, Tantrums and Cold Coffee – Shits and Giggles Parenting Group too, where everyone shares their hilarious stories.
And if you want to work with me, feel free to give me a shout here or at helen@twinstantrumsandcoldcoffee.com and I'll get back to you.