Parenting is hard at the best of times. Add a global pandemic into the mix and it just got a whole lot harder.
AD – this post is in conjunction with Boots UK but all thoughts are my own.
As restrictions start to ease and we begin to see the return of our old lives (hopefully), we now need to think about the 'new normal'.
It's a phrase I keep hearing a lot recently. The 'new normal'. And as much as I'm not particularly into cliches, this is a saying that definitely rings true.
I'd LOVE to just turn the clock back to the start of 2020 and forget the whole Covid 19 thing ever happened. But I think there will be plenty of things that we've been forced to do during the pandemic that will stay with us. In our 'new normal', should I say.
And as with most things, our parenting may possibly change alongside everything else. That's down to us as individual families.
Parenting in pre-pandemic times
Ah back to the good old days, eh? It feels like I might be looking back through rose-tinted glasses to the time before the words Coronavirus, lockdown, self-isolating and social distancing made up so much of our vocabulary.
I had a 4.5 year old and 2.5 year old twins just before we went into the first lockdown. Life was full on to say the least.
But pretty normal, I'd say. Days out, the odd weekend away, caravan or cottage holidays. Going to lots of baby groups when they were a bit younger, and constantly socialising with children of their own age.
At the start of 2020, the twins had just begun preschool two days a week and I was finally getting some time to myself. Having had three boys under the age of 2.5, it was definitely needed! But obviously this only lasted two months before a global pandemic hit.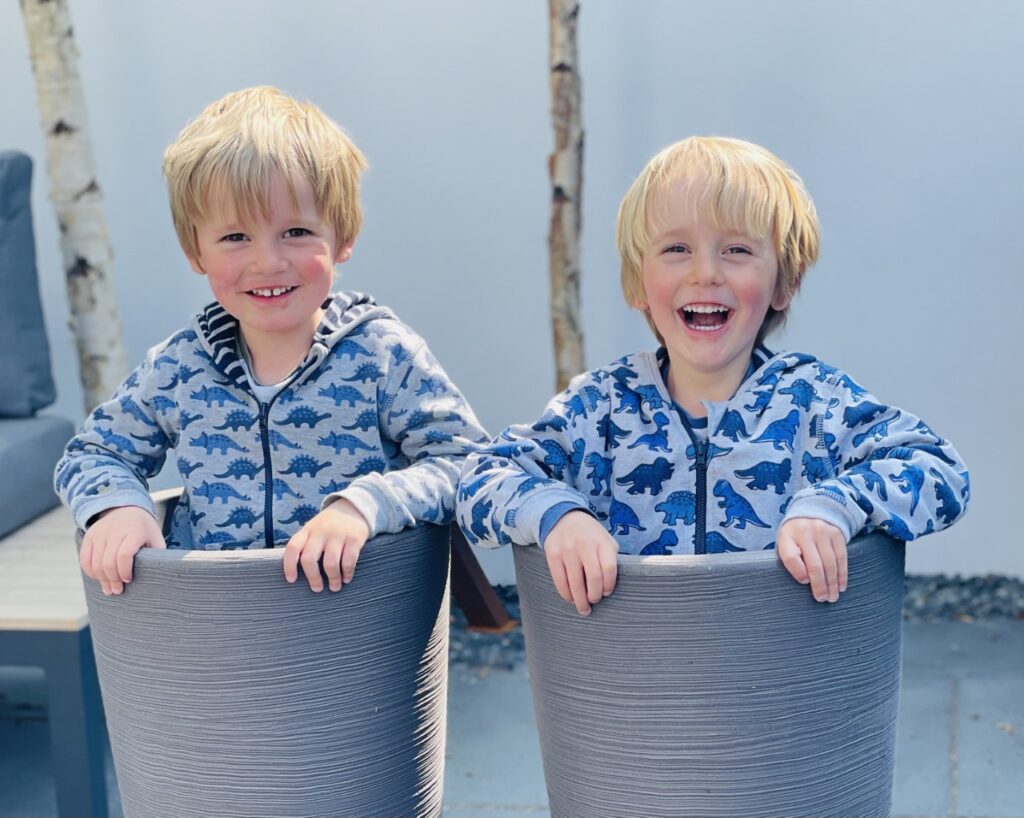 All three were going to weekly swimming lessons, we were having playdates at friends' houses, and days out to local National Trust gardens. My eldest had just completed his first term in Foundation at school and was getting on really well, and they'd see their grandparents and cousins all the time. All very normal really, as I say. And looking back, all very lovely. (See what I mean about the rose-tinted specs?) We won't mention the fact that parenting three young boys whilst your husband works away half the week is flipping hard work. Or the fact they continually fight and that bedtime can take hours with them winding each other up and running around naked. No, we won't mention those bits!
Lockdown parenting
Then on March 23, 2020, the Prime Minister announced the UK was going into lockdown. And suddenly everything was very scary, wasn't it? I was lucky everyone was healthy, but from then until June 3 when the schools reopened to foundation children, my life as a parent was very different.
Homeschooling took over. As I expect it did in most households whatever situation you were in.
I was determined to do as much of the schoolwork as I could with my then four-year-old as I thought it was important. But that meant having to ignore the twins a lot whilst I struggled to get their big brother to engage in any kind of learning. And ignoring them, meant they got up to a fair bit of mischief. I think my walls have only just recovered.
I'm not particularly a 'fun mum' like some are, but even if I was, all 'fun' went out the window when it came to homeschooling and looking after toddler twins. There were lots of tears all round, and I found it REALLY hard.
The worst part was not being able to see my parents and for them to help with the boys like they would normally do. Everyone missed each other and my support network had disappeared with Boris' announcement. As it did for everyone. My husband was now working from home but his workload went up a gear with so many of his colleagues furloughed. He'd be locked away for 10 hours a day – no doubt trying to ignore the noise coming from the rest of the house!
We'd Facetime my parents which felt bizarre as they only lived 10 minutes away. Whilst others were standing on grandparents' doorsteps or driveways we decided our boys were too young to understand what was going on. They would be upset they weren't allowed in the house they go to so regularly.
It felt isolating despite being surrounded by people
There was no swimming, no days out with friends, and no sitting in your best mate's kitchen drinking coffee whilst the kids played. It was all very strange, wasn't it? And pretty isolating even though I was constantly surrounded by people. Our favourite baby and toddler group, Moo Music ran free sessions online so we watched them. And the four year old did Taekwondo sessions on Zoom in the lounge rather than a huge hall. It was tough to explain to the boys what was going on.
In the first lockdown we'd go out for walks at the weekend just around our local streets. Or on their bikes at our local playing field. Then in the other lockdowns they pretty much gave up on walks and we went to the park every day. Thank goodness they were open again. Although I think even the kids were bored of them come the end!
It was a much slower pace of life, and I guess that meant a slower pace of parenting as well. There was less to do, so I'd let them watch more TV than usual. Or chill out in their pyjamas for longer at the weekends.
I often felt lucky that I wasn't a first time parent in 2020/2021 – having a baby during a pandemic must be very scary. Not only all the restrictions surrounding the birth, but everything else that follows. The limited contact with health professionals, no baby weigh-in clinics, no home visits from health visitors. No baby groups were running to meet other mums, or for your babies to be around others their age. Chances are your baby might not have met wider family for months, let alone be cuddled by anyone else. All they would see outside the home would be people wearing masks and staying apart. What sort of impact was all this having on new mums' mental health?
Post pandemic?
Now as restrictions are easing, life is opening up again. And we may have to find a new parenting way in that 'new normal'.
I want to say that we'll get back to how it was before. But there are so many differences, we have to make sure our children understand and can deal with them.
The fact schools are back open is the biggest thing for me. Although aren't the rules and regulations taking a bit of getting used to? All the queues for drop off and pick up, one way systems, mask-wearing. One of the things I find a shame is not being able to chat to other mums on the school run.
We used to have an area both for school and preschool where we'd gather to drop them off and pick them up. It was a place where the children would catch up and start to play, and us parents could get to know each other and talk. The new rules mean that doesn't happen anymore, as we have to queue up socially distanced, drop our child at the door, and keep on moving. Nobody gathers. Nobody hovers. And nobody chats. I think that's quite sad.
No chance to make friends on the school run
Especially at preschool where I've met no other parents of the children my twins play with. The only ones I know are parents of older children I met two years ago when my eldest was there and he's now at school with. I've met nobody new. Nobody with children my twins' age. And quite frankly, I'd make friends with anybody!
And because of the quick preschool drop off or pick up, we get less feedback on what our children have been up to. We're not allowed inside. Some parents will have never set foot inside the building their children spend a whole day in. Isn't that a shame? Parents evenings have been, and continue to be on Microsoft Teams.
Likewise my twins start school in September but there have been no school tours, there will be no inductions or teacher home visits. Imagine sending your child to a school you've never been into? I am lucky my eldest goes there so I know it. If he didn't it would be a whole different story and one I would struggle with.
Now it's back to parenting as a busy mum again as clubs start to reopen. Last week we had swimming, and Taekwondo, and also started football and Beavers for the first time. If this is the 'new normal' then I like it. Although I know some who aren't ready to be 'busy' again.
Obviously each of those groups came with their own set of restrictions and rules. They are vastly different to how they were before. Life is supposed to be back to normal from June 21, but I wonder how many of these new ways of doing things will stay?
Things like online parents evenings, and wearing PE kits to school rather than having to change, are things I like. Maybe this is how life will be from now on? But I'm desperate to be able to have people in my house again and for the children to play together. Not to mention the coffee-drinking with friends I have to catch up on. Oh, and the hugs!
What has helped me feel supported during the pandemic?
In the third lockdown in early 2021 childcare bubbles were my saviour. I was able to bubble up with my parents, and although we didn't socialise as such, my twins still went there one day a week. My eldest also went there one day a week – complete with homeschooling! It meant I could have a day to concentrate on them rather than ignoring them in favour of the five year old's phonics. A day back to actually parenting my twins.
The preschools stayed open this time round which made a huge difference on the two days a week they go. The school teachers' support for us homeschooling parents was phenomenal. And the fact my husband was still not working away and was home for every hectic bedtime helped a lot.
I also relied on my weekly Zoom calls with my best friends for support. Knowing everyone was in the same boat was comforting. Like the Zoom calls, more and more focus was on online. You could get everything you needed online and people relied on it. Whether it was shopping, socialising or advice.
Everyone turned to the Internet
As parents places like Mothercare essentials available at Boots were brilliant. Whatever we needed for our children was available at the touch of a button. You didn't need to go out and about if you needed new children's or baby clothing. And if you had younger ones it was ideal for baby nursery stuff, baby pushchairs or baby car seat purchases.
Even now with my boys being a bit older, I was still able to buy clothes for them. It's not like the pandemic stopped them growing at a rate of knots! And I got some fab bits for when their swimming started up again.
It was also the ideal go-to place for gifts for friends who had babies during lockdown. You couldn't see them in person, but you could buy a present and have it delivered straight to them. Like this cute monkey toy.
The Boots website also features a great advice section and some brilliant parenting blogposts to read if you were feeling unsure of something. The pandemic has made me think more about my health and the safety of my kids – hell we even started looking again at our wills to ensure their future was secure. Not to be morbid or anything!
Parenting post pandemic is a bit different, isn't it? There's a lot more to consider on a day to day basis. And I'm not just talking about whether you have a face mask in your pocket. T
It is nice to get back to some kind of normality. But there will be a period of adjustment and some things might never go back to what they were before. Maybe some things have changed for the better. But it certainly makes you appreciate what you've got, and not to take anything for granted, doesn't it?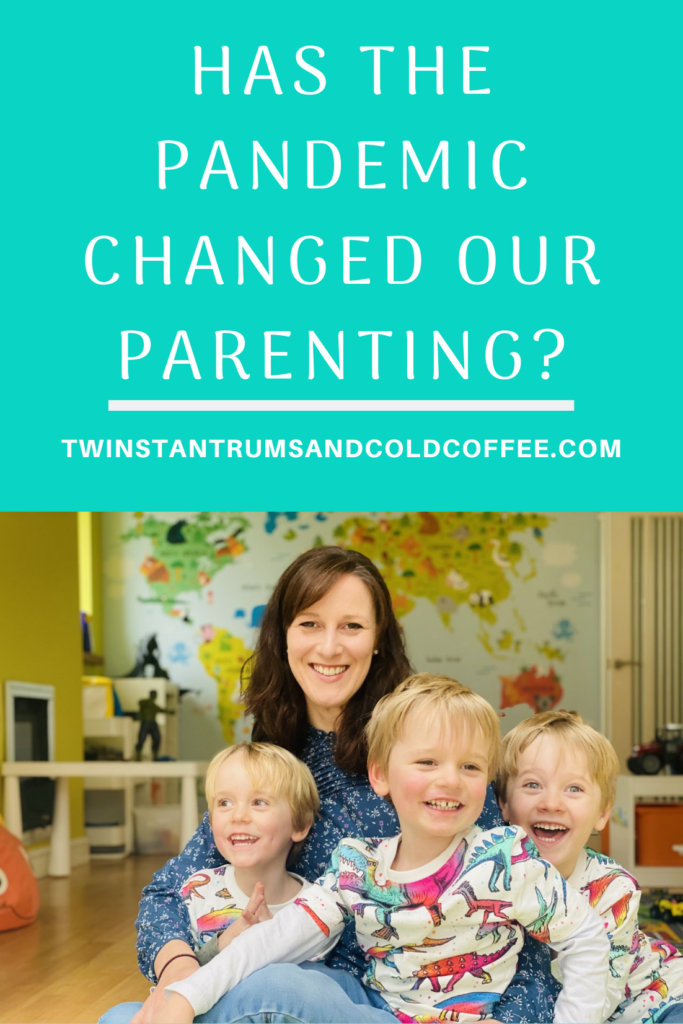 How did I do?
Did you enjoy this post? Why not hang around and read a few of my others whilst you're here. You might relate to this one Feeling The Pressure To Be A Supermum During Lockdown? Or The Best And Worst Bits Of Being A Mum In Lockdown. And this one might ring true too – 15 Things I've Learned During Lockdown – the Realistic Version.
If you want to read some more of my usual kind of stuff, head over to my Mum Life section. You'll find all things parenting with a tongue-in-cheek twist. Or if you want some days out and UK family holiday inspiration, click on the Travel section.
If you like a bit of social media madness, pop over to my Facebook page where you'll be able to have a laugh at what ridiculousness goes on in my house with three very small boys on a daily basis. Warning – there is often sarcasm, and usually swearing. There are also great travel reviews and some AWESOME giveaways. Feel free to join my Twins, Tantrums and Cold Coffee – Shits and Giggles Parenting Group too, where everyone shares their hilarious stories.
And if you want to work with me, feel free to give me a shout here or at helen@twinstantrumsandcoldcoffee.com and I'll get back to you.