As a busy mum of three boys it's fair to say there's not much time to spend on beauty essentials, skincare routines and keeping fit and healthy. Especially in the mornings when trying to get everybody up and out of the door in time for school.
This is a collaborative post
There are days where you may be lucky enough to run a brush through your hair before dashing out with kids in tow. And the last thing you want is to find time for exercise and healthy eating. There are days when my husband works away that I have a bowl of cereal, mini Snickers bar and a can of Diet Coke for dinner as that's all I have energy for.
Don't get me wrong, it's not that I don't want to be fit, healthy and have a great beauty routine. I just sometimes struggle to find the motivation, and always struggle to find the time!
I love my beauty products and always feel better when I have had a bit of time to myself to get ready. And I've just started a weekly Dance Fit exercise class and am already finding I'm feeling better for it. Now to step away from the cereal for dinner!
If, like me, you're a busy mum who's short of time – I have put together a list of health and beauty essentials that may leave you feeling more human than zombie.
Beauty essentials for busy mums
Dry shampoo
No time to shower? Dry shampoo has saved the day on many occasions. Simply spray onto greasy roots and rub in to give the illusion of freshly washed hair. It is a great time-saver on busy mornings.
Silicone facial scrubbing pads
I discovered these little silicone scrubbing pads last year and I have to say they are great for removing dry skin and bringing a bit of colour to your cheeks. This will leave your skin smoother and create a good base for make-up.
Foundation with SPF
Let's face it, lack of sleep and general exhaustion can leave you looking gaunt and washed-out. Choosing a moisturising foundation, close to your natural skin colour with SPF will even out your skin tone and give you a confidence boost too.
Waterproof mascara
Enhance those weary eyes and give your lashes a little help with some waterproof mascara. Waterproof is a no-brainer if you're a busy mum. Even wearing a face mask has left me with panda eyes from all that extra moisture.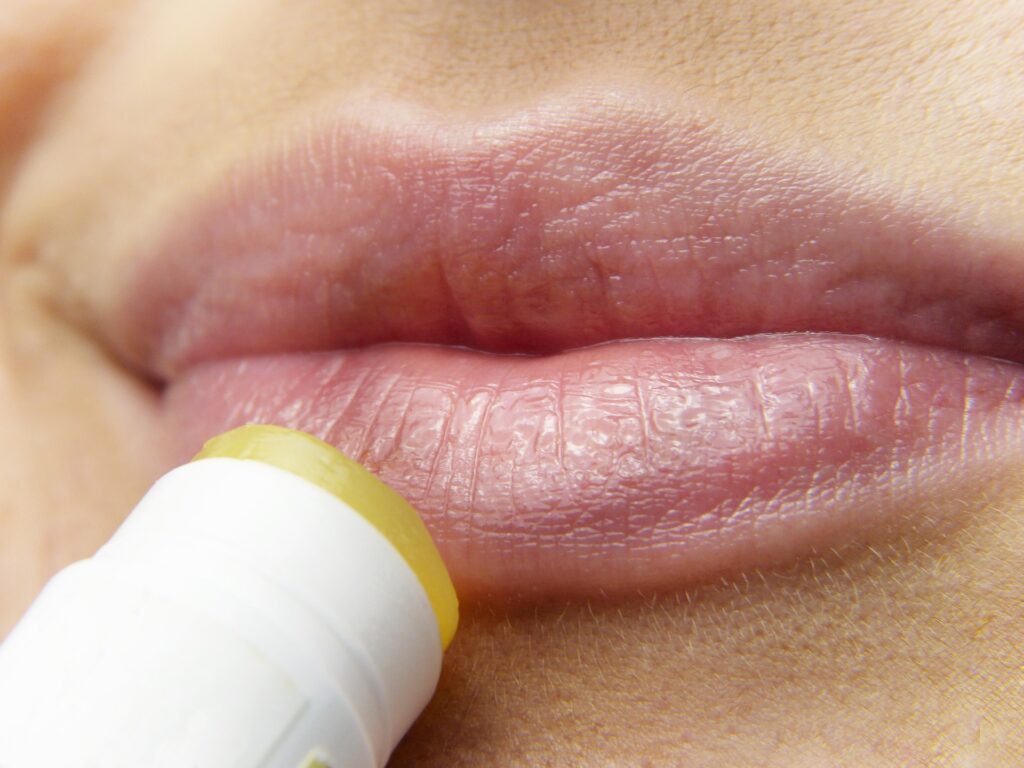 Tinted lip balm
Moisturising with a hint of colour – a tinted lip balm will repair and protect chapped lips whilst making you feel a little more glam but not too made-up for the school playground.
Cleanser and toner
A few years ago I met a mum who was quite a few years older than me and she asked me if I used cleanser and toner. I told her that I barely had time to brush my teeth, let alone have a full-on beauty regime in the morning – and she told me to start using cleanser and toner on my skin every day – she wished that she had sooner. Do this in the evenings before bed, it will help remove any grease and grime or makeup and also help to keep your skin in good nick.
Moisturiser
Did you know that you are supposed to moisturise your hairline? Me neither. I wasn't really expecting that to be on my list of beauty essentials! One day I went for a facial with a friend and the beauty therapist told me my skin was very dry and that I should be moisturising everything including my hairline! I now moisturise my body after a bath and also use moisturiser after I have cleaned my face. Anything to help retain a slightly youthful appearance is good in my books!
Hair removal
I know what you're thinking. We've got little kids and no time to worry about hair removal! I get it. We spend about 2 minutes in the shower and that's just about enough time to have a wash let alone a shave. And don't even think that you'll be lucky enough to wash your hair! So have you thought about laser hair removal? For an initial bit of effort, you can then sit back and not worry having to shave your legs, underarms – or anywhere! You may need a 'top up' once a year, but isn't that worth it for having hardly any hair to worry about in the meantime? Sounds like bliss to me!
Health essentials for busy mums
So clearly I'm no expert, but we all know that exercise really is something we have to get off our bottoms and do, if we're going to be healthy in both our bodies and minds. Taking mood, memory, and brain supplements also helps sharpen our focus. Being a mum often means doing more than one thing at once and taking on multiple roles. Getting extra nutrient support is vital in helping us stay on top of everything we have to do daily. Not to mention eating as healthily as possible. The kids' leftover chicken nuggets will not suffice!
When it comes to optimizing our cognitive functions, there's been a lot of buzz lately about nootropics. However, finding reliable information and products can be a challenge. Exploring a nootropics shop in Europe can provide a valuable opportunity to learn more about these supplements and make informed choices for our mental well-being.
Think about what you're eating
If you're anything like me, I can easily forget to make myself lunch during the day. That would mean having to actually stop what I'm doing and take the time to prepare something! I often just want to pick as it's quicker, but obviously not always the healthier option. Dare Motivational Shakes are a handy option for us busy mums as all we need to do is add water or milk. They are a nutritionally complete powdered plant-based drink that can be used as a nutritious snack or as part of a meal plan.
I'm not likely to be replacing my evening meal with a drink anytime soon – but they're ideal for keeping you going during the day when you're so busy. They contain a bespoke all-in-one blend of seeds, superfoods, herbs, phytonutrients, pre- and probiotics and all 26 essential vitamins and minerals. So a hell of a lot! I'm guessing a considerable amount more goodness than my cereal and Diet Coke… And the best bit is there are loads of hacks you can do with them to make them different. Including adding espresso to give yourself a coffee pick me up! It's like they've got my name written all over them.
Getting extra nutrient support is vital in helping us stay on top of everything we have to do daily. Another easy way to do this is to grab yourself a cold pressed juicer and start juicing. Making your own fresh juices is a great way to sneak extra nutrients into your diet
Exercise options for busy mums
When it comes to exercise you don't need to tell me how hard it is to find the time, it's bad enough finding 5 minutes for your beauty essentials. But how about trying some of the following to be healthier.
Couch to 5k
I'm not a running fan. I did it once, even entered a half marathon, then got stretchered off a mountain in the Alps on a skiing trip having damaged my knee. Bang went my running efforts. But if you do fancy giving it a go, why not start with the Couch to 5k plan. It is a running plan for beginners that will see you gradually build up to running 5km in just 9 weeks. It involves 3 runs a week and starts with a mix of running and walking to build up your stamina and fitness.
Walking
If running really isn't for you (I'm with you!), then try to go out for more walks. Extra bonus points for if you're also pushing a buggy! If you're lucky enough to escape the house after bedtime, team up with a friend and pound the streets for an hour. You'll be amazed at how many steps you'll do when you're too busy chatting to notice.
Home workout sessions
Lots of my friends can't find the time to go to the gym, out for a run or to a class. So they do 10 minute home workout sessions in the comfort of their own lounge! If you've got preschool children who aren't yet at nursery and are basically with you 24 hours a day, get them to join in. Or set them up with some toys as a distraction – or even better do it during their nap. There are loads of 10 minute workouts online to guide you.
Dancing the calories away
Okay, so you may not want to or can find the time to go to an actual dance class, so what about a kitchen disco? Sounds silly, but any bit of movement is better than nothing, right? If your kids are like mine, they love putting songs on Alexa and dancing to them. Why not join them?
So, there you have it, your basic health and beauty essentials for busy mums. We may not have time, we may be exhausted and lack motivation sometimes but you can still use a few quick beauty hacks in the mornings and evenings to give you that extra boost. And any movement or exercise, no matter how small, is better than nothing!
How did I do?
Did you enjoy this post? Why not hang around and read a few more whilst you're here. If you want to read some more of my usual kind of stuff, head over to my Mum Life section. You'll find all things parenting with a tongue-in-cheek twist. Or if you want some days out and UK family holiday inspiration, click on the Travel section.
If you like a bit of social media madness, pop over to my Facebook page. You'll be able to have a laugh at what ridiculousness goes on in my house with three very small boys on a daily basis. Warning – there is often sarcasm, and usually swearing. There are also great travel reviews and some AWESOME giveaways. Feel free to join my Twins, Tantrums and Cold Coffee – Shits and Giggles Parenting Group too, where everyone shares their hilarious stories.
If you like what you see, how about you check me out on Pinterest, Twitter and Instagram too.
And if you want to work with me, feel free to give me a shout here or at helen@twinstantrumsandcoldcoffee.com and I'll get back to you.