Picture this: through bad weather, illness or any other reason, you've been cooped up at home watching TV, and your children haven't been moving around much. What is their behaviour like? If they're bouncing off the walls, it's time to introduce more gross motor play into their day.
This is a collaborative post
What are gross motor skills?
Gross motor skills are large-muscle movements of the arms, legs, and torso. They get your tiny baby rolling, then crawling, and your toddler walking, then running and climbing. While every child develops differently, learning to coordinate gross motor actions is an essential part of your child's ability to perform everyday functions.
Why are they so important?
Gross motor skills impact our ability to sit, stand, balance, run and play. They also provide the core strength required to perfect fine motor skills like pinching, sorting and writing. The energy release children get by practising gross motor skills is important for relieving stress and frustration, which is why you'll often find their behaviour deteriorates the more sedentary they are.
Gross motor skills develop quickly in the early years, so young children need time and space to experiment with them in their play. Encouraging this is vital for improving physical control and risk-taking, while also boosting self-confidence and self-esteem. Practising gross motor skills through play is also great for building hand-eye coordination. In preschoolers, it is an important part of building school readiness.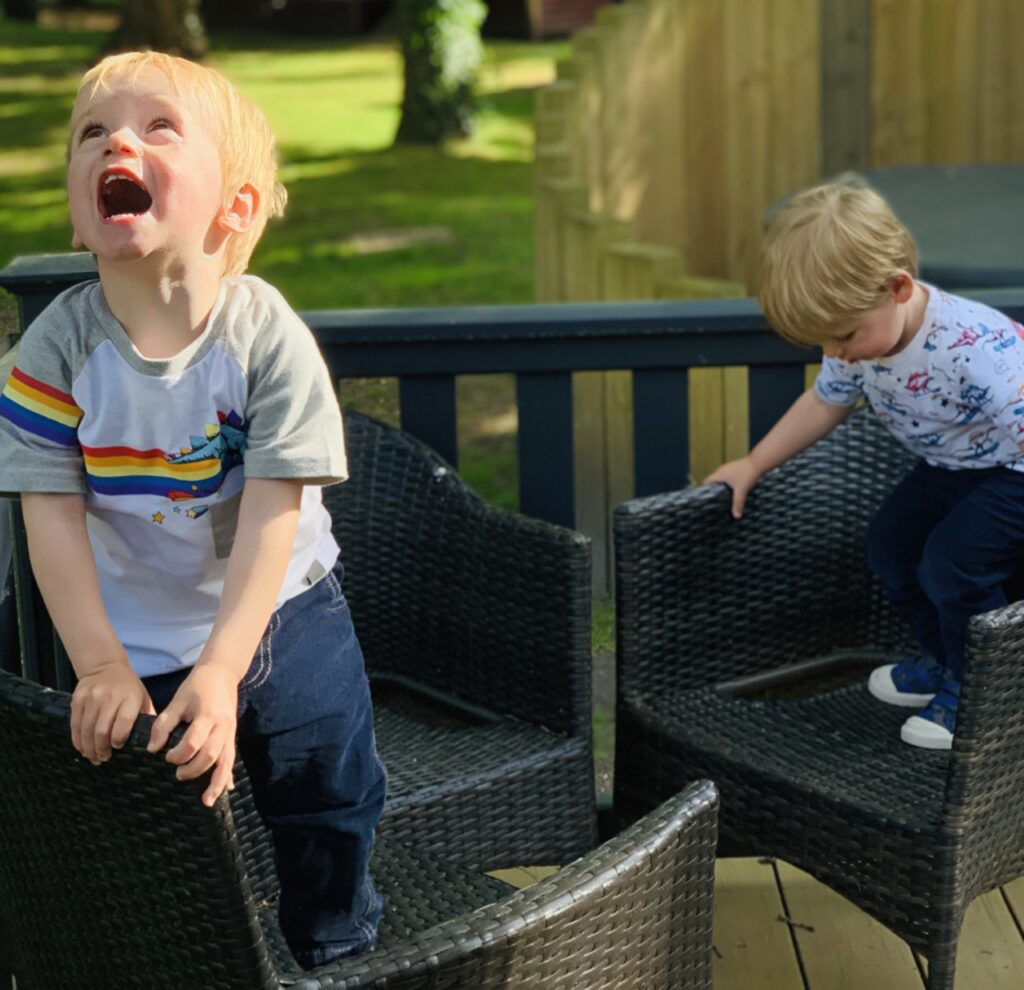 How gross motor play will save your sanity
As adults, increasing our activity and exercise levels helps us sleep better, and it's no different for our children. As any toddler or preschooler parent knows, a hardcore playground session is a surefire way to improve the chances of a successful nap. The more we encourage children of any age to move their bodies, the better they will sleep – and well-rested children mean a much calmer household. Encouraging gross motor play will help prevent boredom and teach them how amazingly capable their bodies are.
In young children, learning to move their bodies in different ways also increases their independence – even with simple life skills, such as learning to put on clothes or climbing a stool to wash their hands or brush their teeth. As children get older, getting them into a team sport will teach them important social skills, such as turn-taking, cooperation and sportsmanship. All these skills will help their behaviour at home in the short-term, while turning them into well-adjusted teenagers and adults later in life.
Inside or outside?
While playing in the fresh air is important, and all children should be encouraged to spend as much time in nature as possible, gross motor play can happen in any situation. It's easy to take their favourite outdoor games to the local park – or even the backyard! 
If you're stuck inside, encourage your children to switch off the screens and build forts, indoor obstacle courses and balloon volleyball sessions. Play couches made of modular foam pieces that can be rearranged in any way are great for expanding their imagination and coordination. Plus, there are plenty of toy options out there that will encourage them to get up and get active.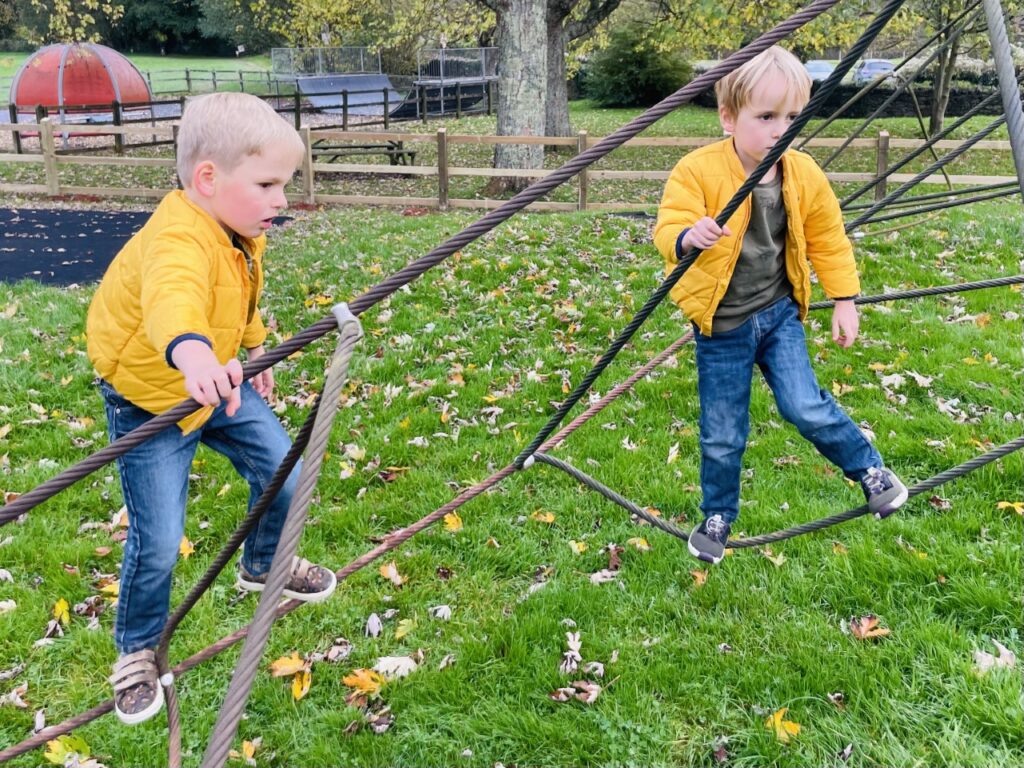 Simple gross motor play activities to try at home or the park
Are you stuck for ideas? Here are some great examples of gross motor play that are easy to set up at home.
Ball play
With very young children, start by rolling a ball back and forth with outstretched legs. As they grow, progress to gentle throwing – even if they can't catch yet, encourage them to throw a ball as hard as possible with one or two hands. Preschoolers and older children love kicking, catching and throwing hoops.
Obstacle course
Grab all your couch cushions, chairs, stools and items like hula hoops or buckets to set up an obstacle course. You can even try an egg-and-spoon race! Have your children race each other, or the clock, to complete a series of tasks.
Ninja warrior
Think the laser dance from Oceans 12 – tape crisscrossing pieces of wool down your hallway or across a room and have your children try to get from one end to the other without touching it.
Balancing fun
Start with a line taped on the ground and have your child walk the line. As they get older, look for opportunities to challenge them on balance beams at the park or play centre.
Nature Scavenger Hunt
Set a list of items to find – like leaves, bark, feathers and sticks. Vary the number depending on the child's age and encourage them to run around completing the list.
Other examples
Other things that are great for building gross motor skills are chasing bubbles, relay races, homemade tenpin bowling games, and riding trikes, scooters and bikes.
Providing opportunities for gross motor play will enhance the needs and abilities of your child. By letting them safely release their built-up energy, you'll find your whole household runs more smoothly. Playing is a great way to spend quality time with your children while showing them the value of being active.
How did I do?
Did you enjoy this post? Why not hang around and read a few more whilst you're here. If you want to read some more of my usual kind of stuff, head over to my Mum Life section. You'll find all things parenting with a tongue-in-cheek twist. Or if you want some days out and UK family holiday inspiration, click on the Travel section.
If you like a bit of social media madness, pop over to my Facebook page where you'll be able to have a laugh at what ridiculousness goes on in my house with three very small boys on a daily basis. Warning – there is often sarcasm, and usually swearing. There are also great travel reviews and some AWESOME giveaways. Feel free to join my Twins, Tantrums and Cold Coffee – Shits and Giggles Parenting Group too, where everyone shares their hilarious stories.
If you like what you see, how about you check me out on Pinterest, Instagram and Twitter too.
And if you want to work with me, feel free to give me a shout here or at helen@twinstantrumsandcoldcoffee.com and I'll get back to you.