If you have a three or four year old right now, one of the biggest things to happen this year will be them starting school. Arggghhh!
Within the next week or so you'll have had to fill in your application, a potentially agonising and emotional process in itself! Then prepare yourself for a few months' time when we all hear whether we got our first choices of school or not.
Reality strikes – school is looming
Shit the bed. I'm not looking forward to April 16 when we find out AT ALL. Even though I live less than 70 metres from our chosen school, it still sends me into a cold sweat when I think about the three year old not getting in there. And obviously I'm burying my head in the sand about the alternatives.
I guess at that point it will all start to feel very real. In less than five months from then, we'll be waving them off on their first day. And I'll be blubbing like an absolutely dick all the way home.
I'm a bit all over the place in my thinking when it comes to this subject, you'll not be surprised to read.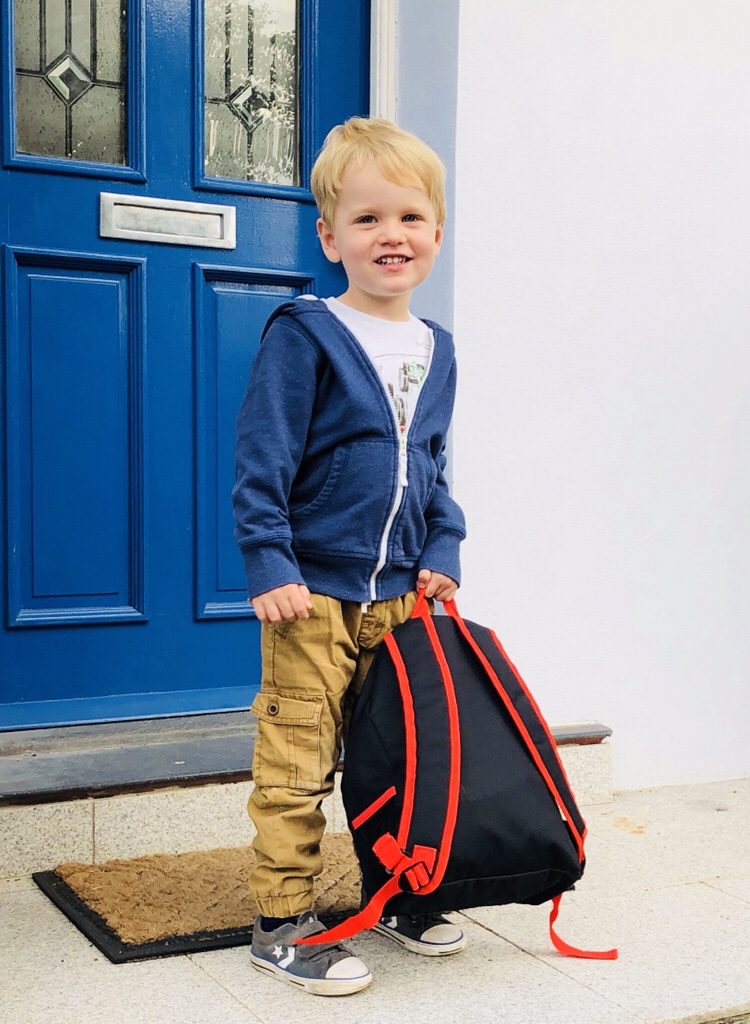 Gutted
On the one hand I'm gutted my time with the three year old (he'll be just four by then) is coming to an end. I've been massively lucky (most of the time) to be a stay at home mum since having him and we've had some fabulous times together.
It'll feel weird him going to school every single day, rather than playdates with my mum mates, swimming lessons, mornings running all over our local National Trust gardens. And I'm not going to lie – I'm dreading getting him and two year old twins out the door by 8.20am EVERY morning. It's bad enough doing it twice a week for pre-school at the moment. It nearly sends me over the sodding edge! (You can read how well I cope/shout here)
Excited
But on the other hand, I CANNOT WAIT for him to go! He's bright and will enjoy learning, I'm sure. And if I have to pretend to watch another episode of f*cking Paw Patrol or Andy's Prehistoric Adventures, I actually might lose my shit.
I was going to say I'm looking forward to having a bit more time but then I remember there will still be two more hectic toddlers at home wrecking everything in sight. Funny how they've been on the waiting list for the local pre-school since they were born…
Worried
My third emotion is worry.
I'm not worried about how he'll be in the classroom. I know he'll be fine then and (hopefully) do what he's told. But I worry about EVERYTHING else, which is weird for me as my general parenting style is to not worry much about anything. You may have noticed.
I worry about what the hell he'll eat at school as he's the fussiest kid in the world. I can imagine him asking for a peanut butter and cheese sandwich and standing there with a quivering lip when he can't have one. Guess he'll be pretty hungry for the first few weeks!
So many what ifs about school
What if he's too scared to say he needs the loo? Or he doesn't wipe his bum properly? Please don't let him be the one kid at school that stinks of shit! What if he can't figure out how to get his uniform back on after PE? And what if he doesn't recognise his name on his stuff and loses everything? FFS please don't lose the expensive stuff!
Obviously I know most of this probably won't happen, and if it does I guess it'll be character-building. I know school teachers see this happen ALL the time and will be on hand to guide them through. But I'm starting to think of what I can do to prepare him over the next nine months to be 'school ready'.
I'm thinking the first thing on my list should probably be to wean him off peanut butter and cheese sandwiches.
So I asked some of my fellow-bloggers who are either teachers themselves or have school-aged children for any tips on where to start. Here are their suggestions on what four year olds should ideally be able to do when they start school, and remembering they're all different. I think I may have a bit of work to do…
Ten tips to be 'school ready':
"This is something I always worried about, but children all learn at their own pace so there's not really a lot they NEED to know, but every little helps! One think I definitely think is important is to practise holding pencils and pens. Drawing, scribbling and attempting to write letters and numbers are all great places to start. If they can't hold their pencil the correct way or write any letters or numbers you don't need to worry. It's just about practicing. www.whimsicalmumblings.co.uk

"The difference between the girls and boys toilets (the symbols) and which one they need to use.

www.myfamilyofroses.co.uk

"How to wipe themselves after using the toilet. My cousin had great problems with her daughter coming home dirty as teachers aren't allowed to help at their school.

www.devonmama.com

"Putting on their coat and doing up the zip. It makes life much easier for teachers and is one of the first things we do in reception.

www.emmaand3.com

"Recognise their own name when it's written down. This helped my girls find their own coat pegs, also things like their own drawers, books and belongings – so that they didn't lose their PE kit!

www.twinderelmo.co.uk
"They definitely need to be potty trained. There's a lot of school kids these days having accidents still which is shocking. There are some still in pull ups. www.kiddoadventures.com

"Get some of the reception learning books and do a little each day in the summer holidays, it really does help prepare them." www.anklebitersadventures.co.uk

"How to ask for something, like going to the toilet, asking for a tissue etc if they are worried. How to put their shoes on, and get dressed and undressed for PE. And how to put their clothes on the chair once they've taken them off, and socks in shoes. They don't have to do this but it's good to prepare them, so is useful if they can hold a pencil and scissors. www.popitha.com

"How to hold a pencil, take turn, listening skills, queuing, and being toilet trained is a must unless there is an additional need." Lotties Baby Boutique

"Get themselves dressed and undressed for PE. Often children can do this at home and in their usual clothes but find they struggle with tricky school uniform etc. This also includes putting on and doing up their coats. I would also suggest Velcro shoes, they don't need to do shoe laces at such a young age, but shoe laces cause a lot of extra time loss for teachers, and children often run around with them undone – causing a hazard to themselves. www.twocherriesblog.com
Do you have any tips to add?
How did I do?
If you thought this blogpost wasn't half bad, why don't you hang around and have a read of some more. You might like this one about the mixed emotions a stay at home mum feels when they start pre-school. Or 10 Tips To Help Your Child For The Start Of School. Or what about the Toddler and 'Threenager' tantrums to make you laugh out loud.
And if you have twins starting school this year, have you thought about whether you'll keep them in the same class or separate them? Have a read of these posts to see how we made up our minds. Separating Twins At School Or Keeping Them Together, or Why I've Decided To Put My Twins In Different Classes At School.
Or if you fancy a bit of social media madness, pop over to my Facebook page. You'll be able to have a giggle at what ridiculousness goes on in my house with three very small boys on a daily basis. Warning – there is often sarcasm, and usually swearing. Feel free to join in though. There are also great travel reviews and some AWESOME giveaways. And if you fancy sharing your own funnies, come and join my Twins, Tantrums and Cold Coffee – Shits and Giggles Parenting Group on Facebook.
If you like what you see, how about you check me out on Instagram and Twitter too. I'm all over the place!
And if you want to work with me, feel free to give me a shout here, and I'll get back to you during naptime/screentime (!)