Cycling is a great form of physical activity for kids of all ages. It's not only a fun way to get around, but it also has many health benefits. It is a low-impact activity, so it's easy on the joints and an excellent way to improve cardio fitness and build strong muscles. There are so many benefits of cycling for kids!
This is a collaborative post
And because it's a weight-bearing exercise, it can help kids strengthen their bones. There are also many mental health benefits of cycling. So if you're looking for a way to get your kids active, encourage them to hop on a kid's bike!
Cycling For Kids Helps To Strengthen Bones And Muscles.
Cycling is a great way to stay active and improve your kid's overall health. But did you know that cycling can also help strengthen bones and muscles? A recent study showed that cycling helps to increase kids' bone density and improves muscle strength.
So if you're looking for a way to boost your health and fitness, consider adding cycling to your kids' routine. It's a great workout for their whole body and can help keep their bones and muscles strong and healthy.
It Can Improve Coordination And Balance.
There are many benefits of cycling for kids, including improved coordination and balance, increased fitness, and a reduced chance of obesity. Cycling can also help kids to develop a positive relationship with activity and a love for exercise.
Cycling Can Help To Develop A Child's Sense Of Direction.
Cycling can help to develop a child's sense of direction. This is because children must pay attention to where they are, how they will avoid obstacles, and to staying on the right path when cycling. This helps them to develop a sense of spatial awareness, which is an important skill for navigation.
Additionally, cycling allows children to develop their motor skills and coordination, which can further help with navigation. It is also a good idea to install kids' bells on their bikes to develop their coordination skills.
Cycling For Kids Is A Great Way To Get Some Fresh Air And Vitamin D
We all know that kids need to get outside and get some exercise. But did you know that cycling is a great way for kids to get fresh air and vitamin D? Plus, it's perfect for kids of all ages.
Make sure that they are wearing a helmet and are supervised by an adult when they are cycling.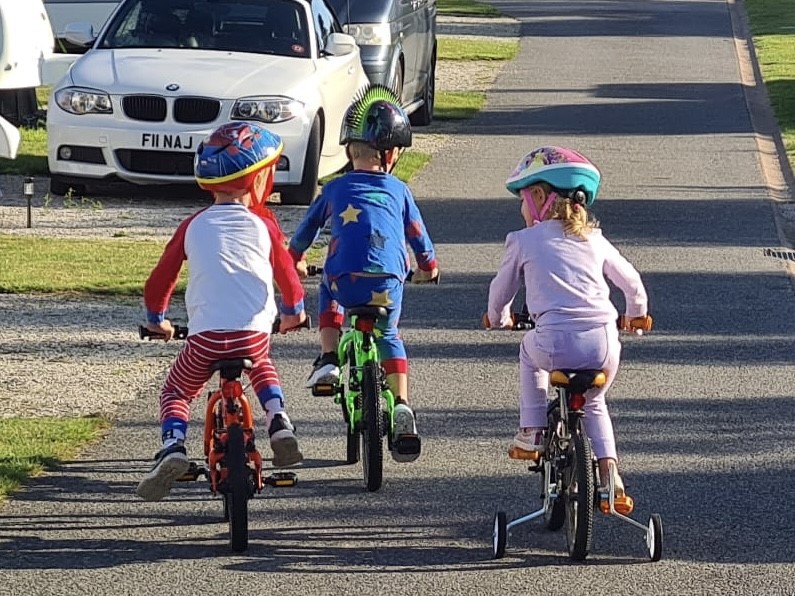 Cycling Can Help To Boost A Child's Confidence And Self-Esteem
Many parents are looking for ways to help their children boost their confidence and self-esteem. One activity that can help with this is cycling. Cycling is a great way to get exercise, fresh air, and sunshine. It can also be a great way to socialize and make new friends. It can also help them to develop a sense of responsibility.
Cyclists have to follow the rules of the road, and they also have to take care of their bikes. This can help children to develop a greater sense of self-discipline.
Cycling can also be a great confidence booster for children. They can feel a sense of accomplishment when they cycle a long distance or overcome a difficult hill. Getting outside on their bike, with the ability to go where they want, can also give children a sense of freedom and independence.
Bottomline Of Cycling For Kids
To conclude, there are many amazing health benefits of cycling for kids. Cycling can help kids maintain a healthy weight, build strong muscles and bones, and improve their mental health and confidence There's no reason for them not to get out there!
How did I do?
Did you enjoy this post? Why not hang around and read a few more whilst you're here. If you want to read some more of my usual kind of stuff, head over to my Mum Life section. You'll find all things parenting with a tongue-in-cheek twist. Or if you want some days out and UK family holiday inspiration, click on the Travel section.
If you like a bit of social media madness, pop over to my Facebook page. You'll be able to have a laugh at what ridiculousness goes on in my house with three very small boys on a daily basis. Warning – there is often sarcasm, and usually swearing. There are also great travel reviews and some AWESOME giveaways. Feel free to join my Twins, Tantrums and Cold Coffee – Shits and Giggles Parenting Group too, where everyone shares their hilarious stories.
If you like what you see, how about you check me out on Pinterest, and Twitter and Instagram too.
And if you want to work with me, feel free to give me a shout here or at helen@twinstantrumsandcoldcoffee.com and I'll get back to you.