If you're anything like me you'll have hundreds if not thousands of photos on your phone of your children, just sitting there not doing much.
AD: This is a collaborative post with Bonusprint.
At the last count I had 43,712 photos dating back more than 10 years on my camera roll. (I have a big phone memory and I'm rubbish at deleting them. As you might be able to tell!)
I've always loved taking photos, but once I had children the obsession took on a whole new life of its own. I keep my phone in my back pocket at all times precisely for the purpose of capturing funny spontaneous moments of my boys. Of which there are many!
So yes I may have thousands of pictures that I don't do much with, but I am getting better and better at using some of the good ones too.
If you were to come to my house, you'd see what I mean. There are photos on LOTS of walls. It's safe to say we like to display them. And we also love a photo gallery. I'm currently writing this whilst being overlooked by 29 framed photos on my kitchen wall.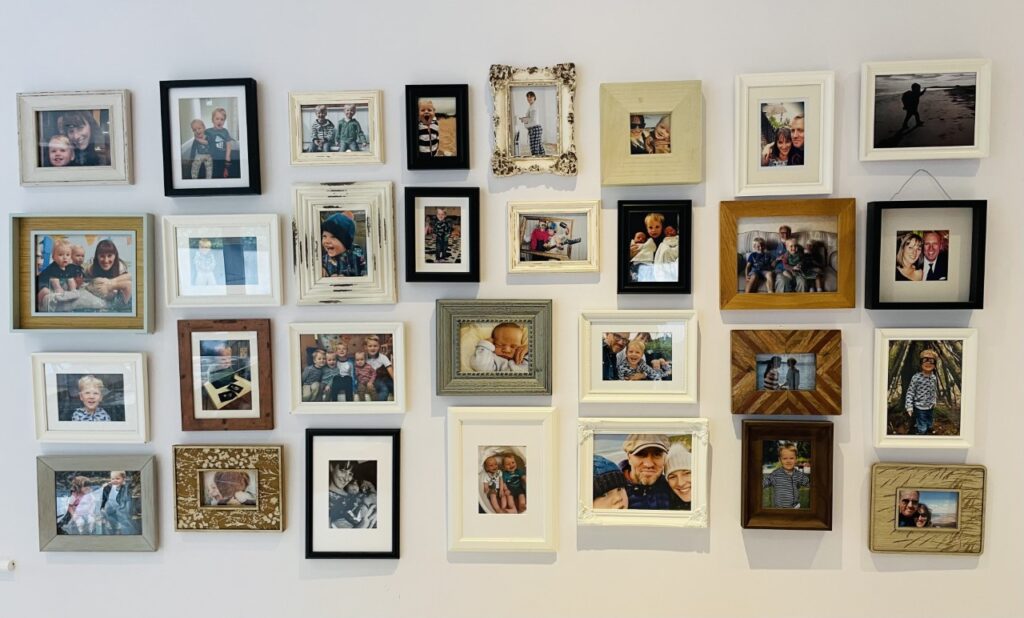 But what else can you do with your photos? I've been looking at Bonusprint to come up with some more inspiration.
Wall art with Bonusprint
If you want to show off some particular memories in a more special way than just a small framed photo, why not go large?
You could create a real piece of art out of one of your photos to be a focal point of a room.
Canvas prints from Bonusprint could be the perfect solution. It offers you a classic feel, printed on 100% polyester and stretched over a wooden frame. And you can definitely make a feature out of it with them being available in as big as 120cm x 80cm sizes. What a way to show off that special memory such as a wedding or newborn photo. Or an spectacular scene from your travels.
If canvas isn't your thing, what about making a poster out of one of your pictures? You don't quite need to go back to your teenage years and have boy band posters all over your bedroom walls, but a classic poster could look fabulous and be a totally different way of displaying a photo. They come in a variety of sizes and could change the look of a room completely. Poster printing from Bonusprint could be a great way to give an area a super modern feel.
Photo Books
But what about all those pictures that are treasured memories you want to take off your phone, but they don't quite make the grade for your wall?
I love having photo books printed. They're a brilliant way to put those special photos into one place, and look great on your coffee table when people come round!
Photo books are perfect for capturing holiday memories in one place, and I've even done one of all my photos from the first lockdown. It was such a strange time (that I didn't enjoy at all) but looking back at my photo book has made me realise that actually my boys had loads of fun moments and that it wasn't as bad as I remember! They aren't particularly photos I'd want on my wall, but each and every one of them holds a memory that's worth singling out in some way.
I did a photo book of my wedding photo 'out takes'. The ones that are still amazing but not the perfect shots that went in the 'proper' album.
And I did try to do photo books each year to sum up that particular past 12 months, although now with three children it gets trickier and trickier. More photos and less time! Bonusprint photo books allow you to get creative with your design or they can do it all for you to save time – so that's the option I need!
Displaying snapshots with photo calendars
One thing I do make sure I have time for each year is to create a photo calendar. I LOVE having snapshots on display and the fact you can put several on one page and they change each month means I can show off even more of them. Although one of my twins seems to just turn it constantly to June because that's his favourite picture of himself. Whatever month it actually is, it tends to be June in our house!
So many ways Bonusprint can show off your photos
If you've exhausted the prints, canvases, posters, photo books and calendar options and still have pictures left over to use, then there are still more options.
What about creating some personalised greetings cards with some funky photos, or have a mug printed with one of your photos?
With so many options to choose from, there's no excuse to leave all your photos hidden away on your phone. Although, yes you're right, I don't ACTUALLY need 43,000 of them on there. Must get better at deleting the rubbish ones!
What do you like to do with the photos you take?
How did I do?
Did you enjoy this post? Why not hang around and read a few more whilst you're here. Head to my Mum Life section for my usual parenting rants, or to the Travel Section for some UK family holiday and days out inspiration.
If you like a bit of social media madness, pop over to my Facebook page where you'll be able to have a laugh at what ridiculousness goes on in my house with three very small boys on a daily basis. Warning – there is often sarcasm, and usually swearing. There are also great travel reviews and some AWESOME giveaways. Feel free to join my Twins, Tantrums and Cold Coffee – Shits and Giggles Parenting Group too, where everyone shares their hilarious stories.
And if you want to work with me, feel free to give me a shout here or at helen@twinstantrumsandcoldcoffee.com and I'll get back to you.