There's no better way to get into your kid's good books than buying them a high sleeper. High sleepers will give your child a raised platform to sleep on with space underneath for a desk, giving them a cosy spot for studying, gaming, and art.
This is a collaborative post
Best of all, high sleepers are suitable for ages six to fifteen – older teenagers usually want a small double bed for extra sleeping space.
Another advantage to high sleepers is that they free up bedroom floor space by moving the desk and study area underneath the bed. You might even be able to squeeze in some drawers to free up more space, making your kid's bedroom look more prominent.
This article lists the best high sleepers for study, sleep and play, with recommendations based on reviews and feedback from customers.
Best High Sleepers To Consider Buying Your Children
Nebula Gaming Bed with Desk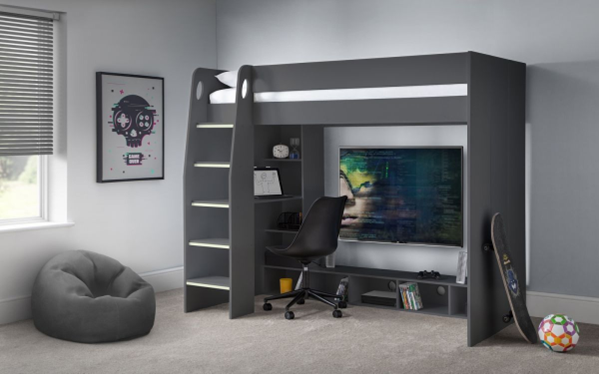 We start our list with the ultimate high sleeper for teenagers.
The Nebula Gaming Bed has a stylish and modern anthracite grey finish with a wide ladder for easy access to the top bunk. Underneath, there's a work desk for a laptop, tiered shelves, a large cut-out for a television, and a lower shelf for a games console.
This high sleeper takes a standard single mattress (90cm x 190cm) and works well with spring and foam mattress types. It has a slatted base and a sturdy build rated 250kg. It takes about an hour and a half to build – but make sure you have a powered screwdriver.
Julian Bowen Pegasus
If you love the look of the grey Nebula high sleeper but need built-in storage for clothes, look no further than the Julian Bowen Pegasus.
The Julian Bowen Pegasus is an innovative high sleeper and clothing storage solution with a pull-out wardrobe, integrated drawers, and a work desk. It's a fantastic option for teens and young children who want more space in a small bedroom.
The maximum weight for this bed is 150kg, and it takes around two hours to build. It's rock solid with a slatted base suitable for a spring or foam mattress.
Also, this high sleeper is available in white.
Flintshire Dakota High Sleeper
Young children adore the Flintshire Dakota High Sleeper because it's easy to climb, lower than the average high sleeper, and extremely solid.
This is a high sleeper that inspires confidence with its hardwood construction. It has an integrated chest of drawers, a desk, and secret storage built into the ladder steps. It also has a little cupboard for clothes, shoes, and other bits and bats.
The slatted base is suitable for a foam or spring mattress up to 16cm thick, and it's rated to support around 120kg – perfect for young children.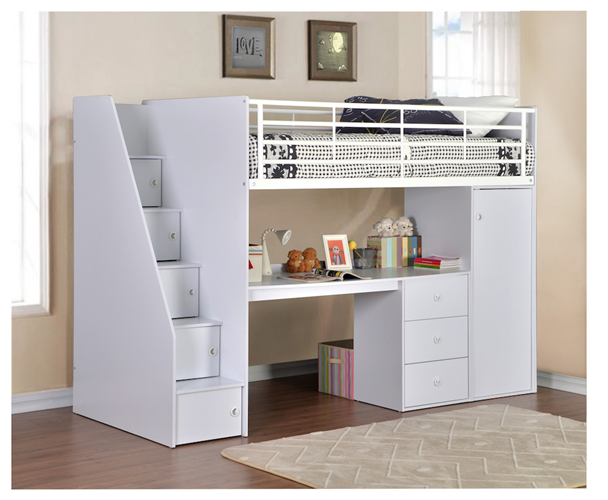 Julian Bowen Eclipse Wooden Bunk Bed with Desk
The Julian Bowen Eclipse Wooden Bunk Bed is perfect if you have two children sharing one bedroom (or a kid who loves sleepovers).
This high sleeper offers two bunks and a built-in desk, letting you maximise floor space in the bedroom. It's a little longer than the average bunk to accommodate the extra space, but there's no better dual-sleeping solution if you have the space.
Neat features include a pull-out desk with a storage shelf, two pull-out drawers, a shelf, and a wide ladder to accommodate older kids.
Birlea Safari is one of the most awesome high sleepers
We end our list with a personal favourite! The Birlea Safari is a dream come true for young children, giving them a little country house to shelter in.
Best of all, this high sleeper bed has two bunks for sleepovers! The top bunk resembles a tree house, with a door and two windows. The pitched roof is super-cute, and you can also get it in white if you want to keep your kid's bedroom light.
The maximum weight for this bed is 80kg (best for children under twelve), and each bunk takes a standard single mattress under 16cm thick.
How did I do?
Did you enjoy this post? Why not hang around and read a few more whilst you're here. If you want to read some more of my usual kind of stuff, head over to my Mum Life section. You'll find all things parenting with a tongue-in-cheek twist. Or if you want some days out and UK family holiday inspiration, click on the Travel section.
If you like a bit of social media madness, pop over to my Facebook page. You'll be able to have a laugh at what ridiculousness goes on in my house with three very small boys on a daily basis. Warning – there is often sarcasm, and usually swearing. There are also great travel reviews and some AWESOME giveaways. Feel free to join my Twins, Tantrums and Cold Coffee – Shits and Giggles Parenting Group too, where everyone shares their hilarious stories.
If you like what you see, how about you check me out on Pinterest, and Twitter and Instagram too.
And if you want to work with me, feel free to give me a shout here or at helen@twinstantrumsandcoldcoffee.com and I'll get back to you.