AD | Disclaimer – this is a collaborative post with Boots about their Christmas Gifts.
The festive season is fast approaching and if you've still got presents to buy have a look at these wonderful Christmas gifts from Boots' Step Into Christmas gift guide.
I always love receiving pamper presents from Boots whether it's make-up, face cream or a simple hand cream – and let's face it with all the hand washing and sanitising we've had to do this year, it's kind of a necessity!
So here are my top picks from the Boots website for Christmas gifts for us ladies, the men in our lives and our children. I guess we'd best not leave them out!
Christmas Gifts For Her
If you're looking for Christmas Gifts For Her, here are some brilliant suggestions.
JOULES LADIES WEEKEND BAG WITH TOILETRIES GIFT SET (was £50, now £24)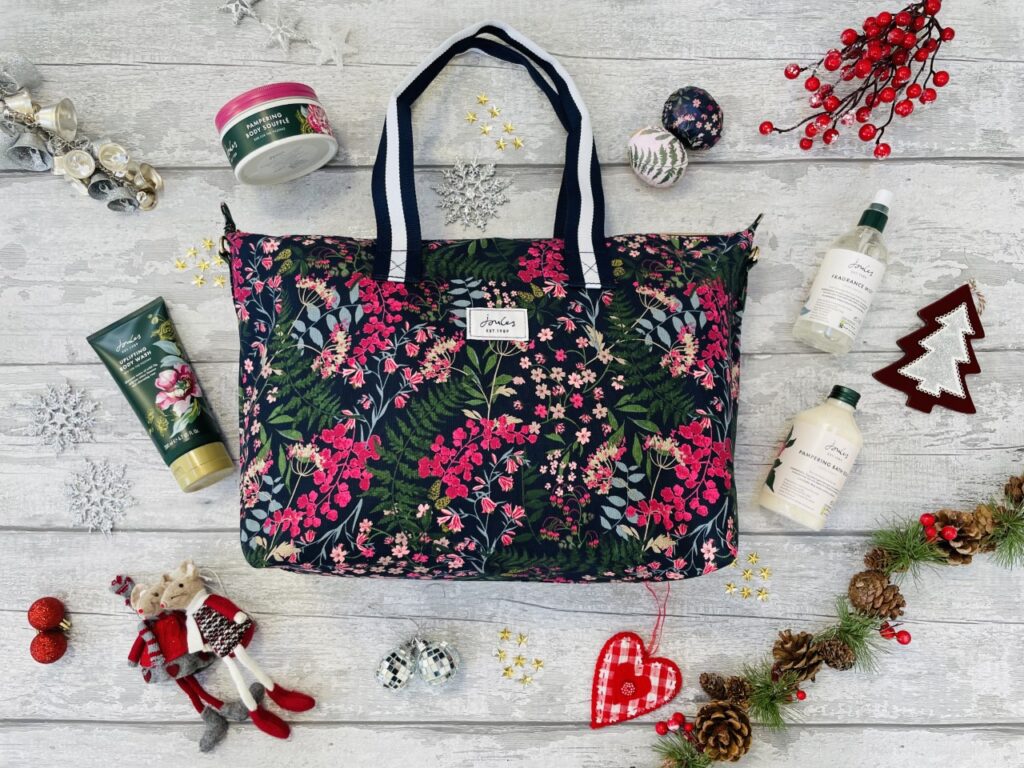 If you know me at all, you'll know I'm a huge Joules fan, so it's not surprising this weekend bag and toiletries caught my eye. Isn't it absolutely gorgeous?
Once we're allowed to travel again, you'll be the most stylish traveller around with this stunning hand-drawn print bag. And what's inside is even better – a set of six indulgent products that will be a treat for the body and the senses. There is a 200ml body wash, 200ml bath souffle and 70g bath fizzer all from the 'Ripe For The Picking' range which smells delightfully of wild fig, delicate white flowers and charming rose.
Then there is a 250ml foaming bath soak, 200ml fragrance mist and 70g bath fizzer from the Floral Wreath range which has hints of bergamot, clementine and fresh floral notes.
It's definitely a winner for me!
JOULES LADIES LIP BALM GIFT SET (5.00)
Another Joules gift I love the look of is this set of three lip balms. I'm not sure about you but my one 'stranded on a desert island' item would always have to be a lip balm. I have them dotted all over the house and in all handbags, and these look lovely. They're especially handy in the winter when we're out and about in the cold or whacking up the central heating. This trio of lip balms will moisturise dry, cracked lips and will be a lovely gift for anyone who spends lots of time outside. The flavours are blackberry, elderflower and honey. So one for work, one for home and one for out and about. Perfect!
CHAMPNEYS HAND AND NAIL TREATMENT DUO (£8.50)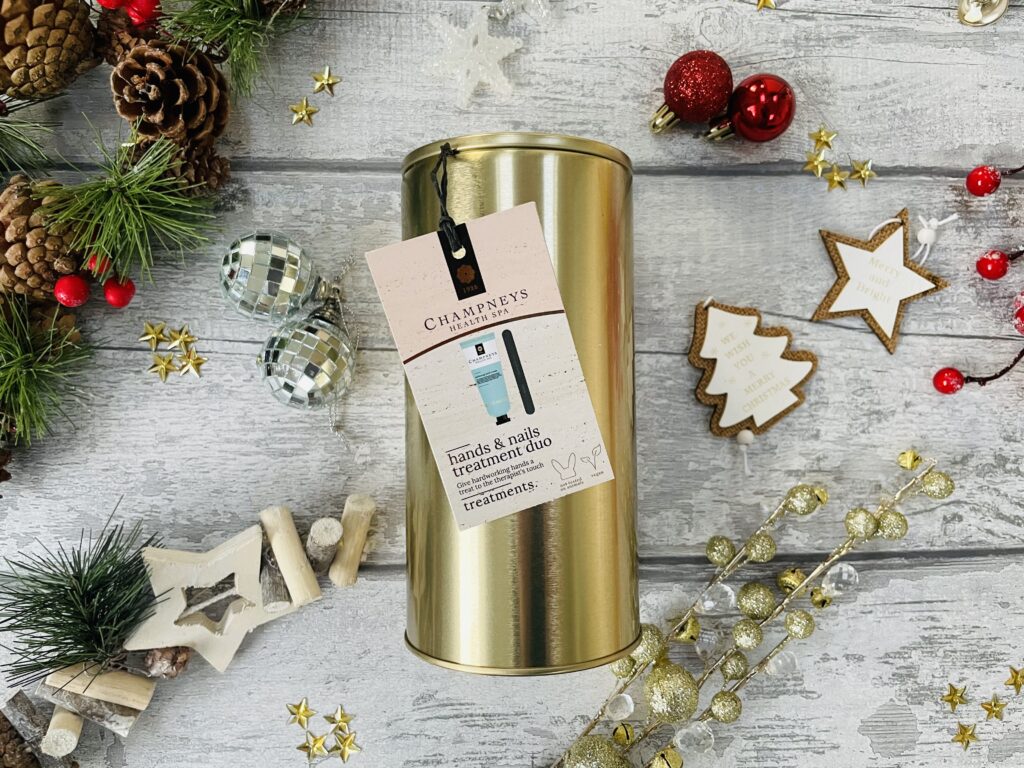 If ever there was a year that your hands and nails need some serious attention, it's going to be this one. With all the hand-washing and sanitising they have taken a real bashing, haven't they?
So this Christmas why not give someone a well-earned treat with the therapist's touch. Champneys, the UK's original health spa has inspired generations to rest and re-energise since 1925. And apparently they pour 'spa-inspired ingredients and pioneering wellbeing expertise into every bottle' of their products. They are designed to help bring you back to your best and transport your senses to the Champneys countryside spa.
I'm not sure about my hands and nails – I think my whole body could do with that this year! The gift set includes a 75ml softening hand cream, a medium coarse nail file and a beautiful tin to use once you've got through the hand cream.
TED BAKER PRETTY LITTLE BLOOM FLORAL BLISS BODY SPRAY GIFT SET (£4.00)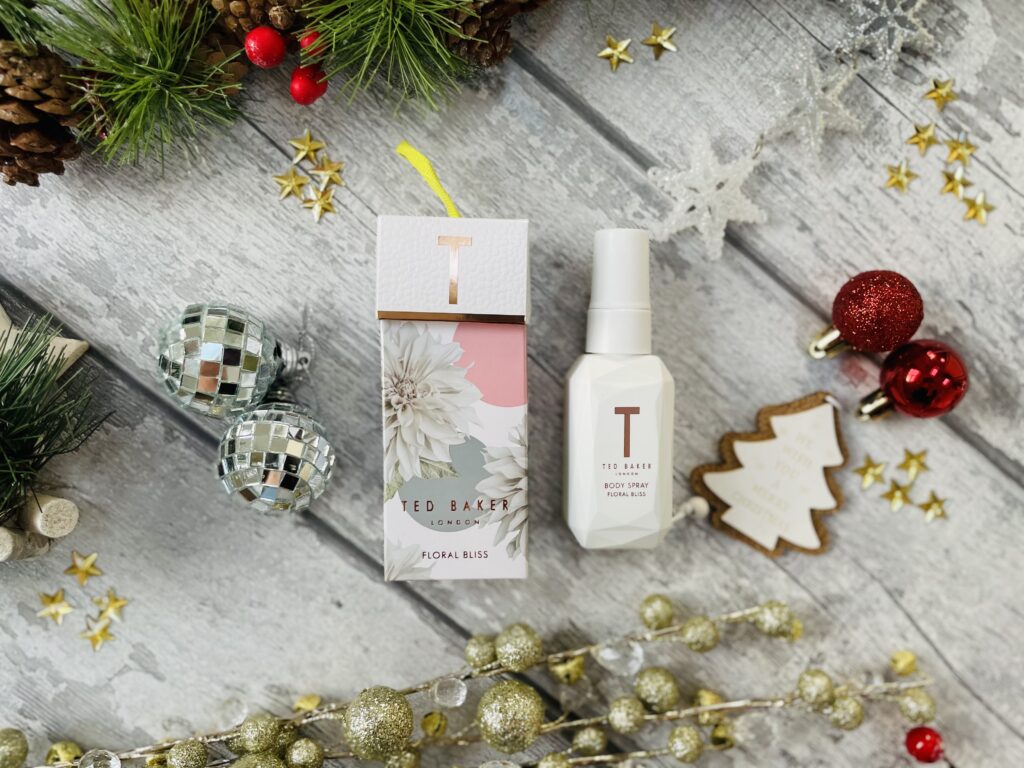 Looking for a classy stocking filler or a small gift for a female relative or girl friend? How about this gorgeous Ted Baker body spray? It has juicy notes of green apple and delicate water lily florals, and is in a handy 50ml purse-sized bottle. Ideal for freshening up whilst out and about or when you don't want to waste your expensive perfume.
Christmas Gifts For Him
If it's Christmas Gifts For Him you're after, what about these ideas?
FATFACE MEN'S TIME TO EXPLORE MINI BATH DUO (£6.00)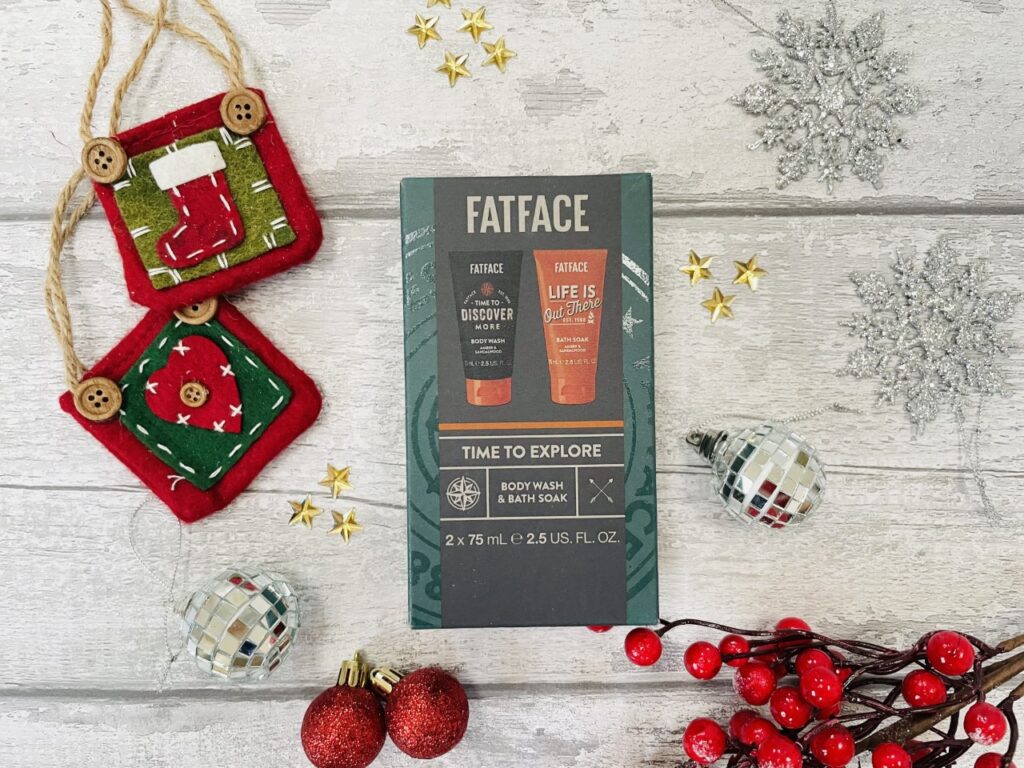 I'm sure men love a bit of pampering as much as us women do, they just don't admit it or ever buy anything for themselves. So why not do it for them with this mini bath duo from Fat Face.
Another one of my favourite brands, Fatface was founded in 1988 in the French Alps, and their sense of adventure, fun and spontaneity makes them who they are. Their love affair with nature hasn't changed since the late 80s, and is firmly rooted in this great bath set. It contains a 75ml cleansing body wash, and 75ml bath soak, both fragranced with amber, patchouli and sandalwood. I can practically smell how good that is from here!
THREADS BY TOTES ORIGINAL SLIPPER SOX FOR MEN (£6.00)
Okay so call me old fashioned but socks are always a feature in stockings (excuse the pun) in our house. I even ask for them for Christmas! And if you're the same, then these Threads by totes look great.
Either treat yourself or someone special with them, because let's face it, everyone deserves to be wearing nice socks! These totes original slipper socks with slip-resistant tread are the perfect gift.
Christmas Gifts for Kids
GIANT GINGERBREAD MAN KIT (£6.50)
My kids love decorating biscuits – or should I say anything they can eat whilst they're doing it, so they will love this Giant Gingerbread Man Kit.
It comes with icing and jelly sweet decorations to add yourself. The challenge will be to see if you can make it a fun festive activity for all the family, before the kids eat all the sweets along the way!
CREATIVE KIDS FINGER PAINTING KIT (£7.50)
Your children will love getting stuck in and messy with this Creative Kids Finger Painting Kit. It will keep them entertained for hours and can be brought out again and again. It includes 10 washable finger paints for them to dip into, 8 shaped sponges for them to get arty with, 10 sheets of paper and a tray. It's suitable for 6 years +. I wonder what they'll come up with?
HEROES OF GOO JIT ZU FIGURE SINGLE PACK (£7.50)
My five year old has already put this on his Christmas list for Santa. The Heroes of Goo Jit Zu are back and ready to launch a double-edge attack! They are just as squishy and stretchy as before but now with their water-blast energy and weapon-morphing arms, they are power-packed to smash the enemy! They sound pretty impressive, don't they?
Every character has a unique goo filling with a different texture and feel. Some are super stretchy, super gooey, super goopy, super squishy and even super crunchy! They stretch up to three times their size and will always go back to their original shape. You can now fill their heads with water, aim and fire it out! Based on a cartoon, the popular heroes are sure to make any child's Christmas.
The item is an assortment and only one is supplied – it is not guaranteed which design you will receive.
AVENGERS POWER UP BATH FIZZER SET (£5.00)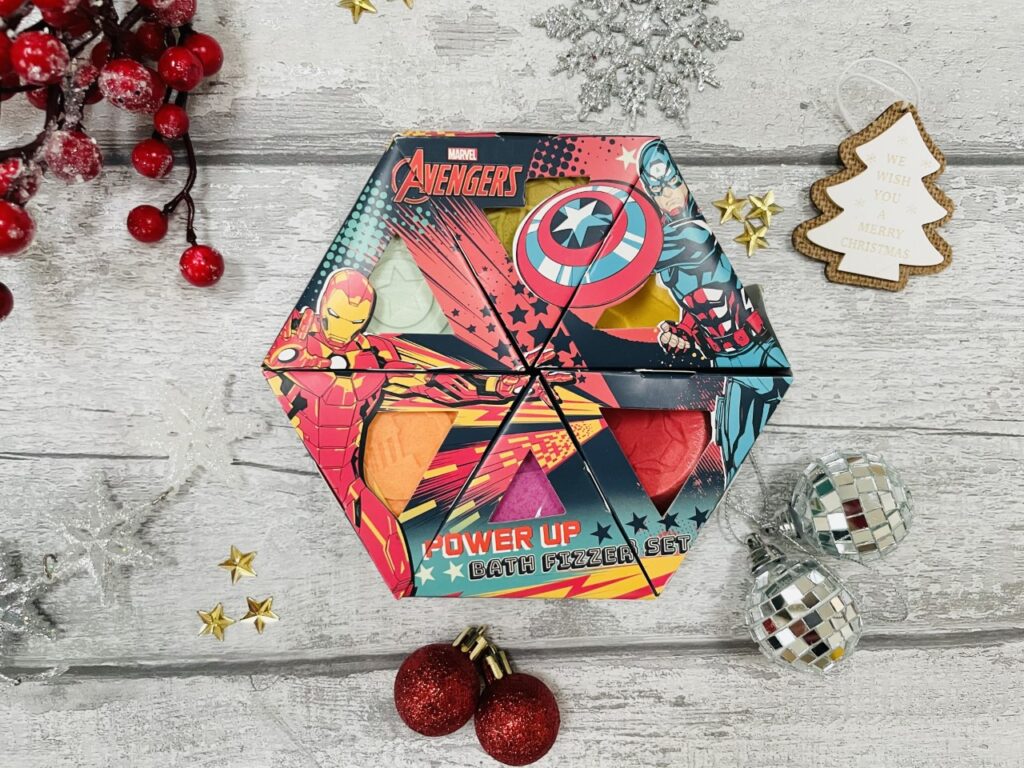 My boys love bathtime and I knew they'd be super excited about these cool Power Up Bath Fizzers. Each of the 6 fizzers in the set has a different fruity scent including pineapple, strawberry, apple, raspberry and orange. Which hero would your child choose?
You can then unfold the box and cut out the fact cards all about the different Avengers. They can test each other and find out who is the ultimate Avengers fan.
LOL SURPRISE SECRET SURPRISE NAIL SET (£7.00)
It's time to get your glitter on ready for Christmas! Perfect for little fingers, this nail set comes with five glitter nail polishes which smell great. The child-friendly formulation peels directly off the nail for easy removal (I wish I could do that with mine!)
Hidden in the box are also nail stickers that can be applied directly to the nail or on top of the dried glitter polish. There's also a LOL character nail file – and the surprise is which one you'll get!
The set includes five 4ml scented peelable nail polishes, one nail sticker sheet and one nail file. There's no excuse not to look glam this festive season!
I love all these Christmas gifts. DID YOU SEE ANYTHING YOU FANCY? Have a look at hundreds more gifts at Boots.
How did I do?
Did you enjoy this post? Why not check out some of my other Christmas stuff – Christmas Traditions to Start With Your Family, Top Must-See Christmas Movies for Kids, or 24 Days of Elf on the Shelf Ideas. Or if you fancy having a giggle at my honesty when ranting about parenting, check out my Mum Life section.
If you like a bit of social media madness, pop over to my Facebook page where you'll be able to have a laugh at what ridiculousness goes on in my house with three very small boys on a daily basis. Warning – there is often sarcasm, and usually swearing. There are also great travel reviews and some AWESOME giveaways. Feel free to join my Twins, Tantrums and Cold Coffee – Shits and Giggles Parenting Group too, where everyone shares their hilarious stories.
And if you want to work with me, feel free to give me a shout here or at helen@twinstantrumsandcoldcoffee.com and I'll get back to you.