One of the first things you notice when you visit my house is how much we love photos on our walls.
Photos and other types of frames are everywhere (hopefully in a tasteful way!) but put it this way there aren't many more places to hang any.
AD | Disclaimer – This is a collaborative post with My-Picture.co.uk, but all thoughts are my own.
But when My-Picture.co.uk asked if I'd like to choose something from their website, I wasn't about to say no.
This is right up our street and we always have so many pictures we'd like to have on display. We both love taking photos, and albeit we're not experts, we've got some lovely ones of our boys over the past few years.
So obviously we could squeeze a few more in somewhere!
My-Picture.co.uk offers huge variety of products
My-Picture.co.uk offers a whole variety of photo products, whether you want something simple to hang on the wall, or something a little different to give as a gift. There really is so much choice.
Back in the first lockdown we had some doorstep photos taken by a very talented local photographer, and I'd not got round to doing anything with them. So I knew straight away it had to be those that I used.
But the next question would be, how should I get them printed? The choice seemed endless!
On their website My-Picture.co.uk offers NINE different types of 'wall decoration' for you to choose from.
Nine different ways to have your photos printed to hang on walls
These were:
Canvas where your photos would be printed on hand-stretched canvas on a sturdy spruce wooden frame.
Acrylic, where your photos is behind crystal-clear acrylic glass with polished edges for a contemporary look.
Aluminium where your photos are printed onto an elegant, durable aluminium composite panel for brilliant colours and pin-sharp resolution. These are available with a glossy or matte finish.
Framed prints with pin-sharp resolution and in a gallery-style frame and mount.
Wood where your photos are printed on 10mm-thick premium wood with the natural wood grain still subtly visible.
Acrylic+Aluminium which provides the highest colour intensity and especially shiny appearance and is suitable for indoor and outdoor use.
MIXPIX® lightweight foam tiles measuring 20x20cm to create an instant photo gallery
Retro canvas where your photos are suspended between two wooden bars.
Photo board print which provides the highest image sharpness printed on slim but durable photo board.
I wanted something a bit different as an alternative to all the photo frames we have around our house. I mean seriously, we even have a gallery of 8 iconic black and white photos in our downstairs loo!
So I opted for the photo boards and I'm SO pleased with them. They're slim so won't stick out of the wall too much, but the quality of the print is excellent.
I had originally planned to do a gallery of 9 mix tiles but changed my mind at the last minute when I remembered the lockdown pics. I went with 40 x 30cm boards and they're just perfect.
I've already got a photo book of my lockdown pictures as a memory of what was the strangest of times. But that's already put away in the office, and I know won't come out very often.
The photo boards mean that I can see these three pictures every day on my landing.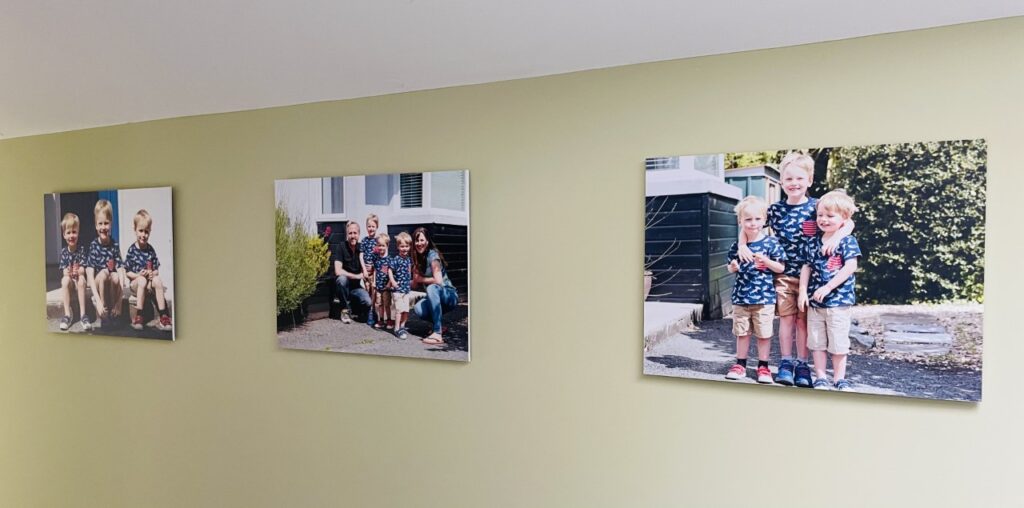 My-Picture.co.uk is super simple to use
If you're thinking of ordering some products from My-Picture.co.uk it really is so simple.
All you have to do (once you've no doubt agonised over which option to go for!) is upload your photos and off you go.
My doorstep photos were already on my laptop, but if your chosen pictures are still on your phone, then don't worry. You can go onto the website on your phone and upload them directly from your camera roll – it couldn't be easier!
You can then zoom in on the photo and drag it to adjust. So you end up with exactly what you want.
There are loads of different sizes to choose from, both rectangle and square, and you can also opt to have your image in black and white too.
My-Picture.co.uk also sells the wall-hangings so you can buy it all at the same time.
Try this discount code for 85% off your order
And once you are good to go, I have a discount code for you to get a whopping 85% off the cost! Just type in TWINSTANTRUMS85 at the checkout.
What else do they sell?
If you're looking for something a little different to just a picture to hang on the wall, you are going to be spoilt for choice at My-Picture.co.uk.
Not only can you do photo books, personalised photo calendars, photo cards and normal photo prints. There is LOADS more!
Perfect gifts could be your photos on a mug, mouse mat, a puzzle or a wood block.
Or why not go the whole way and get your photos printed on a bath towel, a personalised photo blanket, cushion, rug or even face mask!! I mean, seriously, how fab is this??
What did I think?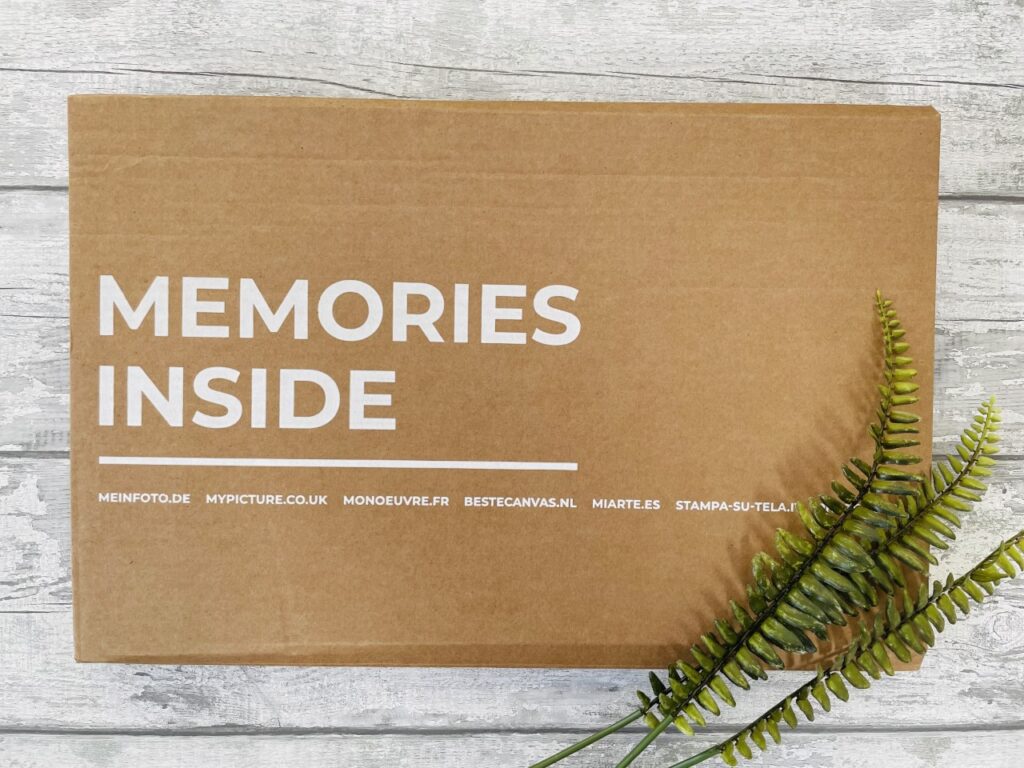 I am so impressed with My-Picture.co.uk. The choice of products is amazing, and the prizes are insanely good. And that's even before you use my discount code.
I am over the moon with my photo boards. They are just what I wanted. Now I just need to find more wall space to order some more…
How did I do?
Did you enjoy this post? If so, why not hang around and read a few more. Head to my Mum Life section for my usual parenting rants, or to the Travel Section for some UK family holiday and days out inspiration.
If you like a bit of social media madness, pop over to my Facebook page where you'll be able to have a laugh at what ridiculousness goes on in my house with three very small boys on a daily basis. Warning – there is often sarcasm, and usually swearing. There are also great travel reviews and some AWESOME giveaways. Feel free to join my Twins, Tantrums and Cold Coffee – Shits and Giggles Parenting Group too, where everyone shares their hilarious stories.
And if you want to work with me, feel free to give me a shout here or at helen@twinstantrumsandcoldcoffee.com and I'll get back to you.