Summer is here and if you're heading off on holiday, it's time to start thinking of what you're going to pack. Whether you're jetting away on a beach holiday abroad or staying in the UK, clothing from Lands' End is a must for your suitcase or wardrobe.
This is a collaborative post with Lands' End.
With its focus on durability and quality, whether you're rushing around after the kids, relaxing in a posh hotel, or just staying at home, Lands' End makes it a breeze to look cool and chic.
Their collection of women's tops and T.shirts, are just one example of how Lands' End will ensure you're both comfortable and stylish whatever you're up to this summer.
Lands' End tops and T.shirts
The Tops and T.shirts collection is so jam packed with beautiful items, you'll be spoiled for choice. Whether you want a t.shirt, polo shirts, tank tops, jersey tops, long sleeves, roll necks or hoodies, Lands' End has something for you.
T.shirt staples
If you're in need of a few t.shirts that you always reach for, snap up these Supima® tees for easy comfort and style all day. They come in a range of different colours, patterns and necklines, and are made from cotton from the top 3% of the world's finest crop. It ensures the smooth fit stays smooth all day, thanks to an anti-fade, anti-pill, anti-wrinkle and shrink-resistant easy-care finish. Sounds like they've thought of everything!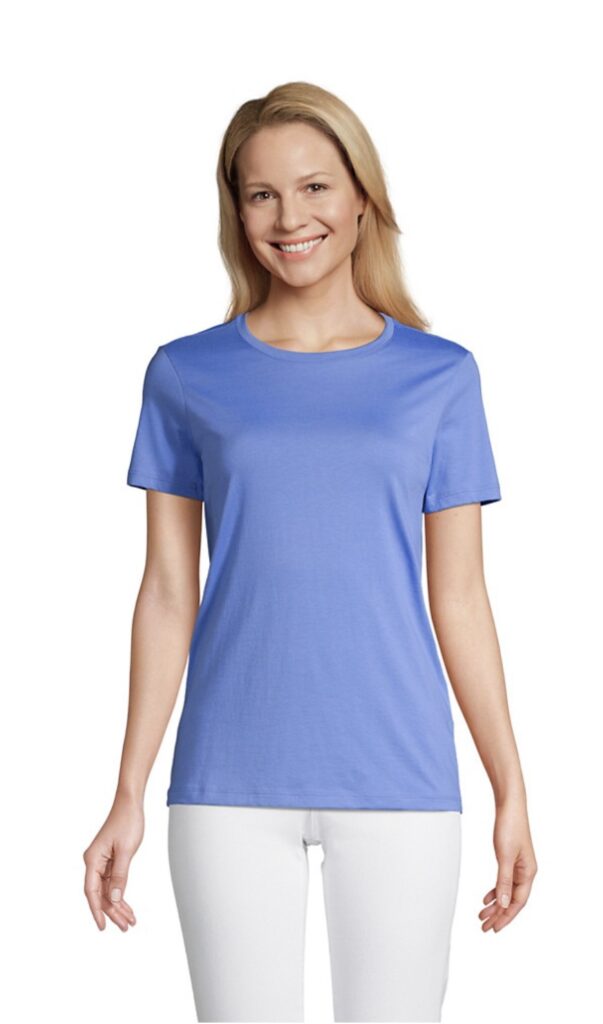 Polo shirts
Or if you like a collar on your tee, then a Lands' End polo shirt will be your thing, with a variety of colours, sleeve lengths and styles. Team them up with chinos to be smarter, skinny jeans to meet friends, or shorts for a more relaxed look. This is one sophisticated t.shirt!
Jersey tops
When you're in need of something a little dressier than a standard T.shirt, a jersey top from Lands' End will sort you out. They're made from super-soft, drapey jersey with a touch of added stretch to keep you comfortable. With so many choices of colour and style – you decide on your neckline, sleeve-length and pattern, and what you're wearing it with. And stylish flair will be guaranteed.
Tank tops
Heading somewhere hot, or preparing for a UK heatwave? You need a Lands' End tank top. Us Brits like to get our flesh out as soon as we see a hint of sunshine, so why not do it in style with one of these beautiful tank tops? Whether you want a simple plain or patterned vest top (you all know how much I love stripes!) or something a bit dressier for a summer evening out, there's loads to choose from. I particularly love this one!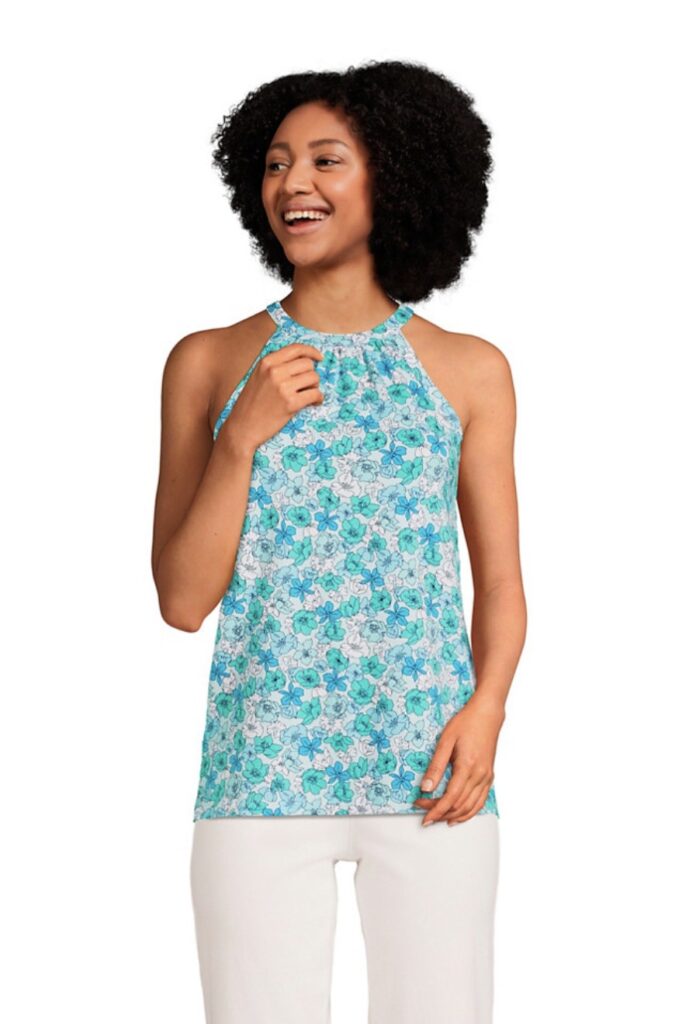 Sweatshirts and Hoodies
If you're jetting off somewhere hot this summer, or staying in the UK, you'll need something in your collection to chuck on if the evenings get chilly. Lands' End have a great range of hoodies and sweatshirts that will do just the job. Team them up with one of their T.shirts and be comfortable and classy once the sun goes down.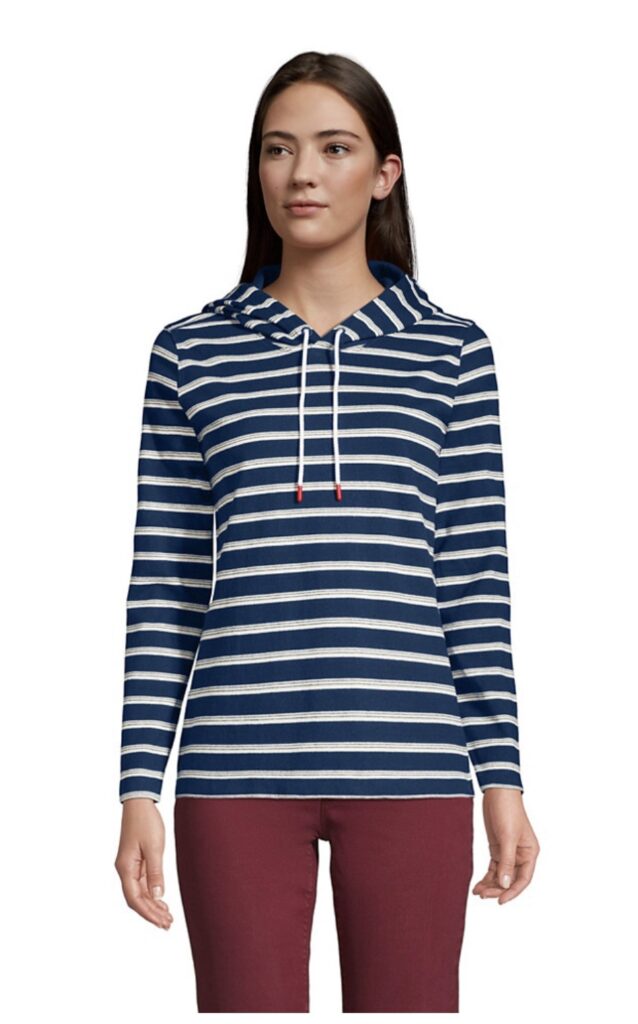 Let Lands' End revamp your summer wardrobe
With so many beautiful shirts and tops to choose from, Lands' End really does have you sorted for your summer wardrobe.
And if you need to top up on anything else, why not hang around and see what else can tempt you. Whether you're in need of activewear, coats and jackets, jumpers and cardigans, trousers, dresses, shoes or accessories, I bet there's something that catches your eye. They even have their own holiday shop so if you're going away and need to top up that suitcase with summer essentials, they make it simple.
The men and kids in your life don't need to feel left out either! Lands' End have men, girls and boys covered – they even have a home and pet section too. This place is fast becoming a contender for my favourite shop!
Lands' End was started in Chicago in 1963 by Gary Comer, selling yachting equipment for racing sailors. He opened a retail store in the city's tannery district and ran a mail-order business out of the basement. When the very first catalogue cover misplaced the apostrophe in 'Lands' End', they couldn't afford to have them all reprinted, so the name, punctuation mistake included, remained. By 1977 the focus of the business was changing from sailing equipment to clothing and by the 1980s Lands' End had moved to Wisconsin.
If you've not heard of them or need a reminder, head over to their website – just don't blame me for the amount of items that'll end up in your basket!
How did I do?
Did you enjoy this post? Why not hang around and read a few more whilst you're here. If you want to read some more of my usual kind of stuff, head over to my Mum Life section. You'll find all things parenting with a tongue-in-cheek twist. Or if you want some days out and UK family holiday inspiration, click on the Travel section.
If you like a bit of social media madness, pop over to my Facebook page where you'll be able to have a laugh at what ridiculousness goes on in my house with three very small boys on a daily basis. Warning – there is often sarcasm, and usually swearing. There are also great travel reviews and some AWESOME giveaways. Feel free to join my Twins, Tantrums and Cold Coffee – Shits and Giggles Parenting Group too, where everyone shares their hilarious stories.
If you like what you see, how about you check me out on Pinterest, Instagram and Twitter too.
And if you want to work with me, feel free to give me a shout here or at helen@twinstantrumsandcoldcoffee.com and I'll get back to you.