Nothing's better than forgetting about work and escaping to your favourite holiday destination. And if you pack your GAMMA jackets and follow these tips, you might just be able to survive a holiday with a toddler.
AD DISCLOSURE: This is a guest post written in collaboration with Wear Graphene
It's the perfect time to bond as a family—and let's not kid ourselves—the perfect time to have a few margaritas on the beach too.
But travelling with toddlers isn't easy. If you toss the kiddos in the car without the proper prep, your trip will be hijacked by tantrums and tummy aches.
Kwells and iPads are just the start when it comes to toddler-proofing your summer holiday.
Follow these tips to make sure your trip is full of little smiles and plenty of R&R for mums and dads.
Get takeaway meals
You may have to postpone your favourite fine dining experiences for, say… about 10 years. Toddlers and restaurants don't mix. Toddlers and chicken-finger-free fine dining restaurants are an even worse combination.
But that doesn't mean you can't enjoy some fresh seafood by the seaside or some culinary adventures in the city. You'll just have to change your location.
Most nice restaurants will pack up your food for you. Not only that, but many will offer you a discount if you do takeaway.
Even better? A nice bottle of wine from the shop costs a lot less than it does at the trattoria. Plan a picnic at the park, on the beach, or by the pool—anywhere your little ones can run free if they get the wiggles.
This will save you loads of stress, and you'll still get to satisfy your holiday cravings!
Toddler-proof your wardrobe with a GAMMA jacket
When you're travelling, you're going to be going to new places, eating and drinking funny things, and experiencing swells of excitement.
With a toddler, this wild ride will almost certainly involve copious bodily fluids and wardrobe malfunctions. If your outfit gets ruined, it's not always easy to skip back to the hotel for a fresh jumper.
Instead of wearing those Posh Spice-inspired leather trousers or the sundress you've been saving for your holiday, choose a more practical wardrobe and save yourself some grief.
We always bring our GAMMA jackets on summer and winter holidays. They're made of graphene, which is the strongest material on the planet (even stronger than diamond!).
I didn't think even the strongest fabric in the universe would stand up to my rugrats, but GAMMA holds the line quite well. It's been tugged, dragged, and clawed more times than I can count, and it doesn't have a scratch.
GAMMA is immune to odours and stains, and it's completely waterproof, so whatever fluids your toddler expels, they'll rinse right off in an instant.
We wear GAMMA at home too, but we love this jacket for holidays. It's thermoregulated, so it keeps you warm or cool all year round.
Graphene has insulating properties so unique that it won a Nobel Prize! It even has built-in heaters that are divinely comfortable on chilly excursions to the mountains (or anywhere in Scotland!).
Wrapping a toddler up in this heated jacket will also send them to sleep in about 10 seconds. That's worth the price alone….
If it gets too warm, GAMMA folds up and packs away like a rain jacket. It only weighs 500 grams, so it's easy to bring anywhere and never feels bulky or sweaty.
GAMMA has saved us many ruined outfits, and it's an all-around comfortable activewear jacket. If you want to grab one for your next holiday, you can get 40% off a GAMMA by clicking here. They're guaranteed to last for life, so why not try it out? Maybe your child will use it to toddlerproof their holidays someday!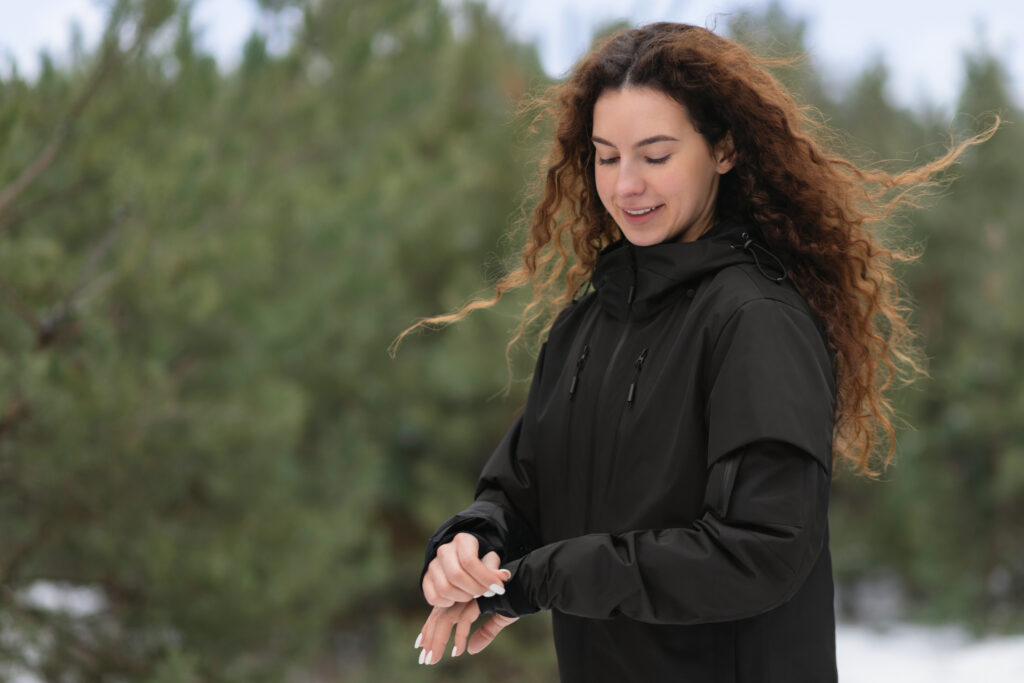 Book a nicer room
This is one of the perks of travelling with toddlers, in my opinion. When you subtract the costs of going out to pubs and clubs, dining out every day and doing expensive adult things, you have a lot more money to spend on a nicer room.
And you're going to need to LOVE your room because you'll spend quite a bit of time in it. Toddlers can't handle long days or overexcitement. So, you'll be in your room a lot more than you would otherwise.
This isn't the time to skimp on a cheap double room with no windows thinking you'll be at the beach all day.
Instead, book that suite with a balcony and a bath. Make sure when your toddlers are ready to nap, you can kick back and relax too. And when they want to call it quits early, you can eat room service in bed while watching a movie on a massive TV.
When you enjoy yourself just as much inside the room as out of it, you'll be able to accommodate your toddlers' needs (and your own) much better.
Take advantage of childcare options
You're going on a family holiday. With toddlers, 90% of your time is going to be all about them. But the remaining 10% MUST be about you and your partner (if you have one).
You won't be doing your kids any favours if you don't show yourself a little love too. Take an afternoon or an evening to go shopping, enjoy a nice meal, go to the spa or just crash in a comfy bed for a few hours.
It's a lot easier than you think to arrange for childcare on holiday. Many resorts have childcare centres or dedicated sitters. Sometimes, it's even included in the price of your stay.
Many destinations have daycare centres too, where you can drop your kids off and pick them up later (if you want… joke!). All it takes is a few minutes on Google or a call to your hotel or resort.
Booking a more expensive place with childcare included can save you money in the end.
Toddler-proof your mentality with GAMMA
Your kids come first. Always. And that doesn't change when you go on holiday. But for some reason, many parents try to fit their toddlers into an adult-sized holiday. It just doesn't work!
Others expect their toddlers to magically act like angels when they go to new, colourful and sweet-filled destinations. Are you kidding me? The best way to toddler-proof your holiday is to manage your expectations and mentality.
Holidays with kids aren't like your past holidays. But that's ok. Mistakes will happen, messes will be made and stressful situations are inevitable. As long as you're ready for them, you can make it through your holiday with a smile.
If you're preparing for your first holiday with toddlers, make sure to follow the above tips. And please leave your suggestions in the comments. I could certainly use them! Don't forget to take a look at the GAMMA jacket too. It's on sale now for 40% off—just in time for your holiday. Learn more at www.weargraphene.com.
How did I do?
Did you enjoy this post? Why not hang around and read a few more whilst you're here. If you want to read some more of my usual kind of parenting stuff, head over to my Mum Life section. You'll find all things parenting with a tongue-in-cheek twist. And if you want some family holiday inspiration or days out, head to my Travel Section.
If you like a bit of social media madness, pop over to my Facebook page where you'll be able to have a laugh at what ridiculousness goes on in my house with three very small boys on a daily basis. Warning – there is often sarcasm, and usually swearing. There are also great travel reviews and some AWESOME giveaways. Feel free to join my Twins, Tantrums and Cold Coffee – Shits and Giggles Parenting Group too, where everyone shares their hilarious stories.
If you like what you see, how about you check me out on Pinterest, Instagram and Twitter too.
And if you want to work with me, feel free to give me a shout here or at helen@twinstantrumsandcoldcoffee.com and I'll get back to you