It's been a long time since anyone in the UK has been able to have friends and family to stay overnight, but as restrictions ease, we could very soon be able to properly visit one another and the spare room will be needed again.
This is a collaborative post. So I may have received payment for including one or more of the links it contains.
However, since April 12, overnight stays for those in the same household or support bubble have been allowed, and from May 17 indoor mixing for up to six people or two households is also planned on being permitted.
If you might have let your spare room become a bit of a dumping ground over the past year, or just want to give it a re-vamp, now is the best time to give it a new lease of life ahead of guests staying over in the summer.
Here are some simple and straightforward ways to make that happen.
Spare room furniture and decoration
If your spare room is looking dated and the furnishings are old, creaky and in need of replacement, there are plenty of things you can do to stage a revival.
Starting with decoration, consider a new shade of paint. Neutral colours are a good choice for spare rooms as they're rarely divisive and won't have an effect on your guest's sleep (so no bright pinks or lime greens, sadly). Plenty of these sorts of hues crop up in 2021's colour trends, including mint greens, purple blushes and warmer whites.
If you need to invest in a new bed or fancy getting a foldable sofa bed that can be used when guests aren't visiting, make sure you carefully consider your budget.
You will also want to include a place for your guests to store their clothes, enough space for them to stow away any luggage, and potentially a TV, just in case you have someone staying over for longer who requires a slice of their own space.
Cleaning and organisation
Keeping your spare room clean and inviting is a must – no one wants to wake up in a bed covered in cat hair, surrounded by piles of clutter and stacks of cardboard boxes. Start by cleaning and decluttering the room well and replacing the bedding with fresh sheets. Also make sure you think about how to make your room smell amazing.
Try and incorporate a quick clean of the spare room every few times you tidy the house. This will help you keep on top of any mess and dust. And make sure the job isn't too taxing when you're prepping the room for an imminent arrival. Before your guest arrives, pop an air freshener in the room or make your own diffuser if you're feeling crafty, make the bed, and ensure no pets are allowed in to mess things up!
The all-important finishing touches
Once you've sorted out the big changes to your spare room, it's time to arrange the finishing touches. These will make your spare room nice and inviting for your guests.
Décor-wise, feel free to keep books, prints and photographs up as it'll give the space a homier feel. Or opt for a cleaner, more hotel-like aesthetic – the choice is entirely up to you.
Lay out a spare set of linens to avoid embarrassment just in case an accident happens. Or so your guest can change the sheets when they leave – bonus! And also a set of towels. You could even go further with a vase of fresh flowers, a set of slippers, toiletries, or even a mint on the pillow. That's if you really want to let your inner hotelier shine!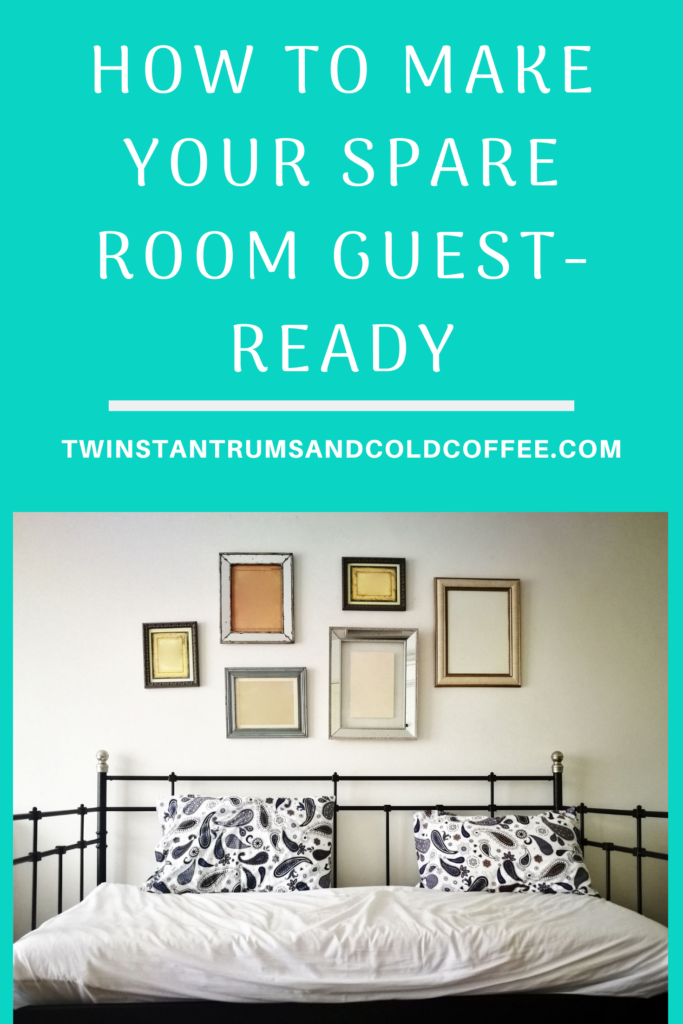 How did I do?
Did you enjoy this post? Why not hang around and read some more. If you want to read some of my usual kind of stuff, head over to my Mum Life section. You'll find all things parenting with a tongue-in-cheek twist. Or if you want some days out and UK family holiday inspiration, click on the Travel section.
If you like a bit of social media madness, pop over to my Facebook page where you'll be able to have a laugh at what ridiculousness goes on in my house with three very small boys on a daily basis. Warning – there is often sarcasm, and usually swearing. There are also great travel reviews and some AWESOME giveaways. Feel free to join my Twins, Tantrums and Cold Coffee – Shits and Giggles Parenting Group too, where everyone shares their hilarious stories.
And if you want to work with me, feel free to give me a shout here or at helen@twinstantrumsandcoldcoffee.com and I'll get back to you.