AD: This is a collaborative post, so I may have received payment for including one or more of the links it contains about Malaysia as a holiday destination for kids.
Are you looking for an exciting new place to take the kids next time you go on holiday? Perhaps you are interested in planning something truly wild and adventurous. If that's the case, then Malaysia could be the perfect option for you.
Malaysia packs in plenty of thrills and beautiful sites to explore, but that's not all. It's even a great place to take the kids. Here are just some of the fantastic vacation possibilities that await you for children in this part of the world.
Golden sands of Malaysia
Let's start simple. You might be thinking about planning a beach holiday with your kids. If that's the case, then you should definitely think about taking a trip to Malaysia. This country has some of the most beautiful beaches in the world and there are lots of benefits of heading to the coast. Many of the beaches have gradual shallows that get deeper slowly. This makes them perfect for paddling and bathing with kids of all ages. The waters are also incredibly clear which means that it's also the perfect place to go if you're interested in snorkelling too. You might even want to consider visiting Terengganu.
Here both you and the kids can get involved in diving. Taaras has a dive centre that is suitable for children aged eight and over. They will be able to take part in fun filled seal team missions. Older children have even more possibilities and there are 30 different dive sites around Redang Island. These will be perfect for divers, regardless of their level of skill or knowledge.
Natural wonders
Did you know that there's a city in Malaysia where monkeys roam around the streets? This isn't quite like anywhere else in the world and it's akin to taking your kids to the biggest open monkey enclosure ever created. They are sure to love seeing monkeys running above their heads and around the streets.
This is just one type of nature experience that kids can enjoy if you visit Malaysia. There are various others too. For instance, you might want to consider booking a Langkawi nature tour which is a possibility in Kedah. This includes a sea safari where you can view countless different aquatic animals in their natural habitat. You can also think about going trekking through the jungle or even just bird watching. It's entirely your choice what type of experience you are interested in here.
Or, you could think about visiting somewhere like the tabin wildlife reserve in Sabah. This is a lowland dipterocarp forest. There are mud volcanoes here for children to explore and it also presents a chance for them to see animals that are incredibly endangered and vulnerable. This includes the pygmy elephant, orangutan, and Sumatran rhino. It's worth noting that kids aren't expected to camp out in the jungle.
Instead, there's a massive resort where your little ones are certain to feel right at home.
Malaysia has beautiful places to stay
Regardless of what part of Malaysia you visit, we're confident that you're going to love the possibilities for places to stay. You could think about checking out an apartment for rent in KL. There are many benefits to renting an apartment. One of the greatest advantages of this choice is that you will be able to take advantage of the local cuisine. You'll have all the amenities that you need to cook for yourself and sink deep into the culture of Malaysia. Alternatively, you might want to think about planning a more traditional vacation with a hotel trip. If that's the case then there is a huge variety of hotels that Malaysia has to offer.
You'll find countless options here including hotels complete with spas and relaxing options for kids. This means that you can relax, unwind, and retreat into paradise while the kids explore some of the different entertainment options that will no doubt be available in childcare and kids clubs.
Water parks
Of course, if you are thinking about a more traditional vacation then you might want to explore one of the many water parks that Malaysia has to offer. You'll find that there are water parks here with countless attractions and possibilities including a Legoland water park. The big benefit of a water park like this is definitely the theming. For instance, you can build your own raft out of Lego pieces that actually float which is certainly a unique experience. There are also more than 70 unique lego models. You'll have to spend a whole day exploring at least if you want to see all the different options here. Legoland water park can be discovered in Johor.
KidZania
Are you heading to Kuala Lumpur? If so, then you might want to think about visiting KidZania. This is a theme park but it has a unique twist that adults are sure to find fascinating. You won't find any roller coasters here and while that might surprise you there are different types of activities that could be even more interesting. Instead of rollercoasters, this is a role play theme park. This means that kids learn through different forms of role play. Kids can take on roles in 60 different workplaces with 100 unique professions. This includes a secret agent, pilot, dentist, or police officer. The best part is that by completing tasks kids earn a unique form of currency. They can spend these however they like.
A unique and fresh opportunity built around an innovative idea, this could provide the answer that kids need when exploring which future career might be right for them. Alternatively, it could simply be a fun way to spend a few days and have a great time learning all about the options that await them in the real world.
We hope this helps you see that Malaysia could be a fantastic place to visit for the whole family. It's not just a vacation spot for adults as most people do seem to believe. There's a lot of things to love about this destination that will make it the idea spot for your family's next wild adventure.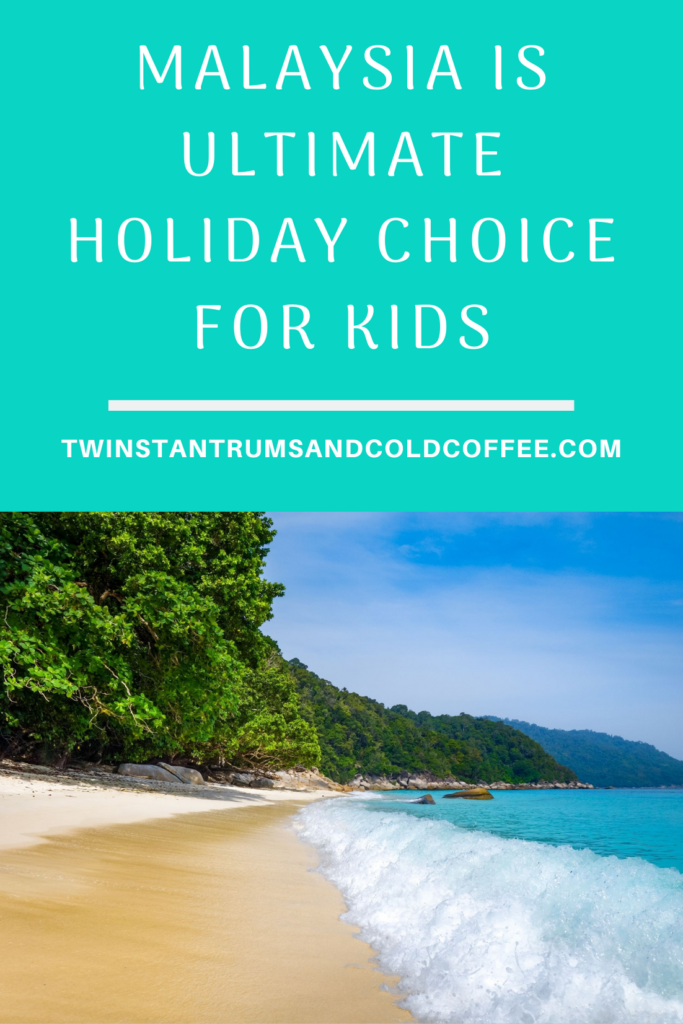 How did I do?
Did you enjoy this post? Why not hang around and read some more. If you want funny real-life parenting head to my Mum Life section. Or for travel and day out inspiration click on my Travel Section.
If you like a bit of social media madness, pop over to my Facebook page where you'll be able to have a laugh at what ridiculousness goes on in my house with three very small boys on a daily basis. Warning – there is often sarcasm, and usually swearing. There are also great travel reviews and some AWESOME giveaways. Feel free to join my Twins, Tantrums and Cold Coffee – Shits and Giggles Parenting Group too, where everyone shares their hilarious stories.
And if you want to work with me, feel free to give me a shout here or at helen@twinstantrumsandcoldcoffee.com and I'll get back to you.
And if you want to work with me, feel free to give me a shout here or at helen@twinstantrumsandcoldcoffee.com and I'll get back to you.