When it comes to fitting in a beauty routine with three boys, it can be a little chaotic. Therefore I mostly look for something simple to add into my daily routine and give me that natural boost I need with all my essential vitamins and minerals if I'm quick out the door. But introducing collagen supplements is a great way to keep our natural collagen levels up and keep us feeling and looking our best!
This is a collaborative post
What are Collagen Supplements and What Do They Do?
As collagen levels naturally decrease as we age, collagen supplements are taken to essentially make up for naturally lost collagen levels in our bodies. Provoking not just a more youthful appearance with their anti-ageing benefits but also stronger hair, nails and an aid in muscle growth and recovery.
As we get older our collagen levels naturally drop, resulting in more brittle hair, muscles and our skin's elasticity dropping, causing wrinkles. This is a result of collagen levels dropping, therefore collagen supplements are purely a replenished supplement to fit into your day to day routine to keep up your body's collagen levels.
As well as this, our bodies may at some point in life experience an imbalance of micronutrients, and vitamins. As life gets busier, it can become harder to find time to squeeze in all the fruit and vegetables required by our bodies daily. With the amount required each day some days it's just not achievable, especially with children around. It's a great daily supplement to either have straight from the sachet, or alongside your morning glass of water. Tasting delicious with numerous flavours like this natural tropical flavour sachet, it's an easy option to slip into your morning beauty routine before leaving the house. With its convenience and benefits, collagen supplements are a great body fuel, alongside a balanced diet to keep you feeling and looking your best!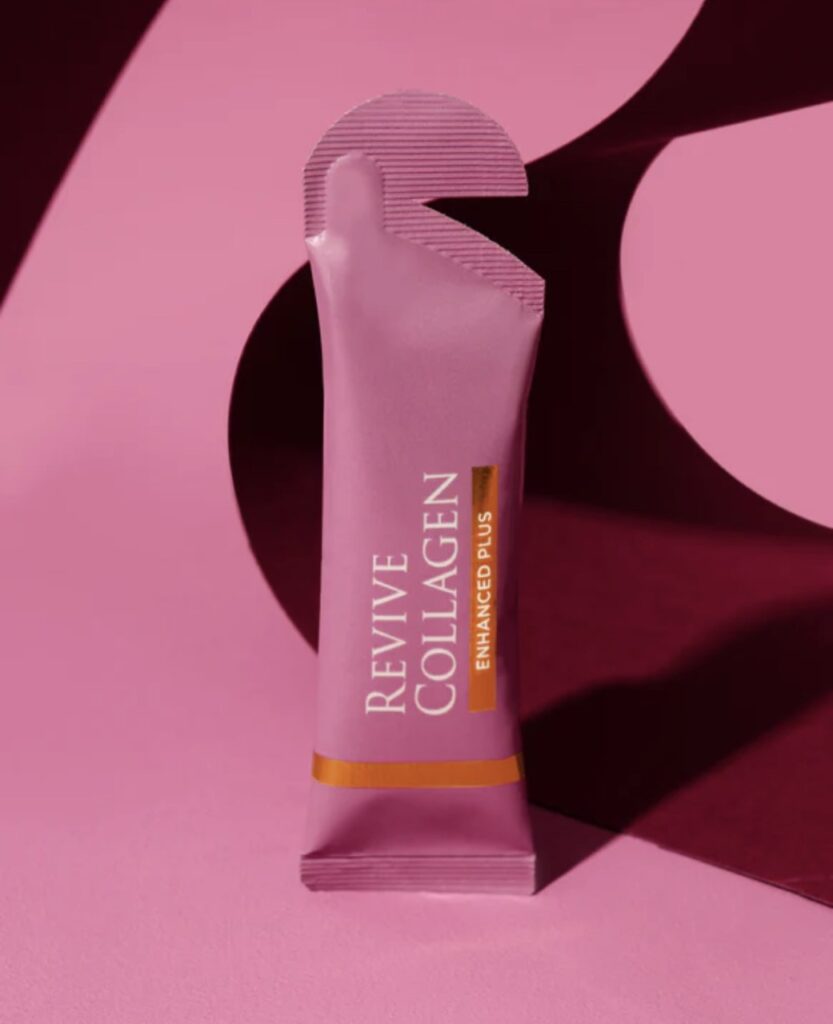 How Collagen affects our skin and muscles
With their ability to essentially refuel the body from lost collagen and with collagen supplements replenishing levels, they fight free radicals in skin health. Therefore they help to stimulate collagen production which can have a dramatic impact on how we look and feel. Collagen being a pure protein, it's made of two amino acids that are used to make creatine. Creatine is stored in our skeletal muscle and is therefore responsible for maintaining a continuous supply of energy that goes straight into our working muscles. With its rejuvenating properties which help to assist with muscle repair, it's a great supplement to energise us and keep our body at its best!
What Vitamin and Minerals are in Collagen supplements?
With collagen supplements being the most bioavailable form of collagen on the market with it's 10,000 MG Marine Collagen per sachet, it's convenience at its finest being straight from the sachet they're perfect on the go – in your bag or anywhere really. Its unique formula has been developed alongside some of the top UK laboratories and has been specifically developed to deliver superior results. With no lactose, no soy, no dairy and no artificial flavours and no added sugar, it's ideal for many.
Including that of VITAMINS B6 & B12, which have been proven to help reduce tiredness and help the nervous system, and formulate normal red blood cells. Whilst also consisting of Vitamin C & D, some common favourites in the skincare world and therefore offer efficient antioxidant properties to not only brighten the skin but reduce signs of ageing. Both also contribute towards normal collagen formation. As well as all this, each sachet also can include that of key skincare performers that are Hyaluronic acid and Aloe Vera Juice, improving the skin's hydration and texture alongside an anti–inflammatory agent.
So what are you waiting for?!
How did I do?
Did you enjoy this post? Why not hang around and read a few more whilst you're here. If you want to read some more of my usual kind of stuff, head over to my Mum Life section. You'll find all things parenting with a tongue-in-cheek twist. Or if you want some days out and UK family holiday inspiration, click on the Travel section.
If you like a bit of social media madness, pop over to my Facebook page where you'll be able to have a laugh at what ridiculousness goes on in my house with three very small boys on a daily basis. Warning – there is often sarcasm, and usually swearing. There are also great travel reviews and some AWESOME giveaways. Feel free to join my Twins, Tantrums and Cold Coffee – Shits and Giggles Parenting Group too, where everyone shares their hilarious stories.
If you like what you see, how about you check me out on Pinterest, Instagram and Twitter too.
And if you want to work with me, feel free to give me a shout here or at helen@twinstantrumsandcoldcoffee.com and I'll get back to you.