Soap bars have been around for a while and can easily be found in every household. In recent years, people have switched to using shower gel and bath gel for their daily routines thus increasing their popularity. 
This is a collaborative post
Shower gel bottles are simply easier to use, especially if they come with a pump, they give you a gentle but high-lather cleanse and there are many different ones to choose depending on your skin type. Even though they are much handier, are you sure you are getting the most out of the product you are purchasing?
Do's and Don'ts When It Comes To Shower Gel
The first step of using shower gel the right way comes before you're even in the shower. It is essential to do some research and pick the suitable shower gel for your skin type. The top recommendation is to choose a sulfate-free one, no matter if your skin is dry, normal, oily, or combination.
The Cradle and Tonic shower gel is a great choice, especially for dry skin, since it is enriched with aloe vera and essential oils. You want to make sure you give your skin about 2-4 weeks to adjust to any new product in order to see the results. 
Most people get in the shower, rinse and use their hands to apply the shower gel. This is the normal way and it works, but to get the most effect out of the shower gel you're using consider buying a loofah.
Once you're in the shower, make sure to thoroughly wet all areas of your body and the cloth or loofah you chose. Apply one to two pumps of shower gel to the loofah and start cleansing. Each part of your body should get about 20 seconds of gentle scrubbing to exfoliate all the bacteria and grime of the day.
Rinse thoroughly, pat your skin dry with a towel, and as recommended by the American Academy of Dermatology, immediately move on to moisturizing. No matter how nourishing your shower gel is, you should always apply body oil or your preferred lotion after showering. Tip: lotions and oils with antioxidants will add extra protection to your skin.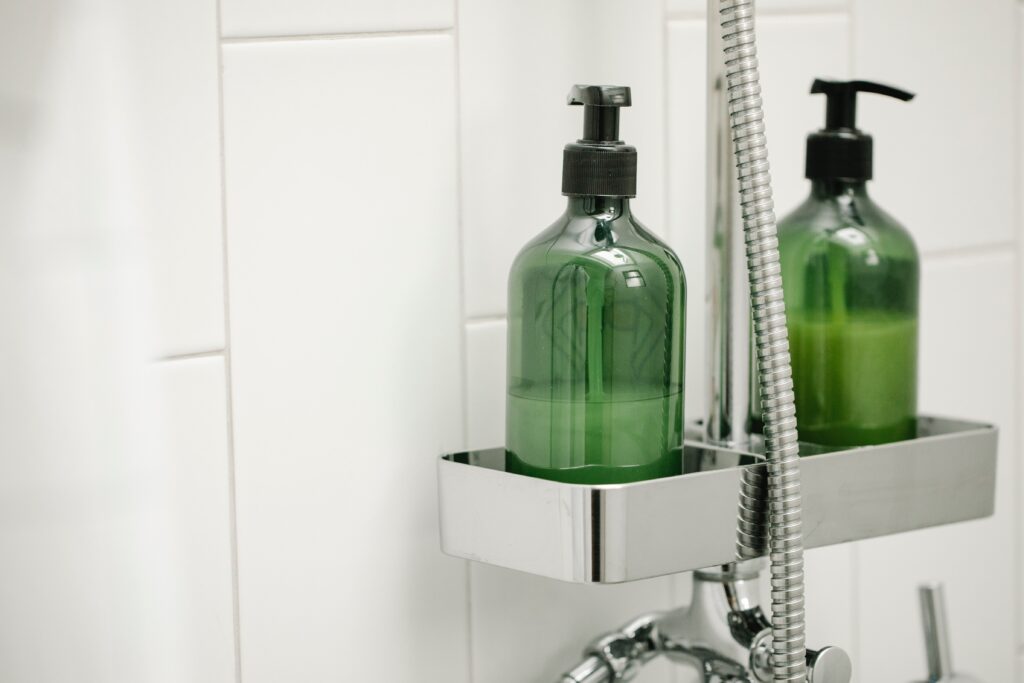 If you find that your skin is still struggling with dryness in certain areas after continually moisturizing, you can apply a balm to the irritated spot. Cradle and Tonic's balm is 100% natural so you can use it anywhere without worrying about harmful ingredients. 
The important don'ts are to never use shower gel on your face, as the skin there is way more delicate and needs different products. Avoid chemical-laden gels which irritate and dry out the skin. Last but not least, don't be aggressive. Vigorous scrubbing done daily will do more harm than good. Gentle exfoliation is all your skin needs to stay healthy and vibrant.
Picking the best shower gel
Whether you have normal, dry, or oily skin, your perfect shower gel has some boxes to tick off. It is best to pick a sulfate and paraben-free product, as they will be sensitive and won't cause skin flare-ups or itchiness.
If it contains some essential oils, aloe vera, or turmeric, you will get a calming and anti-inflammatory effect. Whatever your preferences are, listen to your skin's needs and pick accordingly. 
How did I do?
Did you enjoy this post? Why not hang around and read a few more whilst you're here. If you want to read some more of my usual kind of stuff, head over to my Mum Life section. You'll find all things parenting with a tongue-in-cheek twist. Or if you want some days out and UK family holiday inspiration, click on the Travel section.
If you like a bit of social media madness, pop over to my Facebook page. You'll be able to have a laugh at what ridiculousness goes on in my house with three very small boys on a daily basis. Warning – there is often sarcasm, and usually swearing. There are also great travel reviews and some AWESOME giveaways. Feel free to join my Twins, Tantrums and Cold Coffee – Shits and Giggles Parenting Group too, where everyone shares their hilarious stories.
If you like what you see, how about you check me out on Pinterest, and Twitter and Instagram too.
And if you want to work with me, feel free to give me a shout here or at helen@twinstantrumsandcoldcoffee.com and I'll get back to you.