Nowadays, it's becoming increasingly more difficult to shy away from the effects of climate change and how our behaviour is impacting the environment. With that said, you might be wondering how you can teach your child to respect the environment. The best place to start is by having conversations about the environment and what you can do to help. For instance, talk about plastic straws and why they are bad.
This is a paid collaborative post
I have teamed up with a prep school in Amersham to offer you some additional advice on how you can raise an environmentally conscious child.
Teach your child to respect the environment by exploring nature
Help your child appreciate the natural world by going on walks through the woods, visiting the beach, and even planting some seeds of your own in the garden. Talk about what you see, such as the leaves turning brown during autumn and falling off the trees, or what animals are likely to be living in the woods. Identify different flowers and other plants. You could even go on a camping trip for a couple of nights to help your child immerse themselves with nature. Explain to your child how human behaviour is affecting nature and what you can do to help.
Teach your child to reuse
Help your child understand how important and fun it can be to reduce waste by reusing items. For example, if your child likes arts and crafts, you could use the leftover cardboard from your toilet or kitchen roll, shoe boxes or old magazines, rather than buying new supplies. Before you throw anything away, such as old clothes or furniture, ask your child if they can think of any ideas of ways to reuse them or upcycle. This will not only help the environment, but it should also help you save money.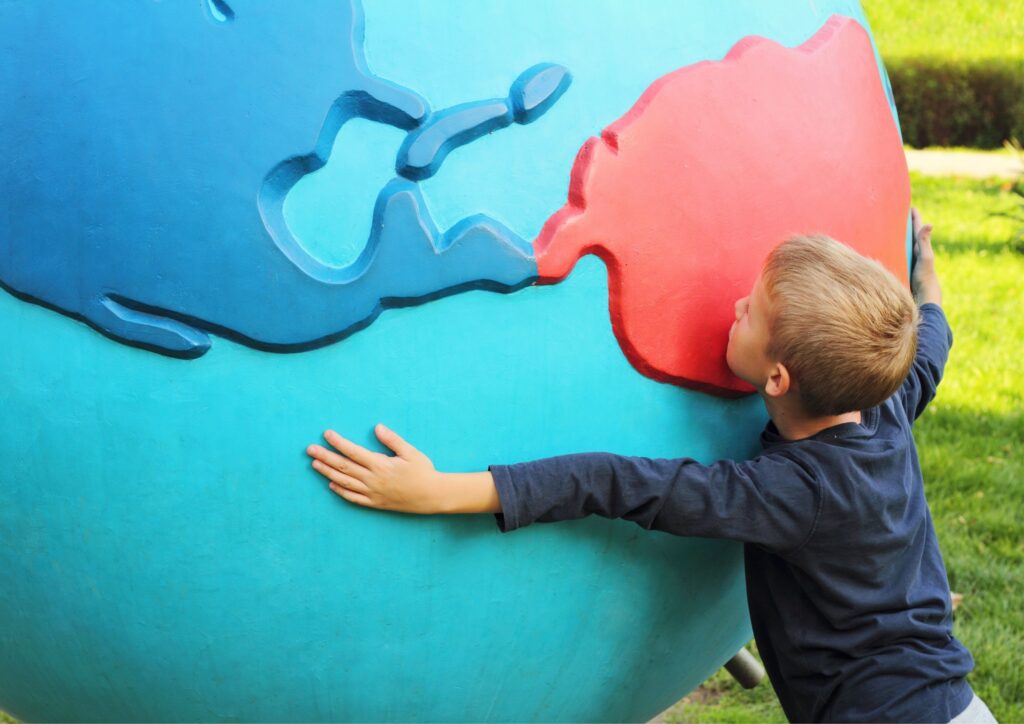 Avoid single-use items
Things like plastic bottles or paper plates create a lot of unnecessary waste, so try and avoid using these items. Teach your child about landfill sites and why its important to try and avoid single-use items. They will soon become a more environmentally conscious child.
Teach your child to respect the environment by using books and films for reference
Don't worry, you don't have to do all the work on your own. You can help your child learn about the environment and why it should be respected by supplying them with appropriate books and movies. For instance, you could watch Planet Earth together to find out how humans are impacting the environment.
Reduce energy consumption
Encourage your child to switch off the lights and other electronic devices when they're not in use because this will reduce energy consumption. Other ways to reduce energy consumption are taking shorter showers and switching off the tap when you brush your teeth. Of course, you will need to lead by example, and it will help if you explain to them why saving energy is important for the environment.
Care for the environment together
Allow your child to witness you caring for the environment, like separating your rubbish into different recycling bins, fixing a leaky tap, or turning off the heating when you go out. Use eco-friendly products in your home and explain to your child why these are beneficial. You could even help the community by volunteering together, like litter picking in the park or cleaning up the shore if you live near the beach. Actions speak louder than words, so if your child is able to see you demonstrating care for the environment, they will be more likely to do the same.
There's no time like the present to start exploring environmental concerns with your child, and even the smallest of changes to your everyday life will go a long way in helping, and also instilling that sense of respect in your child. The process will take time but will certainly be worth it in the long run.
How did I do?
Did you enjoy this post? Why not hang around and read a few more whilst you're here. If you want to read some more of my usual kind of stuff, head over to my Mum Life section. You'll find all things parenting with a tongue-in-cheek twist. Or if you want some days out and UK family holiday inspiration, click on the Travel section.
If you like a bit of social media madness, pop over to my Facebook page where you'll be able to have a laugh at what ridiculousness goes on in my house with three very small boys on a daily basis. Warning – there is often sarcasm, and usually swearing. There are also great travel reviews and some AWESOME giveaways. Feel free to join my Twins, Tantrums and Cold Coffee – Shits and Giggles Parenting Group too, where everyone shares their hilarious stories.
If you like what you see, how about you check me out on Pinterest, Instagram and Twitter too.
And if you want to work with me, feel free to give me a shout here or at helen@twinstantrumsandcoldcoffee.com and I'll get back to you.