If you have trouble getting your toddler to drink water, then a fancy new type of water bottle called Auron might be worth a try.
This is a collaborative post with Auron water bottles and I have been compensated for my time.
One of the most frustrating things about raising toddlers and pre-schoolers is that you have to fight tooth and nail to get them to do things that their very survival depends on. It's like they just don't get it!
Eating and drinking, for example. You know, pretty basic things like that. Kids just never seem to want to eat more than a morsel, unless it's something sweet and sugary, of course. And getting a toddler to drink water is like pulling teeth. Don't we need water to survive? I swear my kids are some kind of mutants sometimes. Surely if they're thirsty then they'd just DRINK. But apparently not.
But I've continued trying to get them to drink up in whichever way I've come up with. I've even found a couple of ways to make them want to survive for another day by consuming a few drops of H20.
Luckily, this battle wasn't too tough. Here's how I got mine to warm up to water.
Use a flashy bottle to get your toddler to drink water
Lucky for parents, goading toddlers to do something is a bit like cats and keys. Cats love keys. Jingle your keys, and cats come running.
To toddlers, the equivalent of keys is screens. More specifically, phone and tablet screens. They can't get enough of them, can they? Instead of battling them over screen time, I started using it to my advantage by downloading educational apps and things like that.
What does this have to do with water? Well, a new water bottle called Auron Bottle comes equipped with a touchscreen. And it has enough flashy lights and sounds to make toddlers WANT to drink water. This bottle is the keys to their cats. Good analogy, right?
Even better, Auron is healthier for kids than any other bottle. It comes with a UV-light purifier right in the bottle, so every time you take a sip, you'll be getting the purest water on the planet. Seriously, UV light kills 99.99% of germs, including bacteria, mould, viruses, fungus, allergens, parasites and more. Anything harmful? Gone.
It's safe and easy to use too. Just one tap to the lid and your water will purify in 60 seconds. After giving it a tap, a countdown and a colourful light show pop up to let you know how the purification process is going.
It may sound simple, but kids love it. The magical process of transforming your water into something new is very enticing, and the touchscreen is too much to ignore. Auron's lid can do some other smart things too, like display the temperature of your drink, set hydration reminders and enable auto-clean. My boys are going to love it!
Auron is great for mums too. It's a double-walled, vacuum-sealed flask that keeps ANYTHING hot or cold for 24 hours. Including coffee and wine. I mean, NOW we're talking!
If you're interested in picking one up, you can get an Auron Bottle now for 60% off. The sale lasts for about a week more, so don't wait too long.
Get your toddler to drink water by making it colourful
Water is kind of boring, isn't it? I mean, I don't mind a glass of water now and again, but I have to agree with the kids on that point.
While kids get bored with water easily, they can get excited just as easily. All it takes is a little colour and creativity to make water fun again.
Next time you fill up a pitcher, add a couple of drops of food colouring. You don't even have to say a thing. Just walk into the living room with a big jug of purple and the kids will be begging for a glass. Just try not to spill it! They're so shallow, aren't they? But it's a great way to get a toddler to drink water.
If you're worried about the destructive stains caused by food colouring, you can garnish your water with colourful fruit. It's just as fun, and kids can help out too. Toss in some berries, cucumber, banana and citrus. Soon, you'll be drinking all the colours of the rainbow.
Keep water around all the time
When I try to get my kids to drink water, they treat every glass like it's filled with nuclear waste. However, if I sneakily place a cup with a straw next to them while they're zombified watching Netflix, they'll pick it up and start sipping without a thought.
It's a bit like observing wildlife. You need to strategically place sippy cups around your toddlers' natural habitat, and then watch from afar to see if they strike. Usually, they'll finish half the cup by the end of their Netflix sesh or playtime. I also find using a straw in an open cup is a good way too – anything which is a novelty.
Now, I keep water all over the place. If it's just set there, they'll drink it. If I offer it to them, they'll moan about juice all day. I don't know why it works, but it just does. Give it a try and let me know if it's a real thing in the comments or if my kids are just a bit odd.
Don't give them any other options
This is truly the easiest way to get kids to drink more water without trying. But, it takes a bit of personal sacrifice too. Kids will eventually drink plenty of water AND develop a taste for it as long as there are no other choices.
That means cleaning all the sugary drinks, juice boxes, fizzy drinks and sports drinks out of your fridge and cupboards. Out of sight, out of mind. If your toddlers know there's no other option, they'll have to bear the horrible reality that water is the only thing to quench their thirst. Goodbye to orange squash.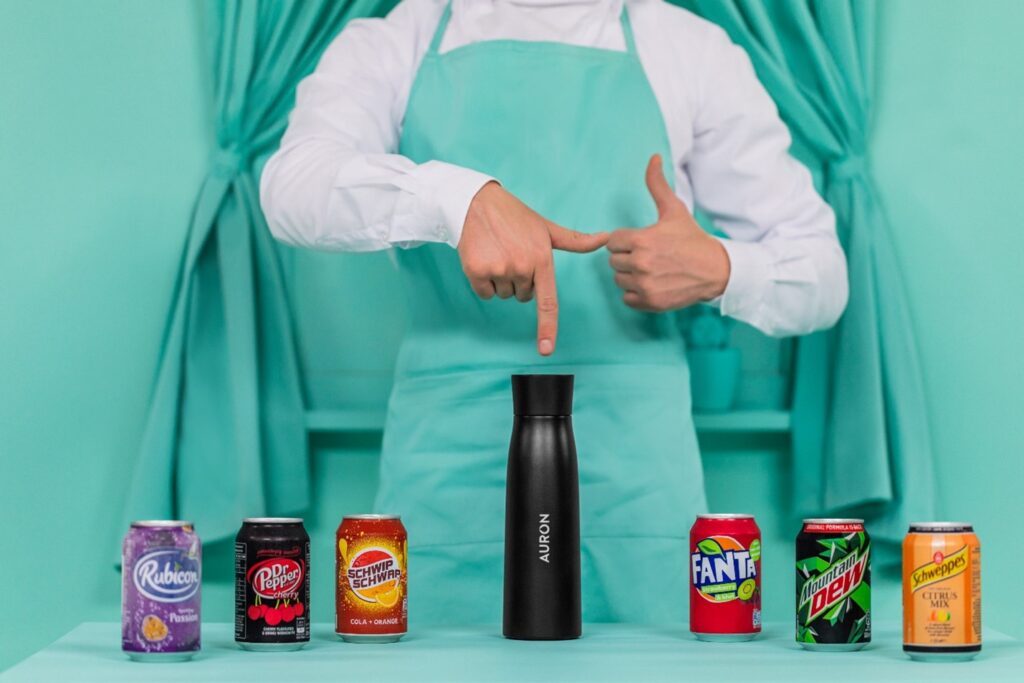 But there is good news. The thirstier your kids get, the more they'll start to like water. And the more they drink water, the less addicted they'll become to super sugary drinks. This can have positive implications for the rest of their lives!
Down the road, when they thank you for their glowing bill of health, you can take all the credit (without really having done anything!).
Kids don't like water, but it's so important!
With toddlers, you always have to choose your battles. Some are worth having, and others are for another day. This is basic parenting if you ask me.
But don't wait to get your kids off those sugary drinks and back onto water. Sugar is the most addictive drug in the world, and developing a sugar addiction early can alter their entire lives.
Luckily, kids already like water. All you need to do is remind them that they need it to survive. Try some of the tips on this list and let us know if they work for you or not. And don't forget to pick up an Auron smart water bottle before the sale ends. You can get one for 60% off during a pre-sale special, making it about the same price as a normal insulated flask—but loads cooler. And so much more environmentally friendly to have a re-useable bottle.
Have you tried an Auron Bottle? Learn all about them and pre-order yours today at www.auronbottle.com.
How did I do?
Did you enjoy this post? Why not hang around whilst you're here. If you fancy having a giggle at some of my usual parenting rants, head over to read some of my Mum Life posts. Or check out my Travel Section for some UK holidays and days out inspiration.
If you like a bit of social media madness, pop over to my Facebook page where you'll be able to have a laugh at what ridiculousness goes on in my house with three very small boys on a daily basis. Warning – there is often sarcasm, and usually swearing. There are also great travel reviews and some AWESOME giveaways. Feel free to join my Twins, Tantrums and Cold Coffee – Shits and Giggles Parenting Group too, where everyone shares their hilarious stories.
And if you want to work with me, feel free to give me a shout here or at helen@twinstantrumsandcoldcoffee.com and I'll get back to you.