I've not met a child yet who doesn't love receiving toys, but how do you find those brilliant children's presents which are that little bit different?
AD: This is a collaborative post with Wicked Uncle.
Considering the fact there are millions of toys on the market, it always amazes me how my boys end up with duplicates on their birthdays. I suppose us parents go to the usual suspects of giant toy stores or quick delivery online shops – especially if you're like me and forget to buy something until the last minute!
But if finding unique children's gifts is important to you, then you need to check out Wicked Uncle's website.
They have a HUGE range of kids' gifts, and there are so many things I've never seen before, which are perfect to make great presents for girls or fantastic gifts for boys. And I'd put money on the fact they won't be duplicated at the next birthday party your kids have to go to. It's also a great way to become a 'Wicked Uncle', 'Awesome Aunt' or 'Great Granny' as well as nailing the whole present-buying for your little ones and their mates.
How to choose brilliant children's presents
Some children are easy to buy for. Take my six year old son, for example. He's the 'typical' boy who is into dinosaurs, Lego, Transformers, and building things. All very normal and easy to think of something for.
But if the child you're buying for isn't quite so easy, where do you start?
What are they interested in?
If I'm really not sure, I tend to ask the parent if there is anything specific they want, or what they're interested in. It at least gives me something to work with rather than flailing around in the dark and potentially buying something they don't want or will never use. Although there's always the option for the parent to 'regift' it at the next party! (Obviously none of us ever ADMIT to doing that though, do we?)
What type of toy do you want?
Are you thinking about something educational, something outdoorsy, or something that will drive the parents mad by being messy or noisy but that the child will absolutely LOVE?
What is your budget for the toy?
As much as we'd all love to spend £20-£30 on all the children's gifts we buy, it's just not possible for most of us. Especially when you have three kids who are all being invited to birthday parties constantly. So budget is important when choosing the perfect kid's gifts. We want to get the most for our money, but we also don't always want to spend a fortune.
Wicked Uncle can help you find brilliant children's presents
If you've not been onto the Wicked Uncle website before, you really are missing a trick. Once I discovered it, it's now my go-to place for buying children's birthday presents.
And there are several reasons for that – the choice it has, the various budgets it caters for, and most of all how EASY it is to use.
It's different when you're choosing a gift for your own child, obviously you take longer over it, and you usually know exactly what they want.
But with all the will in the world, I don't have the time (or the inclination!) to be agonising painstakingly over choosing a £10 toy for Billy in Year 2 or Jack in Foundation. We're busy parents, right? We want something quick and easy.
Which is where Wicked Uncle comes in.
Searching for children's gifts is easy with Wicked Uncle
Searching for children's gifts is as simple as can be. You can not only look for gifts by gender, but also age with really specific brackets. A lot of toy stores bunch toys together which are suitable for 0-2 or 3-5 for example. And in my opinion something that a 3 year old loves might be very different for a 5 year old, yet they're in the same category.
Wicked Uncle has different brackets for each age from babies through to age 14, then another section for ages 15-105!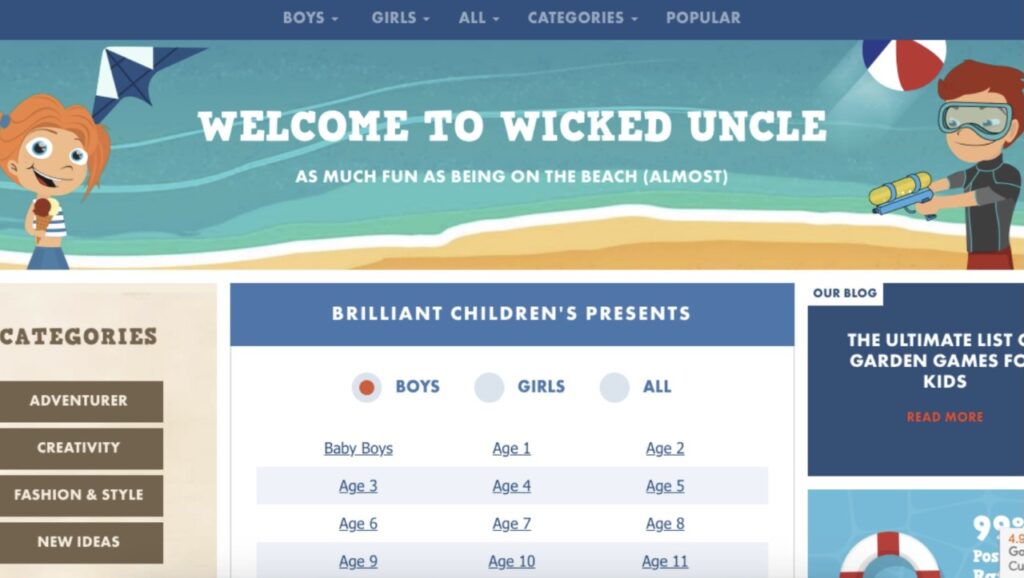 Finding unique children's presents from set categories
As well as age and gender, Wicked Uncle also helps you narrow down your search for that perfect gift by putting them into an A-Z of categories. So you can find anything from 'Adventurer', 'Dinosaurs', 'Educational', and 'Football', to 'Outdoorsy', 'Role Play' and 'Sensory'. Then within those categories you can narrow it down further by age. So if I know the person I'm buying for likes dinosaurs, but I still want to make sure it's something different, I just head to the dinosaurs category, alter the age bracket and can soon come across a giant floor painting dinosaur puzzle, or a doodle your own dinosaur pillowcase. These aren't things I've ever come across before and are fabulous!
My boys have particularly liked making this awesome 3D shark head mask. My six year old got really into it as you can see!
Or if you're looking for some more outdoorsy toys for all the camping trips we're doing this year, there's a whole category for that. You can find some fab gifts such as this Outdoor Adventure Camping Projector. It projects images of wildlife and stars onto the side of your tent, then acts as a nightlight. I reckon this one might be making its way into my basket too!
With all the searches you do, you can show the results in certain order. For example the most popular first, highest price first, or lowest price first. And if you're particularly short on time (or possibly forgotten all about it until the last minute) you can have any of the children's presents you buy gift wrapped too. This can save you loads of time at home. And is a lifesaver if you're sending it to someone elsewhere in the country. Saves you having to have it delivered to you, wrap it then post it again. Just have it sent directly to them! And when your present is delivered it comes with an AWESOME thank you card all ready to fill in – can you spot the bit that made me laugh out loud?
So there you have it. If you're looking for unique, brilliant children's presents or some new ideas for gifting, then you know where to go. Wicked Uncle! Let me know what you find.
How did I do?
Did you enjoy this post? Why not have a look at some others whilst you're here.  If you want to read some more of my usual kind of stuff, head over to my Mum Life section. You'll find all things parenting with a tongue-in-cheek twist. Or you'll discover lots of UK holiday inspiration and family days out in my Travel Section.
If you like a bit of social media madness, pop over to my Facebook page where you'll be able to have a laugh at what ridiculousness goes on in my house with three very small boys on a daily basis. Warning – there is often sarcasm, and usually swearing. There are also great travel reviews and some AWESOME giveaways. Feel free to join my Twins, Tantrums and Cold Coffee – Shits and Giggles Parenting Group too, where everyone shares their hilarious stories.
If you like what you see, how about you check me out on Pinterest, Instagram and Twitter too.
And if you want to work with me, feel free to give me a shout here or at helen@twinstantrumsandcoldcoffee.com and I'll get back to you.