AD | This is a paid collaborative post with Hartbeeps but words, opinions and most pictures are my own.
My twins have always loved a baby and toddler group and it seems Hartbeeps is no exception.
We were invited to try out the Plymouth and Saltash Hartbeeps toddler session and the funniest thing about it was how serious my pair took it. No smiles for the camera – they were too busy concentrating on getting involved!
One of the ideas of the group is for parents to let go of their inhibitions and enjoy having fun with their little ones. But it seems my twins aren't backward in coming forward either – they were right in there from the word go.
Hartbeeps is for newborns to preschoolers
Hartbeeps is an immersive music class for newborn and sitting babies, toddlers and pre-school children. The leaders are the 'imaginations' who are energetic, playful and supportive experts – and Plymouth's leader Sophie Roberts was brilliant.
She engaged the children instantly, and they obviously liked her as both my boys were more than happy to join in straight away, taking props from Sophie and dancing away in front of her. Plus she did what all us mums like – remembered everyone's names (and got my twins the right way round!)
Each session provides children with the opportunity to explore, play, socialise and combine music and movement in little mini Hartbeep productions.
Weekly Hartbeeps sound journeys
Every week the group goes on a different sound journey, exploring new and magical worlds of wonder, imagination and fun. The music, a mix of original tracks and remixed nursery rhymes, is continuous and Sophie also uses Makaton throughout.
The 45 minute Hartbeeps session we went to revolved around a bumpy journey that saw us land in the jungle. Sophie started with bubbles – and that was basically it, my pair were putty in her hands.
Throughout the session the children play with different props from the 'magical case'. They were able to play, dress up and explore with their grown ups and each other. The boys particularly liked the finger puppets, chiffon scarves and 'boomwhackers' that they used both as jungle drums and telescopes. Oh and the monkey ears they didn't want to take off!
Twin Two loved the jungle animals noises
They had to listen to which jungle animals were coming out of the depths and shout out the noise. Although if you listened to Twin Two, you'd think there were dinosaurs at every turn. (He does love a good roar).
They then all explored different ways of moving around the room in an elephant march, tip toeing, jumping and stomping.
Towards the end, Sophie calmed the session down with them hiding from the jungle rain under giant leaves. This then turned into 'quiet time'.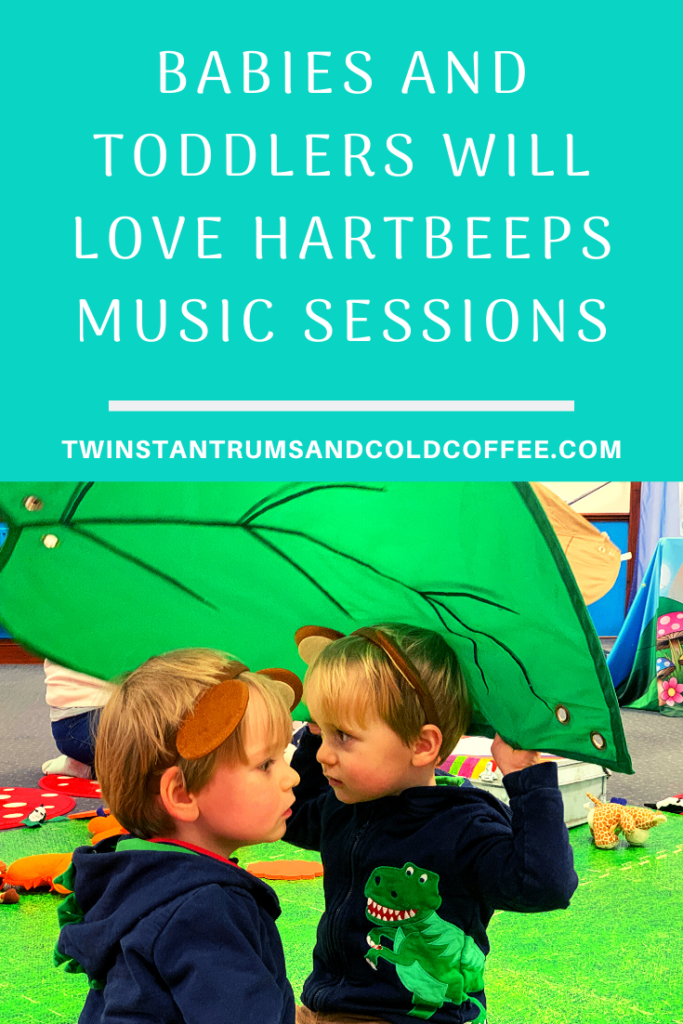 The lights are turned off and the little ones can play with colourful glowing disc lights whilst snuggling under cosy blankets. I think Twin Two was actually tempted to nod off and you can't blame him after all his excitement.
Hartbeeps runs Baby Bells suitable from newborn to sitting, Baby Beeps suitable from sitting to toddling, and Happy House which are toddler and infant classes suitable for walkers and their siblings.
Sessions promote independence and confidence
The sessions target all areas of the Early Years foundation stage curriculum. And by exploring the props and resources children are learning independence, self awareness and confidence. 
We went to the Plympton Hall class, which was perfect for us. And for any mums bringing along twins or siblings, it's good to know you can park right next to it in a free car park. A BIG bonus for me and my runaway toddlers. They're also held at Woolwell Scout Hut, Jump, and the Kidslingo Hub.
My pair certainly loved it, so give it a go! To find out more about classes and locations, click here.
How did I do?
Did you enjoy this post? If so, why not have a read of some of my Mum Life ramblings on anything from potty training, weaning, baby groups or the dreaded end of nap time. And if you're in or near Plymouth check out my Local Stuff section.
If you like a bit of social media madness, pop over to my Facebook page where you'll be able to have a laugh at what ridiculousness goes on in my house with three very small boys on a daily basis. Warning – there is often sarcasm, and usually swearing. There are also great travel reviews and some AWESOME giveaways. Feel free to join my Twins, Tantrums and Cold Coffee – Shits and Giggles Parenting Group too, where everyone shares their hilarious stories.
And if you want to work with me, feel free to give me a shout here or at helen@twinstantrumsandcoldcoffee.com and I'll get back to you.