With Father's Day just around the corner, are you racking your brains on what to get that special man? There are countless ideas for Father's Day gifts doing the rounds, but what do they REALLY want? 
Whether you're looking for that perfect present for the Daddy of your kids, or your own father, you've not got that long to crack on with it. (Don't worry, I've not got anything yet either. Shhh!)
So I thought I'd help you out with a few ideas for best Father's Day gifts. But not just actual material gifts for the father figure in yours or your kids' life. Some alternatives too. You know, the stuff that money can't buy. Whether that's a unique gift such as a personalised sign from somewhere like Neon Mama, a practical gift, or a last minute scribbling of a voucher saying he's entitled to breakfast in bed or a lads' night out, there's something for everyone. Oh, and it might be just a little bit tongue-in-cheek.
Father's Day gifts -they deserve it
Because let's face it, if you're lucky, the Dads in our lives are pretty flipping awesome. I know mine are. My husband keeps me sane. When the boys push me to my absolute limit (which, let's be honest, is on a daily basis), he steps in and deflates the situation. He also entertains, plays, bathes, reads to, puts to bed, attends to at 2am. All the stuff Dads SHOULD be doing obviously, but not all do apparently.
And despite working away, he also does a LOT around the house. I might even suggest more than me… The best one being ALL the cooking! Yes, ladies and gentleman, he cooks for me every single night. I sort the kids' tea out, then after bedtime he rustles me up something healthy and delicious every night without fail. And on that factor alone, I consider him a most definite keeper.
Then there's my own Dad. Grandad to 5 boys and a total legend. Has helped with childcare every single week without fail since becoming a grandfather nearly 12 years ago. I mean OBVIOUSLY that's because my Mum tells him to, but he just gets on with it. He knows (as we all do) not to argue. Whether that's scrabbling around on the lounge floor playing, building lego, feeding the birds in the garden, or pushing a double buggy around National Trust gardens – he does it all. So Father's Day is also about him too.
Okay, so now we've established the Dads in our lives deserve a treat, what sort of treat are we talking about?
I've come up with a few great ideas for Father's Day gifts. The first lot are presents that are perfect if we want to spend our hard-earned cash on our best dad. So hop online or out to the shops and get buying. This is the 'normal' gift guide, if you will.
The second section, shall we say, is a bit of fun, or can be completely serious if we're short of cash. Either way, you'll find a great gift idea.
Best Father's Day Gifts Ideas
1. LEGO
Okay, okay, this might not be everyone's first choice for a good gift, but it absolutely is for me. In fact it's my go-to best present idea for basically all occasions and for all the people who live in my house of the male variety. And that includes the husband. In fact, it's ESPECIALLY good for my Lego-obsessed husband. The best thing is you can go on a bit of a splurge if you're feeling generous and buy something big and expensive (I once bought him the Millennium Falcon). Or you can buy something for 20 quid. Job done and perfect gift. It's the thought that counts, right?
2. PERSONALISED FATHER'S DAY GIFTS
We all know as parents we take absolutely hundreds of pics of our kids. So why not put some of them to good use with a personalised present. You could go for a t.shirt or tie with a photo on it, or what about a cushion or a keyring. I really love the personalised mugs as a great way of using some special family pics. Or even if you just want a mug with 'Dad' and their name on it, or a a custom message. They are thoughtful gifts, and perfect for their morning coffee. And to be on display during all their home office work video calls! Or if you still fancy something personalised but not with photos, check out all the different presents the Engravers Guild do.
3. BOOKS
Now I don't know about you but my husband loves a good book. To the point where he often has 3 on the go at the same time. And despite the huge tower of them in our bedroom, he clearly still doesn't have enough! So whether they're into a good thriller, something to make them laugh, a true historical tale, or an autobiography, books should always be a winner on a list of great Father's Day gifts.
4. TICKETS TO AN EVENT
Whatever he's into, I bet there is something he would love to go and see. Whether it's the latest tour of his favourite band, a show he's been wanting to see for ages, or something completely different, why not wow him with tickets to an event he'd enjoy. I mean, if you want something pretty cool, what about Wrestlemania which looks loads of fun with dates for 2023 and 2024 already available.
5. MAGAZINE SUBSCRIPTION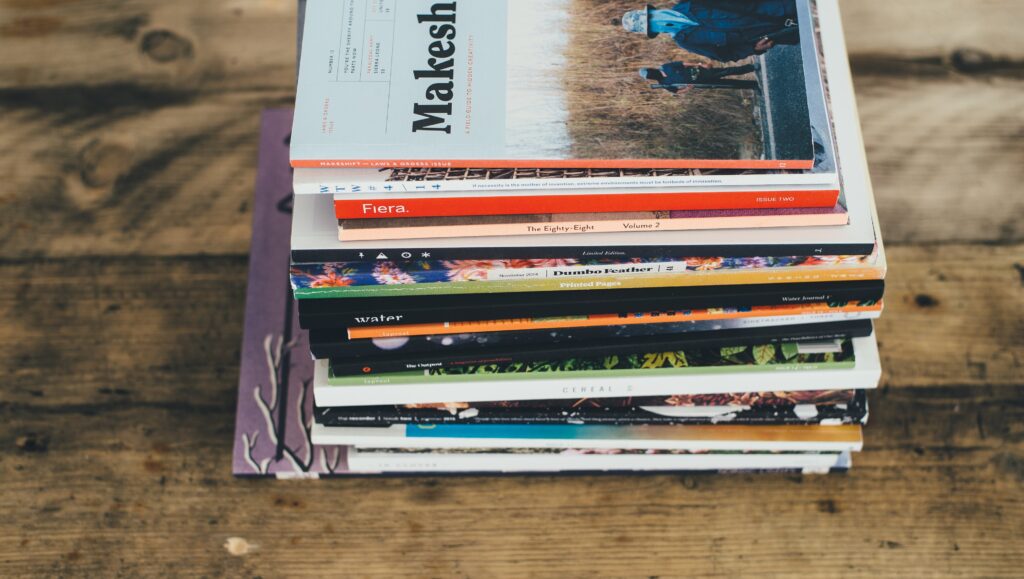 What if they prefer a magazine rather than an actual book, like my own Dad? If they'd rather have a casual flick through during a spare five minutes instead of getting into a heavy book, a magazine is ideal as the right gift. And seeing as they publish magazines on every subject under the sun these days there's bound to be one perfect for the Dad in your life. Either buy one as a present from one of the kids (dare I say they could EVEN use their own pocket money?), or splash out on an annual subscription so he gets each new issue delivered to his door. Whether they're interested in outdoor adventure, the latest android devices, nifty gadgets or sports, there will be something suitable. Believe me, I've used this present idea many a time!
6. CINEMA VOUCHER
This one is an all-round winner in my family. My parents love going to the cinema (literally going more often than I do). And I'm married to a film buff. Obviously him and I don't always see eye-to-eye when it comes to the choice of film. He's not so keen on period dramas or chick flicks funnily enough. And I'm equally as put off by Sci-Fi and anything vaguely Superhero-ish. So give him a voucher or gift card sent to his email address to go with his mates, and you've got a win-win situation on your hands.
7. ENROL HIM ON A COURSE OR WORKSHOP
Slightly left-field I admit, but this could be a good one depending on the kind of Dad in question. Have they always wanted to learn to cook and become king of the grill (here's hoping?) then book them a cookery course at a local restaurant so he can become the home chef. Do they want to up their game when it comes to taking photos? Enrol them onto a photography workshop. You get my drift.
8. DRIVING EXPERIENCES
Speaking of drifting, another great Father's day gift would be a driving experience day. Albeit that is, if your old man is into cars. There are loads to choose from at various locations with a top pick including driving supercars, rally driving, skidpan control, drifting, stunt driving, military vehicles, stock cars and even driving monster trucks! Sounds pretty damn cool to me and these are among the best gifts I've ever given in the past.
9. FOOD
A slightly blunt way of putting it, I know. But we've all heard that the way to a man's heart is through his stomach, right? So food and drink can be a great gift for Father's Day. And I'm not talking a trolley-full of the weekly food shop. I'm talking nice sets of chocolates or sweets in a gift box, ales for the beer enthusiast, a bottle opener and nice vintage for the wine lovers etc. Hell, give him a box set of cheeses if that's his thing!
10. KEY HOLDER
Another great gift option for Father's Day will be a key holder for car keys. This stylish and functional accessory not only keeps car keys organized but also adds a touch of sophistication to daily life. With a key holder designed specifically for car keys, your dad won't have to fumble through pockets or bags to find his keys anymore. It's a thoughtful present that combines practicality with aesthetics, making his daily routine smoother and more elegant. Whether he's heading to work or going on a road trip, this key holder will be a constant reminder of your love and appreciation.
So now you've got a few great ideas of things to buy the Dads in your life for Father's Day.
But what if cash is a bit strapped? Or you want to give him a money-can't-buy present instead? Here are some slightly alternative tongue-in-cheek gift ideas, guaranteed to make him smile. You can tailor them to the individual very easily!
*ALTERNATIVE MONEY-CAN'T BUY FATHER'S DAY GIFTS
1. A WHOLE DAY TO DO THEIR HOBBY
Has to be number one as this would by my husband's DREAM present. For me to let him go out on his bike for the entire day. Replace bike with football, cricket, a day on the golf course or paddleboarding as appropriate. But in addition to that, it would also include him not coming home to a moaning wife (aka me) and then be able to just sit around in his pyjama bottoms for the rest of the evening taking plenty of time to upload his ride on all sorts of Strava-type websites to show off to his mates. He'd deny this bit but if you know, you KNOW. Wives of runners will no doubt also relate. This is definitely one of those Father's Day gifts they REALLY would like.
2. WATCHING THEIR FAVOURITE SPORTING EVENT IN PEACE
It might be the Grand Prix, Tour de France, FA Cup final, the Ashes, or the US Open. Whatever sporting event they want to watch, how about you facilitate it so that they can do so in peace. Maybe even with a beer if you're feeling generous. Okay, so this might mean they have to save it up for the right occasion, but you can make sure the kids are out of the way, and not pestering him for Pokemon Go on his phone, or to play a superhero battle every five minutes. He'll definitely thank you for it.
3. BREAKFAST IN BED
Might sound like an obvious one, but something they'll certainly appreciate. You could even get the kids to help make it for that extra Father's Day effect. But whatever you do then, deliver the breakfast and LEAVE THE ROOM. Nobody wants to be treated to breakfast in bed and then actually have to talk to the kids (or wife) that delivered it. They want to sit there in silence scrolling their phone and slurping coffee. Oblivious to all the crumbs they're dropping on the bed, that you'll be cleaning up later.
4. A WEEKEND OFF DOING CHORES
Yes really. Take a deep breath and let him off those chores. It might be mowing the lawn, taking the bins out, cooking (in my case) or a million other entries on his to-do list of things he needs to get done around the house. Give him a break, let him relax. It's Father's Day after all. Although I'm not ACTUALLY suggesting you do them instead. I'm not crazy.
5. WATCH HIS FAVOURITE PROGRAMME WITH HIM
So it might be that you do this anyway, because you're a nice person. But do you really WATCH it? Or do you just sit on the settee next to him on a comfortable chair across the room and scroll through Facebook taking no notice of it at all? For once take an interest in it. He'll like it. Maybe. But whatever you do, DO NOT ask questions until the end.
6. LET HIM OFF DOING BEDTIME
Now and again in our house we try to instigate a routine of us doing alternate bedtimes. Mainly because getting our three boys to bed is so damn painful and time-consuming it almost breaks us on a daily basis. They mess about so much, something that should take one hour all-in often takes double that. And we've come to the conclusion that even when we try to divide and conquer it just doesn't work. It takes that long whether one of us is doing it on our own or both of us are there. If you're the same, why not let him off a few bedtimes? You do it yourself (however painful that might be), and suggest he spends the time on his XBox, building Lego, going for a run, or doing something else for him. It is NOT allowed to be for cooking your tea. Nope, absolutely not.
7. NIGHT OUT WITH THE LADS
Depending on their age (and possibly not quite so appropriate for Grandads, but you never know), why not suggest they go and let their hair down with the lads? This could be a few hours in the local pub, an evening round a mates' house playing XBox and PlayStation, or them going on a total bender in town and not coming home until the early hours. The hard bit of this is to make sure it's guilt-free and therefore we don't whinge at them. Told you that was the hard bit! The best part is we get a night to ourselves. It's one of those Father's Day gifts that keeps on giving!
8. A FREE PASS TO MISS FAMILY EVENTS
Now I've saved the best until last as this one makes me laugh. They may not admit it, but we all know our other halves would love to not have to show up at every single family event. You know, the ones we've organised with our parents/inlaws/cousins/brothers/sisters/nieces/nephews. The ones that sometimes they'd rather poke pins in their own eyes than attend. But they put up and show up time and time again and don't moan. Why not give him a break for once. Write him out a voucher that gives him a free pass to skip the next one. He'll LOVE you for it.
There are loads of other fun ideas for Father's Day gifts you could do without breaking the bank – cook his favourite meal, let the kids be his servant for the day, or get the children to make him something (you might have to get it out of the recycling bin…)
What I can't actually decide for you is which is the best way to go. Buy a fab gift he'll love, or give him the gift of peace and quiet away from everyone. Because let's face it, when it comes to the other way round, we all know what we'd like!
This is a collaborative post
How did I do?
Did you enjoy this post? Why not hang around and read a few more whilst you're here. If you want to read some more of my usual kind of stuff, head over to my Mum Life section. You'll find all things parenting with a tongue-in-cheek twist. Or if you want some days out and UK family holiday inspiration, click on the Travel section.
If you like a bit of social media madness, pop over to my Facebook page where you'll be able to have a laugh at what ridiculousness goes on in my house with three very small boys on a daily basis. Warning – there is often sarcasm, and usually swearing. There are also great travel reviews and some AWESOME giveaways. Feel free to join my Twins, Tantrums and Cold Coffee – Shits and Giggles Parenting Group too, where everyone shares their hilarious stories.
If you like what you see, how about you check me out on Pinterest, Instagram and Twitter too.
And if you want to work with me, feel free to give me a shout here or at helen@twinstantrumsandcoldcoffee.com and I'll get back to you.