What do you get a pre-schooler for Christmas who thinks everything comes from Santa and that the sky's the limit?
Well here are a few ideas for impressive main presents from the Big Man himself or handy stocking fillers..
This one might be just as appealing to the parents as the kids – a make your own chocolate pizza kit! It comes with everything you need to make the delicious dessert – pizza pan, easy to melt milk chocolate buttons, creamy white chocolate curls, colourful rainbow drops, chewy jelly beans and a set of instructions. The finished pizza is seven inches in diameter, so then the tricky part is whether it can be shared or not! Adult supervision required – like you wouldn't want to get involved in this anyway! Click here to buy.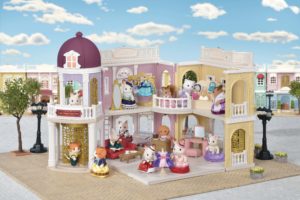 Sylvanian Families stuff never gets old – despite how my mates and I were playing with it as kids, a LONG time ago. But we never had anything has fantastic as this! The Grand Department store is part of the Sylvanian Families' 'Town Series' and comes complete with fancy decorations and eye-catching engravings. It is a two-storey department store building with an entrance tower, and lookout balcony for that all-important people watching! The main building has a manual lift that can carry figures to the upper level, the windows are detachable and can be replaced with windows from other Town Series items. You can open and close the store and play with it in different layouts. Suitable for children over 3. What a Christmas present!
Miffy Art Case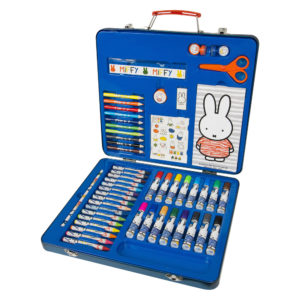 The Miffy Tin Art Case makes a wonderful Christmas present for blossoming artists, and is a great way to keep children entertained during the rainy winter months. The kit features a range of colouring pens and pencils, as well as stickers, stamps and children's scissors all in a convenient and tidy case. Designed for children aged 3 and above. The challenge will be keeping it this tidy! 
Pre-schoolers can learn about phonics and spelling this Christmas with Peppa's Laugh & Learn Alphaphonics. It aims to keep children entertained for hours with seven different games to help with their spelling and identifying words. There's even a musical feature.
Its chunky design comes with handles on each side so it's suitable for kids to hold either with their right or left hand when playing. All 26 letters are represented by different objects and Peppa characters on colourful, easy press buttons, and also helps children with hand-to-eye co-ordination and vocabulary skills. Suitable for ages 3 and over.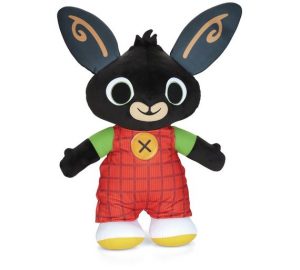 This giant soft and cuddly Bing is bound to be a hit with your toddlers and pre-schoolers this Christmas. Measuring more than a metre tall, not only is he huge, he's perfect for giant cuddles and great big hugs. Size 56x38x20.5cm, for children aged two and over.
If you're anything like me, you always need new Play-Doh as the rest of it is now in one brown, sludge-looking mess. This set will provide hours of fun with your child getting creating whilst developing their literacy, communication and language skills. The set allows children to explore pre-reading and writing skills with the playmats, activities and tools that are included. The chunky stylus and stamps make it easy for little hands to grip when stamping and writing, and it also improves fine motor skills. Children can explore letter recognition as well practice letter sounds using the stamps and playmats. The set includes 26 letter stampers, stylus, roller, 2 double-sided playmats, Together Time Guide, and 6 pots of Play-Doh. Let's see how long it takes for the colours to get mixed up! Suitable for children aged 2 and over. Click here to buy.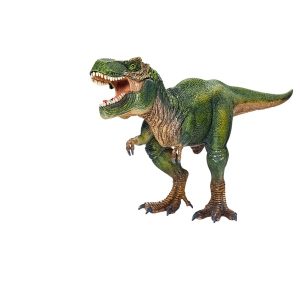 If you've read any of my other blogposts or follow me on social media, you'll know this list wouldn't be complete without some kind of mention of DINOSAURS! My three year old is literally fanatical and his little brothers are swiftly following him into the prehistoric obsession. So if you have to fill your house with dinosaurs, you might as well fill them with great ones, right? And you can't get much better than Schleich ones. Whether it's a Dinogorgon, Barapasaurus, Acrocanthosaurus or just a plain old T-Rex, you can get them all from Schleich. The German company believes that promoting creativity and a rich imagination is one of the most valuable gifts you can give a child. And the quality and amazing detail on these toys is incredible. You'll never buy a different make again!
If you want the wow factor this Christmas, go for the Step2 Roller Coaster. You don't necessarily need space for it indoors, as it's designed for durability and outside play too. It gives toddlers and preschoolers a huge buzz when they go whizzing down the track – my three year old LOVED it!
The rollercoaster also helps them develop balance, co-ordination and gross motor skills whilst they push the car back up the track. It comes in three pieces and assembles to a track of just over 3m long, the car has a high back, handrail and foot rests for a safe ride, and there are two non-slip steps at the top which keep the car still whilst your child gets on. The only downside is that unless you're under 22.7kg, you can't have a ride too!
Wow Toys – Sam the Steam Train
If you've not come across Wow Toys before, where have you been? They are fantastic and this five-piece Sam the Steam Train is no exception. Your preschooler will be transported to the 1930s golden age of steam, with Wow's newest friction-powered toy. Sam's apple green and bright yellow locomotive steam engine is driven by Jeeves, a jolly removable train driver figure. Sam pulls his detachable coach for passengers Lucy and Peter to travel in, and his push-down chimney gives a realistic train whistle to announce he's off on his exciting travels. It's suitable for children aged 18 months to 5 years, and no batteries are required. Click here to buy.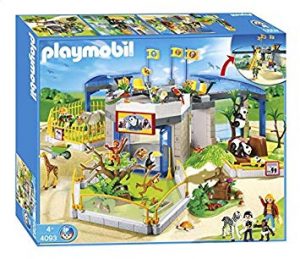 Playmobil toys are absolute classics, and we love them in our house. This baby zoo is a great addition to any playroom. Suitable for over 3s, your children can tend to the animals with the vets when they're unwell. The roof is accessible via the stairs with seats on top to give you the best view. If your preschooler is anything like mine, they'll love playing with the different animals including pandas, monkeys and elephants who all have their own enclosures with lots of equipment to make sure they're well looked after.
If you also need to buy Christmas presents for younger children, have a look at my Christmas Gift Ideas for Babies post too.
**********
This post contains affiliate links. This means that if you click those links and make a purchase, I might receive a commission, at no extra cost to you. I was also given some of the items listed in the gift guide to review; however, all opinions are my own.
WANT MORE?
If you fancy a bit of social media madness, pop over to my Facebook page where you'll be able to have a laugh at what ridiculousness goes on in my house with three very small boys on a daily basis. Warning – there is often sarcasm, and usually swearing. Feel free to join in though. There are also great travel reviews and some AWESOME giveaways. And if you fancy sharing your own funnies, come and join my Twins, Tantrums and Cold Coffee – Shits and Giggles Parenting Group on Facebook.
If you like what you see, how about you check me out on Instagram, Pinterest and Twitter too. I'm all over the place!
And if you want to work with me, feel free to give me a shout here, and I'll get back to you during naptime/screentime (!)