This is a collaborative post, so I may have received payment for including one or more of the links it contains about taking children to a wedding. The Advertising Standards Authority sees this as advertising but I only share content that I think will interest you.
One of the biggest debates when it comes to a wedding is whether they should be an event that includes children – and brides everywhere are divided on this topic.
One the one hand, children, can really enhance and add to a wedding. I mean, flower girls in tulle? Yes, absolutely. On the other hand, children are loud and can be chaotic, which means that the actual wedding ceremony can be interrupted by crying and yelling – every bride's worst nightmare.
The thing is, you need to figure out a way to allow children at your wedding if you know you are inviting friends with children. Even more so if you have children yourself. There's nothing like the accompanying flower girl in a pale lavender dress to compliment your royal purple bridesmaids who wait with you at the top of the church.
Whilst some limit the number of kids at their wedding and make it a more adult affair (me) – giving parents the chance to have a great time on their own. Some people feel children should be included in the biggest day of your life.
With that in mind, here are six ways you can include children on your wedding day:
Page Boy and Flower Girl
We mentioned cute little flower girls in lavender tulle, but you mustn't forget the boys. Tiny suits and buttonholes? Such a sweet photograph to look back on. They don't have to walk down the aisle if they are too overwhelmed, but they do need to look cute. Dressing them should be in the same colour scheme as the rest of the bridal party.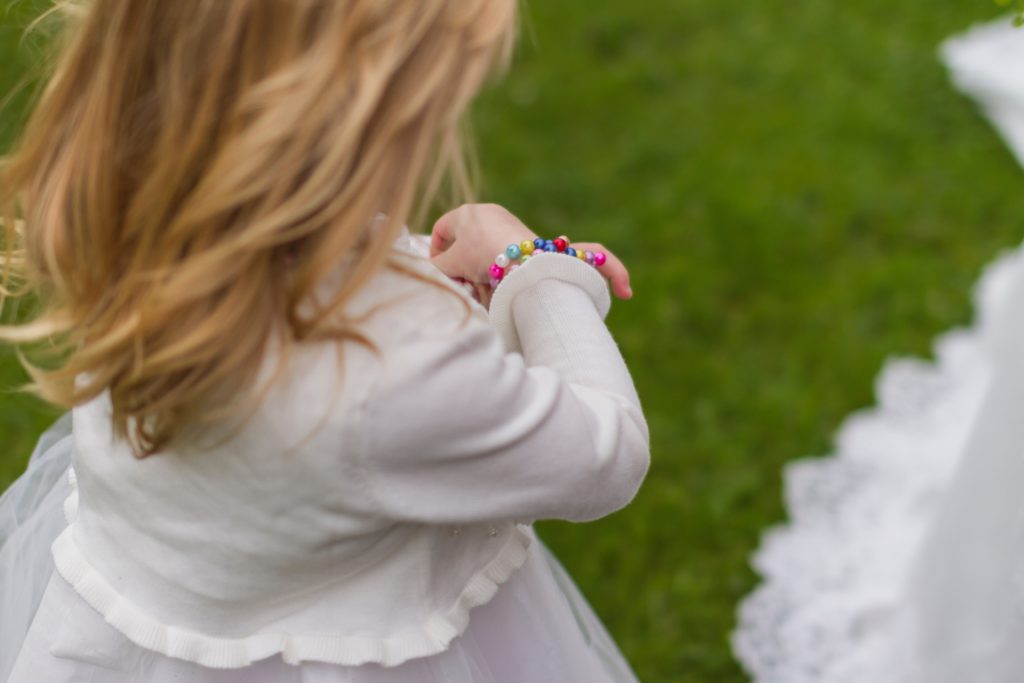 Wedding Ring Bearer
Best to entrust this job to the older boys in the family. Let them sit at the front, and they can present the rings at the right moment. This will be a big job for them, and they'll feel super important to do it.
Doing a Reading during the wedding ceremony
Older children – especially teenagers – can be trusted to do a reading of a poem on the big day. They can do it in a pair if they get nervous, and you can provide a poem for them, so they don't have to make one up.
Confetti Droppers
One that children will love is to drop the confetti down the aisle. They can line the walkways too, throwing the confetti on you as you leave the ceremony. Confetti can be rose petals or – if your wedding is outdoors – seeds! They can grow a new thatch of flowers this way, leaving something beautiful behind on your wedding day.
Mini Wedding Photographers
Children have an eye for detail from an entirely different perspective. So, please make this a game for them on your wedding day. Give the kids a list of "must-have" photographic moments and give them instant cameras. Set them up to play a game of capture on your day, and you'll get some desirable results that differ entirely from the professional shots.
Favour Delivery
During the coffees and speeches, favours can be handed out by the littlest of your tribe. You can imagine how beautiful little boys and girls all dressed up and handing out party favours will be.
Did you have children at your wedding? How did you include them?
How did I do?
Did you like this post? Why not head over to my Mum Life section for my usual rants about parenting three young boys. Or if you want some family holiday inspiration check out my Travel section.
If you like a bit of social media madness, pop over to my Facebook page where you'll be able to have a laugh at what ridiculousness goes on in my house with three very small boys on a daily basis. Warning – there is often sarcasm, and usually swearing. There are also great travel reviews and some AWESOME giveaways. Feel free to join my Twins, Tantrums and Cold Coffee – Shits and Giggles Parenting Group too, where everyone shares their hilarious stories.
And if you want to work with me, feel free to give me a shout here or at helen@twinstantrumsandcoldcoffee.com and I'll get back to you.