Is your bedroom lacking life? Have you been staring at the same old decor and starting to feel the need for a refresh? Sometimes, living in the same space day after day can make a room we once loved feel boring and uninspired.
This is a collaborative post
While a "lived in" bedroom isn't the most aesthetically pleasing, it's definitely the most realistic. After a while, the only decorations we have are stray cups and a floor full of clothes.
A bedroom makeover – no matter how big – can go a long way! The good news is, there are many ways to update your bedroom without shattering your piggy bank. Here are our top tips to help you transform your bedroom on a budget.
Mirror mirror on the wall
Well, it doesn't have to be on the wall, but adding a mirror to your bedroom does wonders to its appearance and functionality!
If your room is on the smaller side, a big mirror can give you the illusion of a larger, more spacious room. You can also experiment with the size and shape to add some creativity to your living space.
Clean it up
Our bedrooms endure a lot over time. They're there to catch the clothes we throw in frustration, they sit in silence as we fill them up with miscellaneous items, and they can even transform into home offices. Sometimes, all we need is a deep clean to bring our rooms back to life. If you're looking for an inexpensive makeover hack, look no further than organisation.
Give your room a big clean. Put away all the clothes that have been living rent free on the back of your chair, invest in a filing system for your work documents, and tidy areas that have amassed a collection of random objects (yes, we all have them).
If you already have storage containers, this hack is cost-free, and a super-effective way to make your room feel new again.
Update your bedside table
Similarly, swapping out some of the items on your bedside table can work wonders. Our bedside tables often become home to books, lip balms, moisturisers and other random tidbits. Putting a little bit of effort into your nightstand can help bring your room back to life.
Remove all the clutter and replace with cute, meaningfully placed ornaments. Opt for extra storage in your drawers to keep everything in reach, but away. This will make your room feel neater and more put together.
Turn your room into a gallery
Art is the easiest way to add a splash of colour to your room. The right art doesn't have to be expensive.
Search for prints online and frame some funky designs you come across. Or, you can always make something yourself! Have an art day and see what you can come up with.
If art isn't exactly the vibe you're going for, you can always use some much-loved photos as key decorating pieces.
Print out some of your favourite photos and string fairy lights, clipping on your photos. You can always add some frames and create a gallery wall of your most-treasured memories.  Or what about a fabulous feature wall with mural wallpaper from PhotoWall?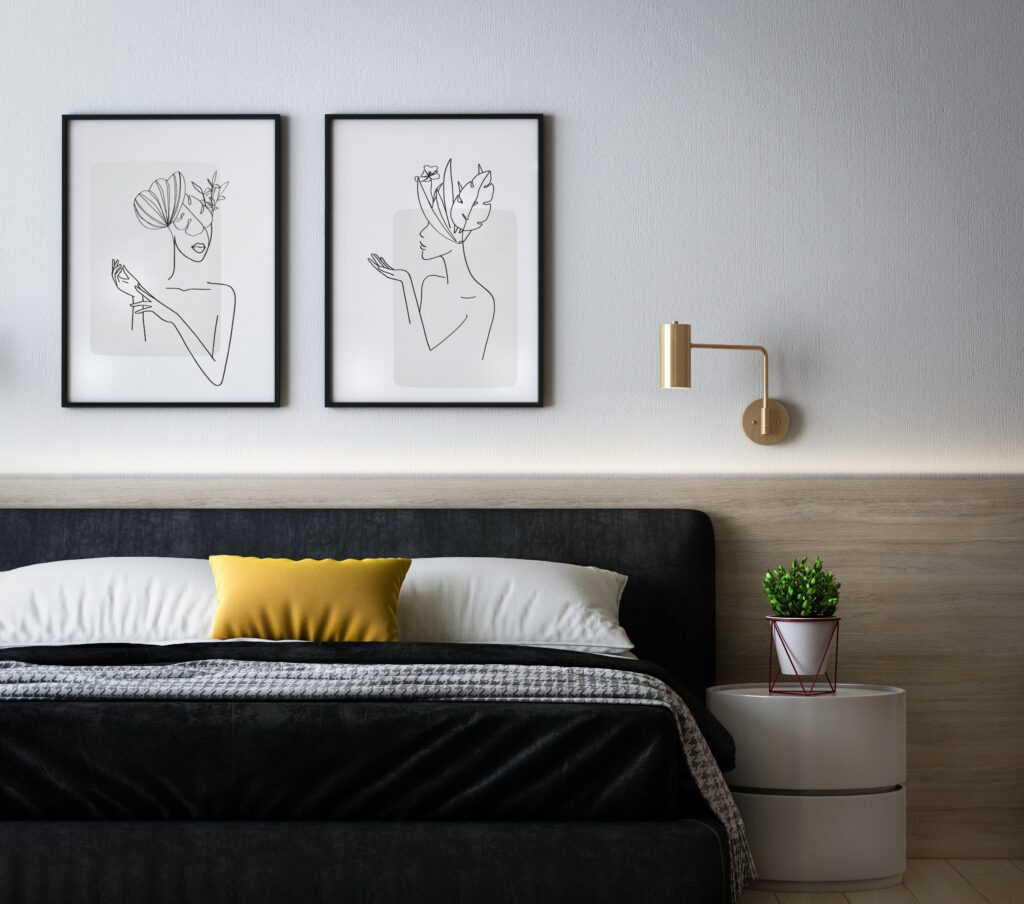 Add some greenery to your bedroom
There's a reason why plants and flowers are so popular with home decorators! Adding a little bit of nature is a great, easy way to elevate your space. Inject some happiness into your room with plants and flowers.
Experiment with hanging plants, flowers in beautiful vases, or fake plants if you're looking for a low maintenance fix. This inexpensive makeover hack will literally bring life to your room, and it's perfect for those who want to spend minimal amounts of cash.
Change up your bedding
Sometimes, crisp new sheets are all we need to make our room feel brand new – after all, the bed is often the main attraction! Updating your bedding and linen is an easy and effective way to spice up your room.
All it takes is a new coloured quilt cover, or a fun patterned throw rug to give your bed a whole new look. Start with the quilt cover and then mix and match a few pillows and a throw rug to suit!
Experiment with bed frames
If you're thinking of splurging on one item during your bedroom refresh, we suggest you focus your attention on the bed frame! Whether you want to update your space to have a modern feel with hard lines and plain colours, or prefer to go more natural with sleek woods, there are plenty of options to suit.
Bed frames make a big difference to the feel of your room, and they don't have to be expensive. If you already have a bedframe you don't particularly like, give it a DIY makeover.
Don't want to spend a penny on your bedroom? Work with what you've got
For a cost-free bedroom makeover, spend the day rearranging your room. Sometimes, all it takes is a slight reshuffle to really lift the appearance of your room. Check out some Feng Shui tips, and move a few things around. You'll be surprised at how good your room can look by making some subtle changes to its layout.
We know room renovations can get expensive. Next time you're feeling sick of your room, try one of these inexpensive bedroom hacks to bring life back into your living space.
How did I do?
Did you enjoy this post? Why not hang around and read a few more whilst you're here. If you want to read some more of my usual kind of stuff, head over to my Mum Life section. You'll find all things parenting with a tongue-in-cheek twist. Or if you want some days out and UK family holiday inspiration, click on the Travel section.
If you like a bit of social media madness, pop over to my Facebook page where you'll be able to have a laugh at what ridiculousness goes on in my house with three very small boys on a daily basis. Warning – there is often sarcasm, and usually swearing. There are also great travel reviews and some AWESOME giveaways. Feel free to join my Twins, Tantrums and Cold Coffee – Shits and Giggles Parenting Group too, where everyone shares their hilarious stories.
If you like what you see, how about you check me out on Pinterest, Instagram and Twitter too.
And if you want to work with me, feel free to give me a shout here or at helen@twinstantrumsandcoldcoffee.com and I'll get back to you.