This time of year is great for baking and decorating. There are so many things that you can do with the ingredients that are going to be available at this time of year, from pumpkins to chestnuts. You can create some mouth-watering Autumn baking ideas from cakes and cookies, as well as festive cupcakes, biscuits and statement cake bakes.
This is a paid guest post.
But there's more! In addition to all those delicious treats, you can also have fun making Halloween themed decorations or even party food for Bonfire Night celebrations.
As we have all been locked up for 18 months, this Halloween and Bonfire night are a great excuse to let your hair down and invite your little one's friends (and yours!) over. And, hopefully, these Autumn baking ideas will make your autumnal soiree go with a bang.
Great ingredients available for autumn baking ideas
It's hard to escape the fact that the classic autumnal ingredient is pumpkin. And the web is awash with pumpkin pie recipes so we won't repeat them here but if you want your pumpkin pie to look spooky here are some decoration ideas for you. The classic spider web is nice and easy to do with a bit of melted chocolate or you could have some fun making faces out of the pumpkin flesh. The possibilities are endless so, don't be afraid to experiment.
A Halloween theme is also perfect for cupcakes and here's how you can decorate them to fit in with this scary theme. You can make a bat out of a marshmallow and some flaked almonds. Place the first one on top of your cupcake, then add another downwards to form the bat's ears.  If you want something spookier, you could try a vampire bat cupcake idea. For this, you will need some chocolate fingers and a bit of melted chocolate for the wings and eyes. You can add blood by using some red food colouring on your buttercream or you could use raspberry jam.
There are also lots of Halloween themed biscuits that would be perfect for your Halloween party. You could try some chocolate spider biscuits or maybe you could dust off your pumpkin again and make some pumpkin spiced biscuits. You can also decorate biscuits with orange food colouring to tie in with the Bonfire Night celebrations. Try adding some sparkly sugar sprinkles, silver balls and edible glitter to make them look extra festive.
Looking for something for the adults that is a little boozier? Why not try an apple cake that is laced with some Calvados. Simply lace your apples with Calvados instead of lemon juice for an extra boozy sweet kick for this autumn bake.
Bonfire night baking can be fun
And there are lots of other autumn baking ideas that would be perfect for Bonfire Night parties too such as some amazing chai spiced cupcakes or perhaps a chestnut meringue gateau?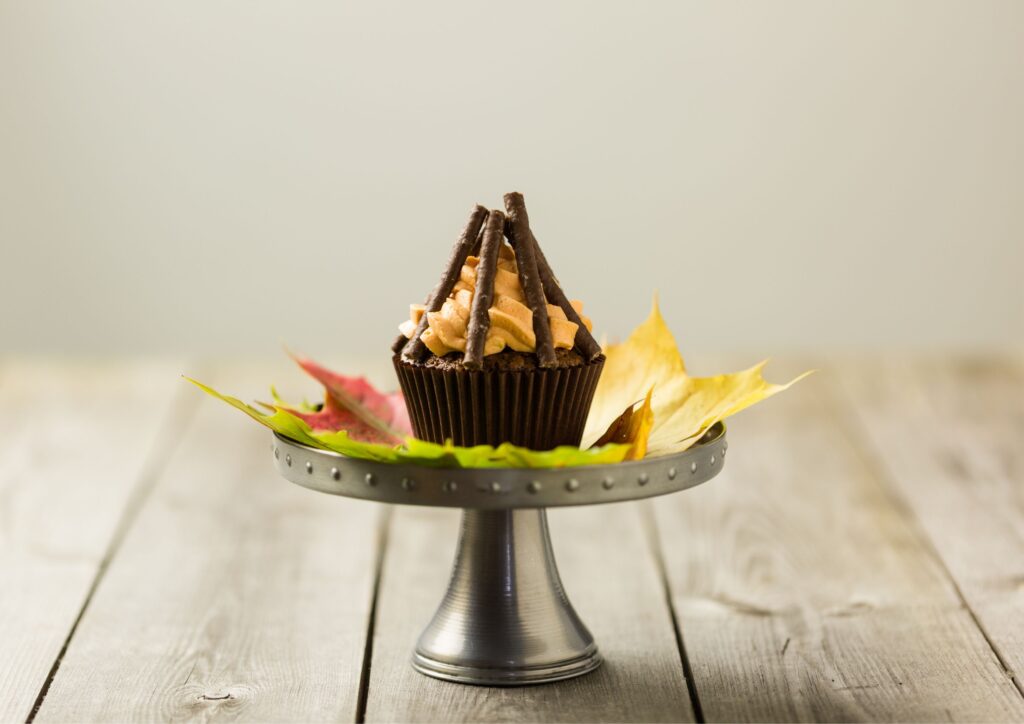 The possibilities are endless so are the decorating ideas, your imagination really is the limit. Broken biscuits can become gravestones and ghouls can be iced onto biscuits and cupcakes easily. When it comes to decorating don't be afraid to reach for the odd prop, a plastic spider can make a great centrepiece for Halloween bake – just be sure to point out to your younger guests that certain things are not edible!
If you are looking for some inspiration for your autumn party celebrations you could do worse than checking out the guys at Anges-de-Sucre. You'll be sure to find lots of design ideas that are out-of-the-ordinary that will be sure to wow your guests, be they large or small. And, if you can't be bothered with the baking why not get something delivered?
How did I do?
Did you enjoy this post? Why not have a look at some others whilst you're here. If you want to read some more of my usual kind of stuff, head over to my Mum Life section. You'll find all things parenting with a tongue-in-cheek twist. Or you'll discover lots of UK holiday inspiration and family days out in my Travel Section. And if you're local and on the lookout for Halloween ideas, check out this Halloween in Plymouth guide.
If you like a bit of social media madness, pop over to my Facebook page where you'll be able to have a laugh at what ridiculousness goes on in my house with three very small boys on a daily basis. Warning – there is often sarcasm, and usually swearing. There are also great travel reviews and some AWESOME giveaways. Feel free to join my Twins, Tantrums and Cold Coffee – Shits and Giggles Parenting Group too, where everyone shares their hilarious stories.
If you like what you see, how about you check me out on Pinterest, Instagram and Twitter too.
And if you want to work with me, feel free to give me a shout here or at helen@twinstantrumsandcoldcoffee.com and I'll get back to you.