The A1 is the longest road in the UK, running from London in the south all the way to Edinburgh. Tyre experts in London and Scotland may see very different sorts of issues but the advice they offer on tyre care tends to be the same – look after your tyres and you will save money and you could, potentially at least, save your life.
This is a collaborative post
What is the most common advice that tyre fitters provide to motorists north and south of the border? Read on to find out.
1. Frequent Tyre Inspections
To ensure the longevity and safety of your tyres, it is essential to conduct regular inspections. Examine each tyre for signs of wear, such as cuts, punctures or embedded debris. Additionally, seek out irregularities in the tread pattern, which may indicate uneven wear or poor wheel alignment. Most experts on tyre care recommend that you perform these inspections at least once a month or before embarking on a long journey, such as driving from Scotland to London on the A1.
2. Proper Tyre Inflation
According to tyre fitters, maintaining the correct tyre pressure is vital for optimal performance, fuel efficiency and safety. Under-inflated tyres can result in decreased handling, increased tyre wear and even tyre failure. Equally, over-inflated tyres may compromise grip and ride comfort. Consult your vehicle's owner's manual for the recommended pressure levels and use a reliable tyre pressure gauge to check each tyre regularly when you are considering tyre care.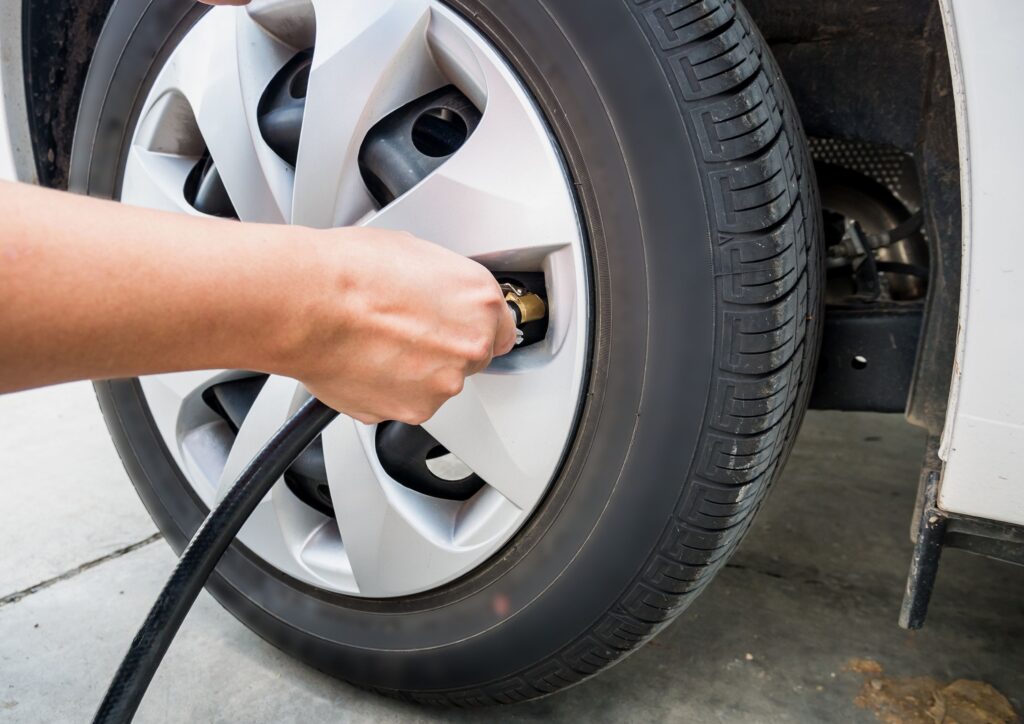 3. Tyre Rotation and Alignment
To promote even tyre wear and extend their lifespan, it is a good idea to have your tyres rotated and balanced at regular intervals. Many experts say to do this every 5,000 to 8,000 miles. Rotating tyres involves changing their position on the vehicle, helping to equalise the wear across all four tyres. Not only does this help to save money because you get the best out of each tyre but it should help to improve grip on the road for longer.
4. Timely Tyre Replacement
Even with proper tyre care, tyres will eventually need to be replaced due to natural wear and ageing. Most tyre manufacturers recommend replacing tyres every six years, regardless of the remaining tread depth. However, if the tread depth falls below the legal limit of 1.6 millimetres, you should replace the tyres immediately.
When purchasing new tyres, select a reputable brand and ensure they meet the specific requirements of your vehicle. You can also consult experts at Fife Autocentre to suit your tyre requirements in Dundee and there are numerous tyre centres in the capital and around the country to choose from, too. Remember that stopping en route from Scotland to London – or vice versa – to have new tyres fitted in an emergency can lead to significant delays to your journey. As such, it is better to fit new tyres before such road trips and know that you're fully prepared for anything the road may throw at you while you're behind the wheel.
5. Load Capacity Awareness
An often overlooked issue with tyres that many experts like to raise awareness of is overloading. By overloading your vehicle, you can put undue stress on your tyres. In turn, this can lead to accelerated wear, decreased handling and a higher risk of a blowout. Always adhere to the load capacity specified in your vehicle's owner's manual and distribute the weight evenly to prevent excessive strain on individual tyres. Remember to account for the weight of passengers, luggage and any additional accessories or modifications when determining your vehicle's total load. This is especially important in snowy and icy conditions, something that can occur in London, of course, but which is more likely in Scotland, especially the Highlands.
How did I do?
Did you enjoy this post? Why not hang around and read a few more whilst you're here. If you want to read some more of my usual kind of stuff, head over to my Mum Life section. You'll find all things parenting with a tongue-in-cheek twist. Or if you want some days out and UK family holiday inspiration, click on the Travel section.
If you like a bit of social media madness, pop over to my Facebook page. You'll be able to have a laugh at what ridiculousness goes on in my house with three very small boys on a daily basis. Warning – there is often sarcasm, and usually swearing. There are also great travel reviews and some AWESOME giveaways. Feel free to join my Twins, Tantrums and Cold Coffee – Shits and Giggles Parenting Group too, where everyone shares their hilarious stories.
If you like what you see, how about you check me out on Pinterest, and Twitter and Instagram too.
And if you want to work with me, feel free to give me a shout here or at helen@twinstantrumsandcoldcoffee.com and I'll get back to you.