Schools are back and holiday prices plummet, so parents of toddlers and babies get packing – it's your turn!
So many people who have pre-school children take their holidays in September, and you can totally see why. No big kids anywhere not to mention the difference in what you'll pay.
If your house is anything like mine, the packing of pretty much everything is left to just one person. Three guesses who that is? Combined with the fact you're potentially also the one doing the majority of childcare, this can lead to a stressful few days (or weeks if you're that way inclined) to get ready for a holiday.
Whilst the Other Half has the tricky task of packing a few pairs of pants and a phone charger, it's me who has to pack all the essentials for a toddler and baby twins. And if there's time remember to chuck in my straighteners for myself. (Actually who am I trying to kid, I don't have time to straighten my hair these days!)
So when you've only got an hour of child-free time to shove pretty much everything you own into a few bags, what you need is a packing list. I have a random one on my phone I've put together, and a friend suggested I should share it on my blog, so feel free to save the link ready for your next trip.  
I've packed my last four holidays from this list, so these days I literally don't even think about what I'm doing. If it's on the list, it's going in
Obviously I adapt it to what time of year we're going, and if you're going abroad you might need to be packing different stuff than what you'd need in the UK. My list is generally for a self-catering break in the UK (I've not been brave enough to take a toddler and baby twins abroad yet!)  So you basically have to pack up your entire house. But it's tried, tested and not failed me yet. Famous last words.
I've added in a few extra bits for girls which aren't usually on my list. I generally don't put my three boys in tights or skirts…
TODDLER/PRE-SCHOOLER CLOTHES:
Hoodies
Long sleeved tops
T.shirts
Jumpers
Trousers
Shorts
Dresses
Skirts
Socks
Tights
Pyjamas
Shoes
Wellies
Sandals
Coat
Puddle suit
Body warmer
Hat
BABY CLOTHES:
Shortsleeved vests
Longsleeved vests
T.shirts
Long sleeved tops
Jumpers
Hoodies
Dresses
Skirts
Babygrows
Socks
Tights
Shoes
Coat
Hat
Snowsuit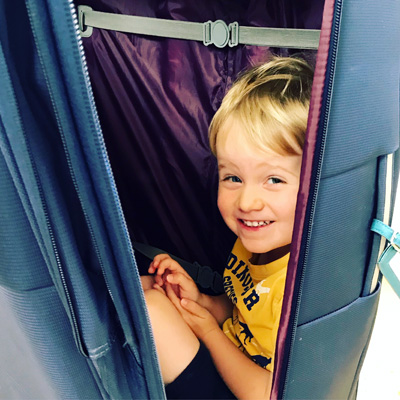 EXTRAS FOR TODDLERS AND PRE-SCHOOLERS

:
Toiletries
Toothbrush
Toothpaste
Moisturiser
Bubble bath
Shampoo
Sponges
Bath wash
Bath toys
Bath towels
Toys
Books
Comforter or teddy
Monitor
Brush
Thermometer
Swimming costume
Swimming towels
Goggles
Sun cream
Inflatable ring
Plastic cups
Plastic plates/cutlery
Lunchbox
Bucket/spade
Scooter
Helmet
Bike
First aid kit
EXTRAS FOR BABIES:
Nappies
Wipes
Nappy bags
Bottles
Steriliser
Sterilising tablets
Formula
Comforter
Muslins
Dummies
Toothbrush
Toothpaste
Calpol
Travel cot
Sheets
Sleeping bags plus extras
Blankets
Carrier or sling
Teething remedies
Swimming costume
Swimming towel
Swim nappies
Dribble bibs
Food bibs
Coverall bibs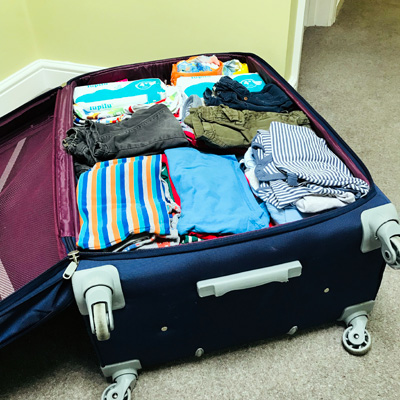 Some bits are only on one list but can obviously be doubled up. I mean, how many first aid kits do you need? And depending on where you're staying, it's always useful to take things such as teabags, coffee, sweeteners, dishwasher tablets or washing powder as you never know what is going to be left in any kind of welcome pack.
But remember THE MOST important thing to think about packing for a holiday with young children is ALCOHOL. And the fact whatever car you have, you'll need a bigger one.
Happy Holiday!
What have I missed? Let me know your tips for packing – I need all the help I can get!
**********
If you want to read some of my travel features, have a look here. There's plenty to choose from: Bluestone, Butlin's, Isle of Wight, Camping with babies and a toddler, or if you fancy a giggle read Five ways a holiday is never the same after kids 
If you're worried about a long car journey with kids, have a read of Mum of 2.5's post How to Survive Long Journeys with Kids.
And if you're heading abroad and are worrying about what to pack in your hand luggage for the flight, read this posts from Tummy2Mummy Packing for a baby or toddler in your hand luggage – 10 essentials I have to take
Or if you fancy a bit of social media madness, pop over to my Facebook page where you'll be able to have a giggle at what ridiculousness goes on in my house with three very small boys on a daily basis. Warning – there is often sarcasm, and usually swearing. Feel free to join in though. There are also great travel reviews and some AWESOME giveaways.
If you like what you see, how about you check me out on Instagram and Twitter too. I'm all over the place!
And if you want to work with me, feel free to give me a shout here, and I'll get back to you during naptime/screentime (!)